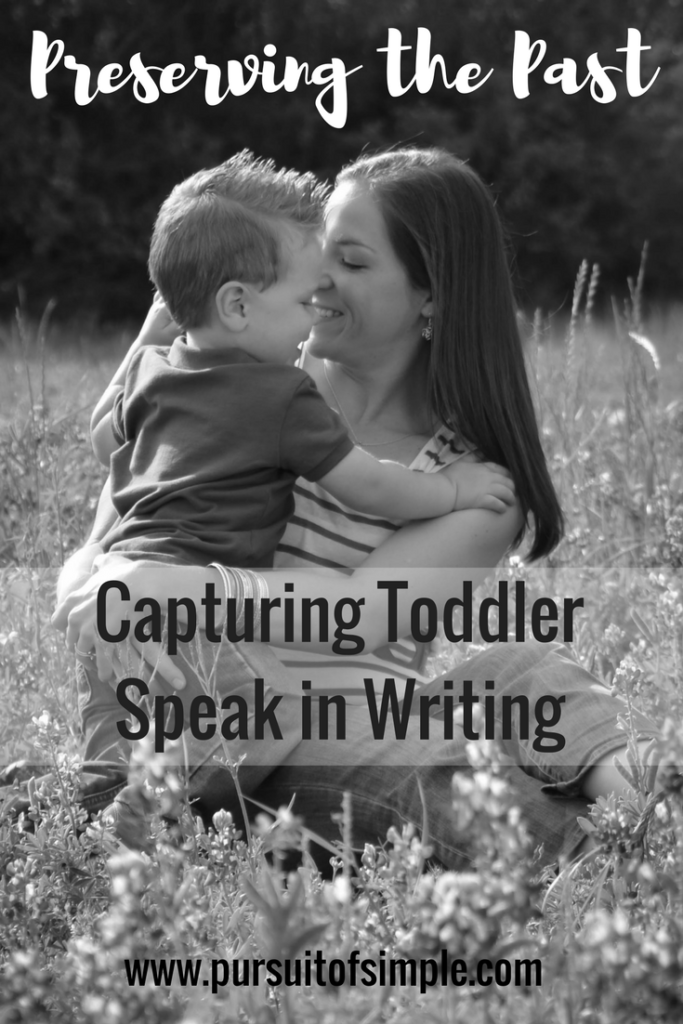 A few months back I wrote a post about Why You Should Write Down Your Engagement Story in a new series called "Preserving the Past."  In my previous post I encouraged you to begin documenting family history in written form as a more realistic way to preserve memories, especially if you're not good at (or diligent with) keeping up scrapbooks or other artistic forms of memory keeping.
Today I'm returning to that series with a second topic, this time with a focus on your children. I've always said I wanted to write down the words and expressions my son would use as a toddler as he was learning how to speak. You know what I'm talking about – those adorable and generally humorous versions of words they come up with as their little mouths are learning how to form new words and put together basic grammar. Problem is, my son is 6 years old, and until a few days ago, I still hadn't written anything down!
I'm already regretful that I didn't take time to do this sooner because my husband and I were having trouble recalling how he would say certain words that we remembered would make us laugh. I also started to realize that the memories were getting even foggier because my daughter is a toddler right now, and I was starting to confuse her toddler language with my son's.
So…today is the day. I'm finally writing it down – putting memories on paper, and I can't encourage you enough to do the same! I know it's hard to find the time to sit down and intentionally document these types of memories. Believe me, I know. As I said, I've allowed six years to go by. But you won't remember it all, no matter how good you think your memory is. You're a mom (or a dad), and you're losing a few brain cells every day as it is just trying to raise your kids, let alone remember every last detail!
You'll want to preserve these precious words your children came up with that made you laugh or smile because eventually they'll learn how to properly pronounce them. And one day your ears will perk up, and you'll say to your spouse, "When did he/she start saying that word correctly?" And there's this little part inside of you that feels a twinge of sadness as you realize your child is growing up and entering a new chapter of childhood, and they're never going to use that cute toddler word again.
Write it down.
Today.
Don't wait any longer.
One last thing…realize that this will be a work in progress for a while, especially if you're planning to have more kids in the future. I'm eventually going to print these words on some cute paper and bind it, but for now my goal is for my husband and I to keep adding to the list as we remember words that come to mind. I have come back several times over the last several days to add a word or two that have come to mind.
Now that I have hopefully convinced you to start this task for yourself, feel free to take a few minutes to enjoy the lists I'm working on for my two kids. 😊
Josh's Toddler Speak:
"bama" – pronounced like Alabama, for banana
"compeelo" – computer
"cuppy" – sippy cup
double use of actually – would put "actually" at the beginning and end of a sentence, like bookends
"fleek'em" – flamingo
"gottabe" – If you've ever heard the Veggie Tales theme song, then you've heard them list out the vegetables – "…broccoli, celery, gotta be…Veggie Tales!" – Josh asked us one night at dinner, "what's a gotta be?"
"Hobby Lobby" – for most people this is only the craft & home décor retailer, but when your great-grandparents are named Abby & Abby (short for Abuelo & Abuela), then things can get confusing for a toddler, and you might think your great grandparents are instead named Hobby Lobby
"I do not know" – would always say it so formally instead of using the contraction
"I forgot" – used in place of "forgot," Josh thought the verb was iforgot, so instead of saying something like "We forgot to bring a football," he would say, "We I forgot to bring a football." We thought this one was never going to self-correct…
"Kilo" – when trying to say Cleo, our former cat's name
"seasonings" – seasons of the year – took forever to get this one straightened out
"sunvoom" – sunroof
Bella's Toddler Speak:
"alligator" – elevator
"asspyer" – pacifier
"bopper" – for diaper, probably Daddy's all-time favorite of her words, which later became "byper," which eventually became diaper
"consacons" – consequence
"crackpot chicken knuckles" – when trying to say the name of a recipe, Crockpot Chicken Nachos
"cupfolder" – cup holder
"earmuffins" – putting hands over your hears in the bathroom when anticipating a loud flushing toilet (Can you tell she's in the potty training stage?)
"fetshirt" – sweatshirt
"filfy" – filthy
"no boots" – for snow boots and pretty much all "sn" words come out as just "n" – nack instead of  snack
"rockin egg" – not only does she say it wrong, but she thinks it's a good thing to be the rotten egg
"rummer" – mud room
"The itsy bitsy spider climbed up the water "skin" – no idea whatsoever where she came up with that one…
"trockit" – chocolate
"urplane & urport" – airplane & airport