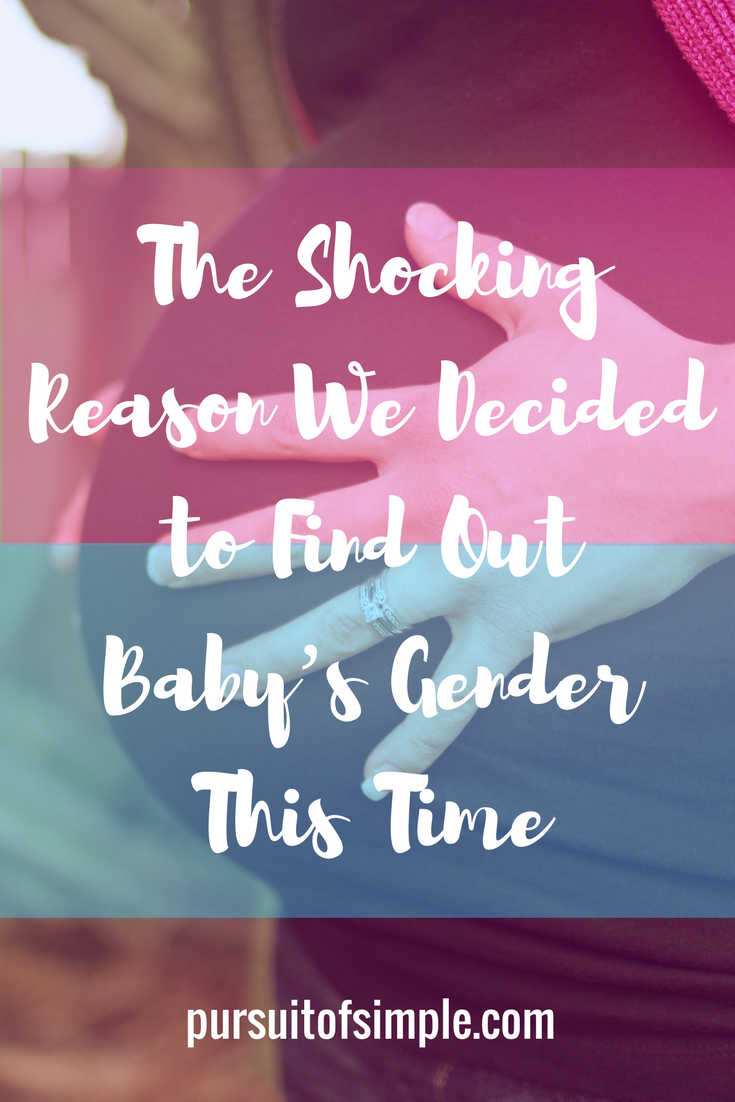 Though not intended, this post is somewhat of an informal part two to a post I wrote several years ago about Waiting to Find Out Baby's Gender and why I'm convinced it's such a Practical Surprise. And while my husband and I still wholeheartedly believe it is best to wait until the baby is born, we felt compelled this time around to find out baby's gender ahead of time.
So why were we so willing to find out this time when we are convinced it is so much better to wait?
Well, we received some shocking news at our first ultrasound. Not bad news, just really, really shocking news. The kind of thing that you always hear about but doesn't actually happen to you. Until it does.
Twins.
What?!?! Me??
Yep. Just a few brief moments after the ultrasound tech began my 7-week ultrasound, the first words out of her mouth (with a little hesitancy, I might add) were, "So…do twins run in the family?" Um, there's only one reason why an ultrasound tech would ever be asking you that question!
So needless to say, we were shocked. We also experienced feelings of joy, nervousness, excitement, and overwhelm, but mostly, shock. Fortunately, since we found out so early on, we had a lot of time to think about the decision of whether or not we were going to find out the gender(s) at our 20-week ultrasound.
My husband and I did not agree. He was dead-set on waiting again, and even though I wanted to wait, I didn't see that as a realistic option since our situation was so much more complex at this point in our life since we already have a 6 year-old boy and 2 year-old daughter. The outcome of whether we were going to have two boys, two girls, or one of each affected so many aspects of our planning in ways that had not presented challenges in the past – things like future bedroom assignments, bedroom furniture, and figuring out what baby gear we would be lacking.  Even though we've had a child of both genders, we still aren't equipped for twins, especially if we were going to have two of the same gender!
After much deliberation, I finally convinced him. But it wasn't my practical, logical, planning issues and arguments that convinced him. The argument that finally won him over was when I pointed out how frustrating and disappointing it would be to find out the gender(s) accidentally at an ultrasound toward the end of the pregnancy if a nurse or doctor slipped up. With twins (or any high-risk pregnancy), this is a valid concern because you have so many more ultrasounds than you do in a normal pregnancy, and there are so many more opportunities to find out (or confirm) what's concealed between the legs.
Anyway…we finally decided we were going to find out the gender(s), but then we had to figure out (and agree on) HOW we were going to find out – during our ultrasound appointment or through some sort of gender reveal event. Since we were already removing the suspense by finding out now instead of later, I thought the next best thing would be to do a fun gender reveal and include family and friends. To me, finding out with family and friends surrounding us sounded so much better than finding out in a dark room with a stranger we just met who was just fulfilling her job description. But hey, that's just me. 😉
If you've followed my blog for any length of time, you may already know that we are from Texas, but we moved to Minnesota four years ago. We found it amusing that we moved to the Twin Cities and now found ourselves expecting twins. And as such, we couldn't resist but have a Minnesota Twins themed gender reveal party.
In keeping with the baseball theme, I thought it would be both fun and suspenseful to beat a piñata with a baseball bat and see what color or colors came out of it. We went out and purchased a baseball piñata, as well as pink and blue lollipops to fill it up.
Note to anyone considering doing a piñata for a gender reveal: Once it was secretly filled, I took the carefully sealed piñata home (and put it high up out of my kids' reach), but I left the box with the envelope and any potential remaining lollipops at my neighbor's house. To be extra careful, I had asked for the box to be sealed, and then we came and picked it up after our party. I didn't want to carry the box home because I would have been able to tell if there were lollipops in there. If there were leftover lollipops in the box, then I would have known that the babies were both the same gender. If it was empty, then I would have known both colors of lollipops were inside the pinata, and I could accurately conclude we were having a boy and a girl.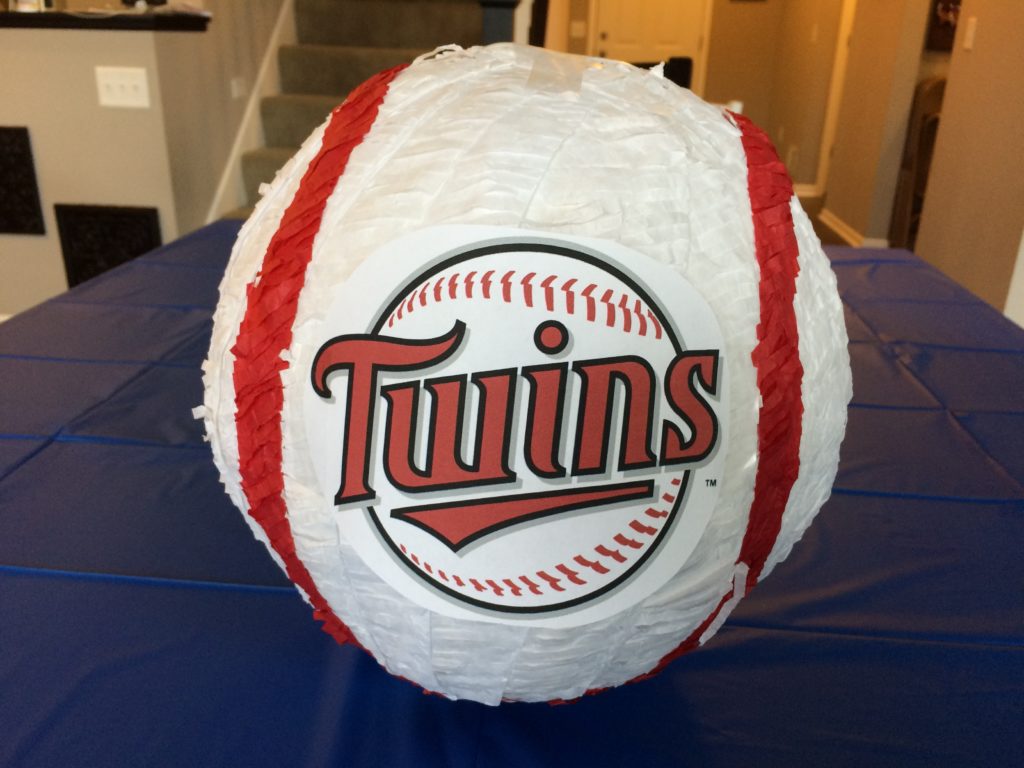 Anyway… you know how sometimes things don't go exactly according to plan? Yeah, this was one of those things.
In my mind, we were going to have gorgeous weather (it was August in Minnesota, after all), and we were going to be outside with plenty of space and no worries about where the candy would fly as it was falling out. In dismay, I checked my weather app every morning the week leading up to the party, and I just watched the chance for rain climb from 40% all the way to 100%. And even though the forecast has been wrong at least 50% of the time this summer, this particular time it was dead on.
It rained enough that we had to move on to Plan B, which meant setting up the piñata in our living room instead. We attached the piñata with a cable tie to the end of a broom stick that my husband held while I swung at it. Problem was, he picked a defective cable tie out of the box, and the piñata went sailing across the room on my second hit! It was still intact though, and so was the surprise.
Plan C.
Husband holds one end of stick while I hold the other and take swings one-handed. Sounds great, except that the piñata was not coming apart even after multiple blows! Then the loop that connected the piñata to the pole broke, so we could no longer suspend it at all.
Plan D.
Place the piñata on the floor and the beat the tar out of it to find out if your babies are blue or pink or both. Ah, finally a plan that worked! So what came out?!
PINK. And then more PINK. And more. The pink lollipops just kept coming out and there was no BLUE in sight, much to everyone's surprise. By far, the majority of people at our party, including my husband, son and I, had voted we were having two boys or one of each. All pink was definitely a surprise!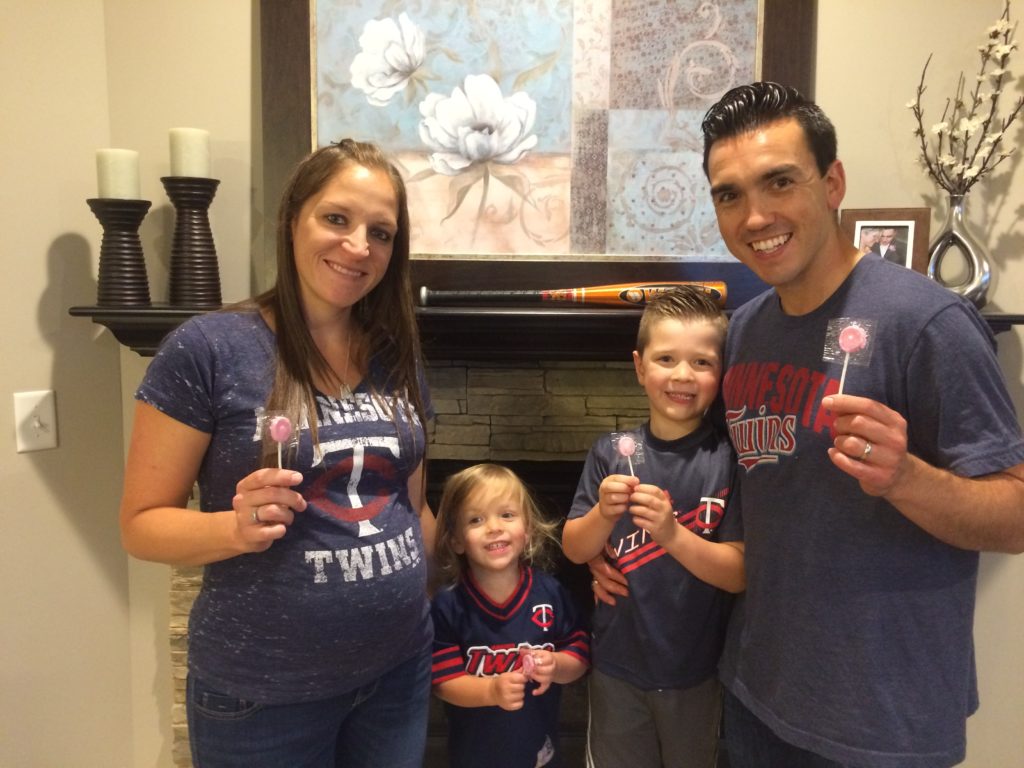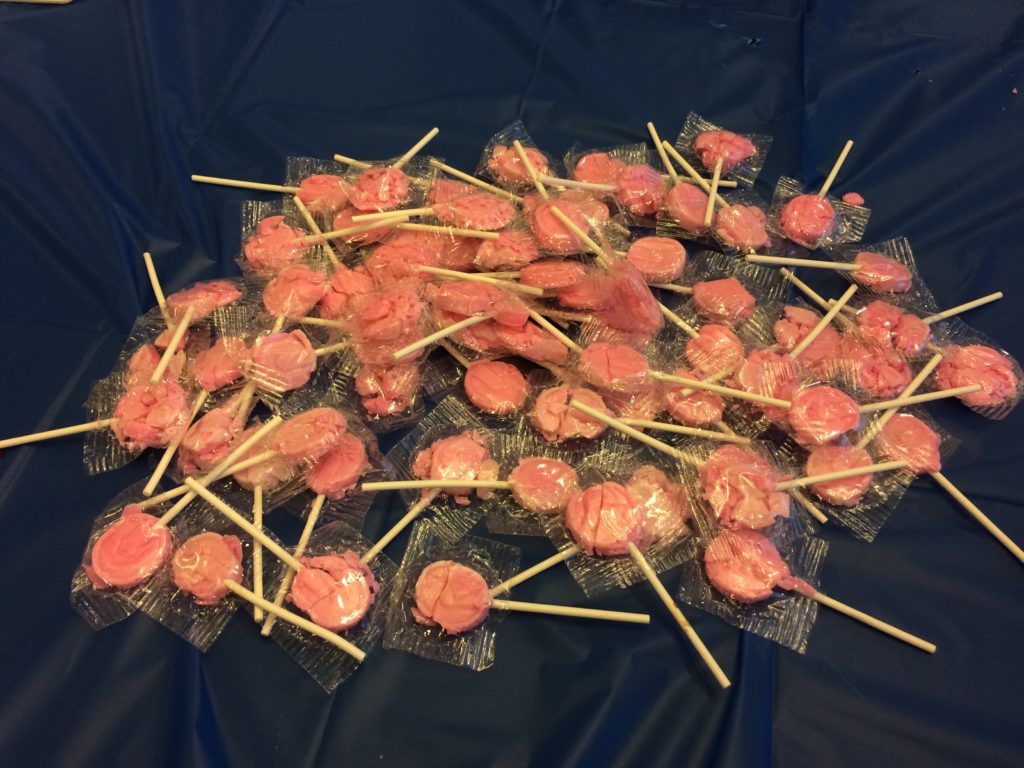 So do I regret finding out? No. It was really fun, and we were all absolutely hysterical by the end of it with all of the failed attempts to get the piñata open.  I do, however, regret beating a piñata in my living room due to all the sticky candy pieces that were left behind in the carpet afterward!
Do I still think it's better to wait until the baby is born to find out? Absolutely! We honestly decided to find out more out of necessity than our desire or lack of patience to wait. Even if we were having twins for baby #1 and baby #2, we would have decided to wait to find out their gender(s) when they were born because the planning would have been a lot more straightforward. Our life stage and family dynamics is one of very few exceptions where I can agree that it was necessary and truly beneficial to find out early.
If you're reading this as an expecting mom or dad and you still find yourself undecided, I hope you'll check out my previous post and keep an open mind on why the surprise can actually be very practical. But at the end of the day, it really doesn't matter what you decide because God has already chosen whether he will bless your life with a little boy or a little girl, and He knows exactly what you need. He does not make mistakes, and He's in the business of creating new life.
"For you created my inmost being;
you knit me together in my mother's womb.
 I praise you because I am fearfully and wonderfully made;
your works are wonderful,
I know that full well.
My frame was not hidden from you
when I was made in the secret place,
when I was woven together in the depths of the earth.
Your eyes saw my unformed body;
all the days ordained for me were written in your book
before one of them came to be."

Psalm 139:13-16