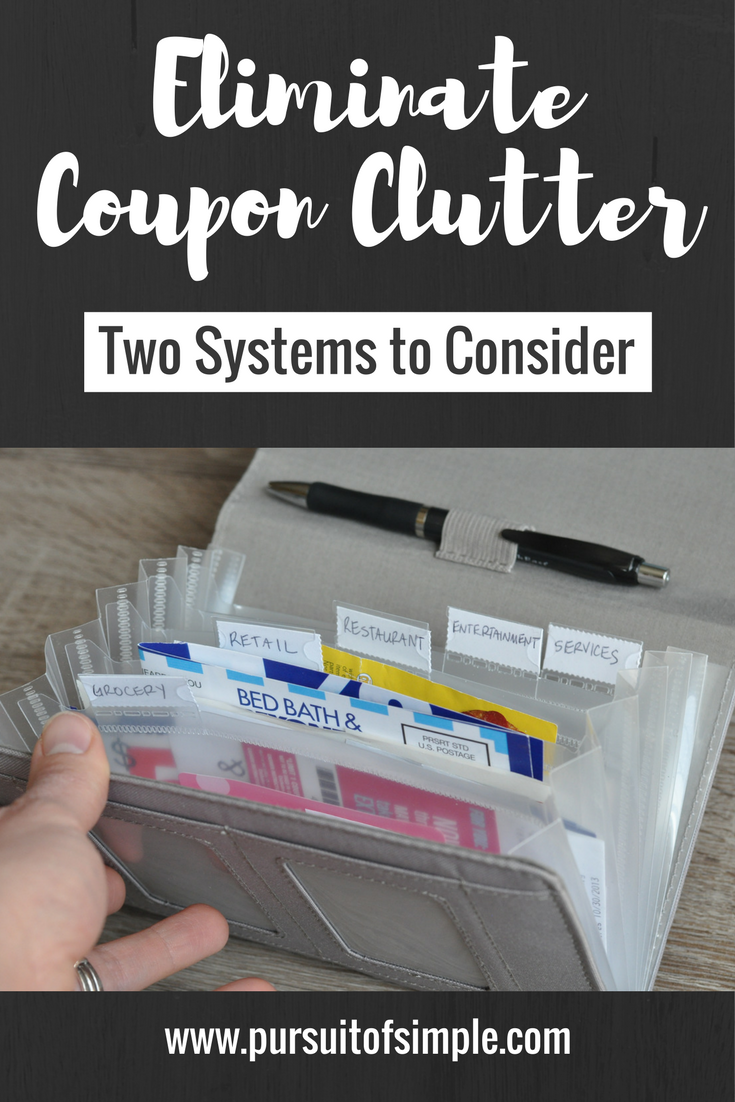 Coupons are great, but if they are constantly creating clutter or if you can't ever find the one you need when you're ready to use it, then they can start to drive you crazy. If you're in need of inspiration for a system to organize your many coupons, I'd like to offer two different solutions to consider. There are obviously a ton of other methods out there for keeping track of your coupons, but these are two methods that I have tried myself that I think are worth sharing.
If neither one of these methods appeals to you, then just keep searching until you find something that you think will work for you. You can find plenty of ideas on Pinterest and blogs, or you can shop around to find specific coupon organization products. Also, as I learned with my coupon system, don't be afraid to abandon a system you've been using to find one that suits you better.
I'll start first with the Coupon Binder, which was the method I previously used until I switched over to a Mini Coupon File.
What to Buy
I purchased a package of Ultra Pro Pages for Coupons at Wal-Mart. These are plastic sheet protectors similar to the type you would use to collect baseball cards; the only difference is that the sheets come with varying sizes of pockets, which is helpful since coupons come in many different shapes and sizes. They're inexpensive, and this package includes 40 sheets, which should be more than enough to get you started unless you are an extreme couponer. I already had a ½" binder at home that wasn't being used for anything else, but if you don't have one lying around, you'll need to purchase one for this system.
If you have a binder with a transparent pocket on the front, you can print a fun cover for it, otherwise, all you need to do is put your plastic sheets inside, and your binder is ready to go! For this particular coupon system I found it easiest to arrange the coupons by size rather than alphabetically or by type of coupon.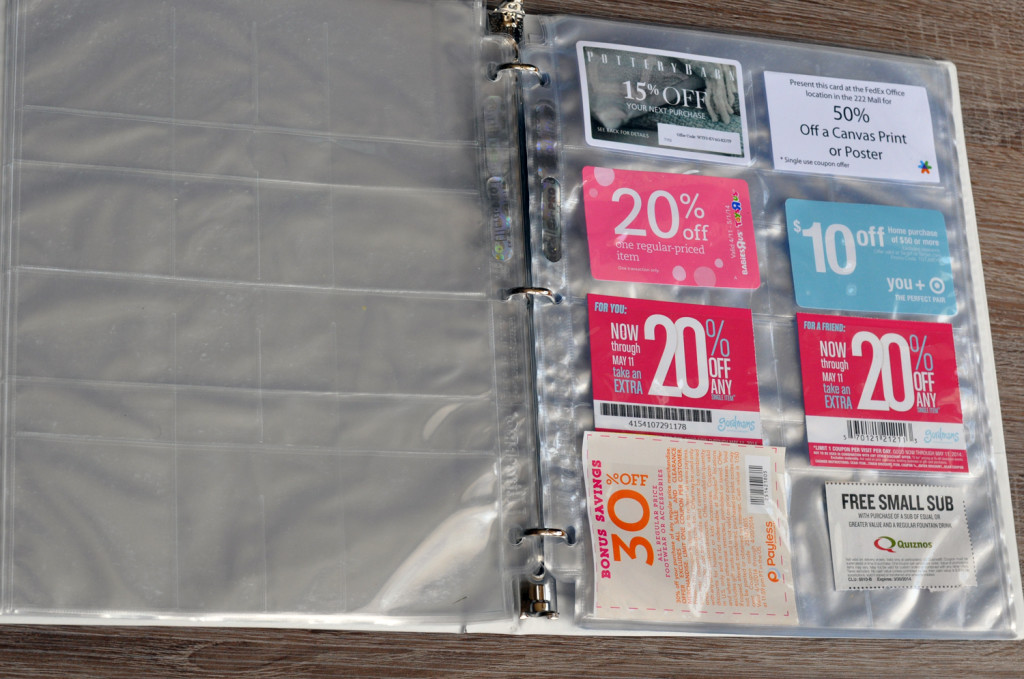 The Good and Bad of the Coupon Binder
One great thing about using the plastic sheets is that it makes it really easy to see what coupons you have. You don't have to flip through a pile of individual coupons to find the one you're looking for. The pages are transparent, and they are laid out in such a way that you can view many coupons at one time. The other great benefit to this option is that it's helpful for accommodating coupons of many different sizes. I think if you are an extreme couponer and/or if you use a lot of coupons at the grocery store, then this could be a good system for you.
However, the binder is somewhat bulky. When I was using this system, I never wanted to carry the binder around in a store, so I had to make sure and grab the coupons I needed before going inside, and I can't tell you how many times I left coupons in the car! Also, my biggest challenge with using the binder was when I would bring it inside my house to add new coupons to it (and purge expired ones), I would then forget to put it back in the car. Then I would go shopping, and I wouldn't have any of my coupons, which was a huge frustration for me because one of my biggest pet peeves of all time is wasting time!
I think it was hard for me to remember to put the binder back in the car because I'm in the stage of life where I feel like a pack mule when I leave my house – have to remember the toddler, my large mama purse, my water bottle, my daughter's water bottle, probably a toy or two, the potty training portable seat, a snack, and you get the point…If you're not in this stage of life, then remembering to put the binder back in the car might not be so hard, and this system may be perfect for you.
Mini Coupon File
After using the binder system for more than a year, I decided I needed to simplify and find a way that didn't require me to constantly be moving the binder back and forth from my car to the house. The other day I was shopping at Target and found a fabric-covered mini pocket divider on clearance. It only cost $4.98, so I figured it was worth a try even if I ended up not liking it. I really like that this coupon file has a stylish look to it, and it also seems more durable than the generic plastic dividers. It looks more like a wallet than a pocket divider because it has a button to close it up at the bottom instead of a rubber band.
It's also really practical because it has an elastic loop to hold a pen, and there's even a spot to put a couple of pictures (which I haven't done yet!).  And just like any pocket divider, it came with labels to insert into the tabs. I recommend taking a little time to thoughtfully consider what you want to put on the labels rather than just haphazardly jotting down what first comes to mind. You want to create an efficient system customized for both your shopping habits and your personality. Here are a few options:
By Category – This is what I did for this particular divider, especially since it only had five tabs. I arranged mine into Grocery, Retail, Restaurant, Entertainment, and Services, and I put them in order from most commonly accessed to least accessed.
*I also decided to put gift cards that I have received, as well as frequent shopper/reward cards in the back of this divider instead of keeping them in my wallet or on my desk at home.  I have found this to be a perfect place to keep them!
Alphabetically – You can arrange them from A to Z, however, take into account how many tabs you have to work with.
By Expiration Date – I used to arrange mine this way when I used a different pocket divider several years ago. Label your tabs with months on them, and put the coupon in the month of its expiration date, and then flip through your coupons at the beginning of the month to see what you have to work with. For coupons expiring close to the beginning of the month, you might want to consider placing them in the previous month to ensure you don't miss out on using them. Again, consider how many tabs you have to work with. With my current divider, I would only be able to plan five months out, and many times coupons have a longer life than that.
Tips for Maintaining the System
As with any organization system, it only really works when you maintain the system. An organization system that is out of control is essentially useless, so take little bits of time on a regular basis to maintain the system you have in place. This will ultimately save you time later on, so you don't have to start all over and "get organized with your coupons" again. You also won't be hunting for coupons as often.  I recommend going through all your coupons at least once a month, which accomplishes two things; it will remind you what coupons you have on-hand, and it will give you the chance to toss any that have expired. And this is a perfect task for those times when you're sitting in line at the bank, in a drive-thru, or waiting for your appointment at the doctor's office, dentist's office, salon, etc.
Another tip for keeping your coupons under control is to only save those which have a high probability of you actually using them. Don't keep a coupon simply because it's a great deal. If you weren't planning on spending money on that particular item and/or you can't afford it anyway, there's no sense in hanging on to the coupon. When a coupon sways you to purchase an item that you don't need or can't afford, even if you get it at a steep discount, then it's not saving you money! You can save more money by discarding the coupon when you receive it, so you can avoid the temptation later on of wanting to redeem it.
On a Related note…Digital Coupons
While we're on the subject on controlling which coupons we collect and receive, I think it's safe to say that most of us receive a plethora of coupons as a result of being on store email marketing lists. Before you agree to let them add you to their email list "to receive special coupons and discounts" (yes, I know it's tempting), ask yourself how often you really shop in that store. If it's not a place where you regularly shop or a place that you absolutely love, then don't be afraid to decline the offer.
And if you do happen to give in, you can always unsubscribe later on when you start receiving their emails. I suggest regularly assessing which store email lists you are on. If you notice you rarely, if ever, use coupons from a particular retailer, then remove yourself from the list. That way you can reduce email clutter and remove the temptation to spend money you don't have on things you don't even need.