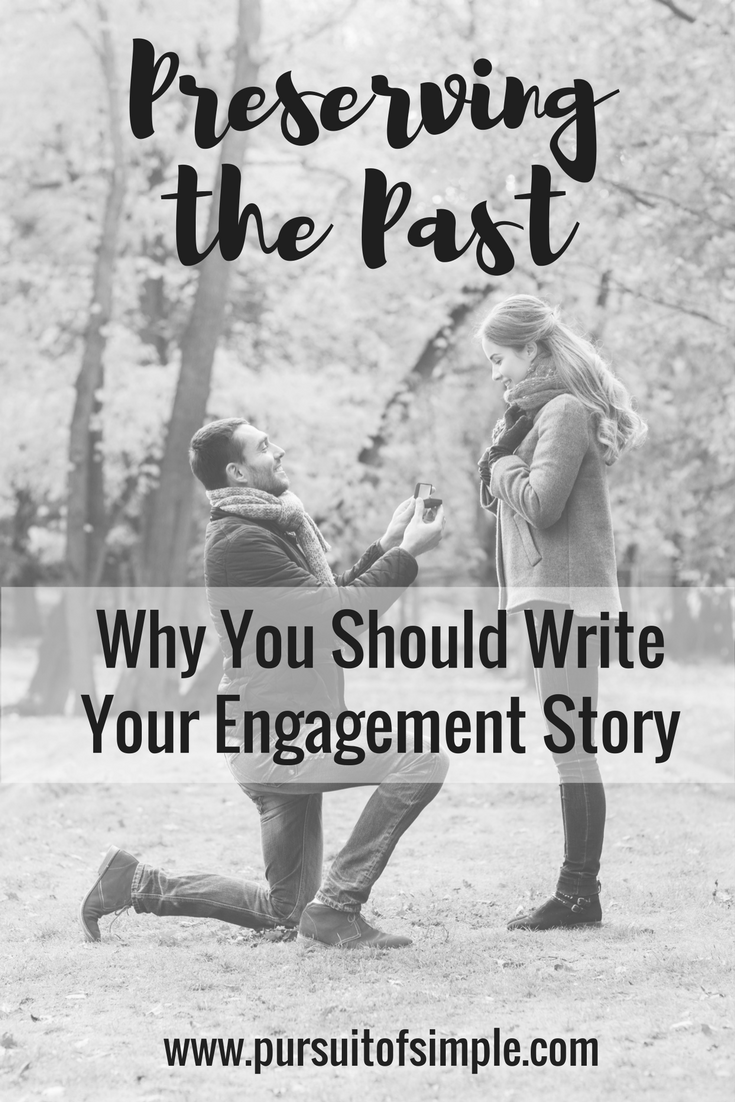 Have you ever taken 11 years to complete a task? Yes, you read that right. Eleven years. More than 11 years ago one of my college professors encouraged me to write down the story of how my husband proposed to me. I got engaged right before my senior year of college, and after telling her the story, she told me I just had to write it down. I thought that sounded like a good idea, so I made a mental note that I wanted to do that someday.
I didn't want to forget all the details that were still so fresh on my mind, but I also wanted our children to be able to share in the memories even after my husband and I are long gone. My grandmother was the "historian" of our family. She knew all the dates and ALL the details of when important events happened, and I can't even tell you how often I wish I could pick up the phone and call her to ask her questions about when, where, or how things occurred.
Even though I thought it was a great idea to write it down, I didn't actually start working on it until a year later when we were three months into our marriage. And though I'm a bit embarrassed to admit it, I didn't work on it again until 11 years had passed, and I got an idea for a series of blog posts that I am very excited about.
I realized recently that, even though I like scrapbooking, I'm not very good at it, and realistically, I'm probably not going to ever develop that as a hobby to help preserve family memories. Case in point – I've done nothing with the box of sentimental items I saved for my son, and he's six years old now…
But then I realized that I really love writing, and the idea of writing out our family history, so we could pass it along to our children (and hopefully grandchildren) was a much more attractive and realistic idea for me. I had already started writing our engagement story and fully intended to finish it someday, but then I started thinking of all kinds of topics that I thought would make great chapters to preserve and remember our family history. And so was born the idea for this series of posts, "Preserving the Past."
By blogging about these topics, I will actually take the time to sit down and write out these special memories for the benefit of our family. And while I don't intend to post them all at once as in a typical series, you can expect to start seeing them as future topics as I build our family history. I can't encourage you enough to begin writing out your family's history as well.
While working on this first post, I had so much fun reminiscing and putting into writing the story of our engagement. Not only that, I had my husband proofread it (like he always does), and we laughed so hard and smiled so much as we reflected on that memorable day. He thanked me for writing it, and he even suggested we read it regularly. We both agreed that was a good idea and that we should read it every year on August 20, the day he proposed.
If I could sum up all the benefits of writing out our engagement story to try and persuade you to do the same, here's what I would say…
It preserves your family history after you're gone and can no longer share those special stories with your kids and grandkids. Your children will treasure this very unique resource, and they will be so glad you took the time to put it together.
It can bolster your relationship with your spouse as you remember your dating days and what it felt like to get engaged, especially if you're in a tough season of your relationship right now.
It may seem like you'll always remember every detail of the proposal, but over time our minds just can't retain that level of detail, so writing it down helps preserve every last detail you take the time to document.
If you're not the scrapbooking type, it's a much more realistic way to preserve memories, and depending on how long it takes you to write, it's possible it will take far less time than making a scrapbook.
I hope you will join me on this journey of writing out your family history. Don't be intimidated by the need to write. You don't have to write a novel, but you can if that it is what flows from your heart. I intentionally wanted to be very specific and descriptive in our story, so that someone reading it who wasn't there could actually feel as if they went through the experience with us.
I've decided to close this post by including the rather lengthy story I wrote about our engagement. Don't feel obligated to read it. I'm just including it for anyone who's curious or who wants to see the style I used when writing it. Fair warning to those who choose to read it. It's very, very, very long, so perhaps grab a cup of coffee and come back to read it when you're not pressed for time. I do hope you enjoy it, and I really hope you will write a story of your own.
***********
The Engagement Story
By: Nicole A. Priolo
Date started: September 4, 2006 ~ Date Finished June 24, 2017
Introduction
After telling one of my college professors  how Morgan proposed to me, she gave me some great advice by telling me I had to write this story down because number one, it would be hard to top this, and number two, because this would be something really special to pass on to our children, to our children's children, and so on and so forth.
So I am finally writing out this beautiful story to what has already been a beautiful marriage and a true blessing from God. The date I started writing this story was September 4, 2006, and though I am ashamed to admit, I did not finish writing it until June 24, 2017. I guess life just got in the way…for eleven years…yikes…
Anyway, Morgan and I got married on June 3, 2006, and we got engaged on August 20, 2005. Though some time has passed, I remember it like it happened yesterday, and I will attempt to recount all the details of that beautiful and memorable day. I hope this story will bless all who read it, and I especially hope it serves to leave a legacy for the Priolo Family.
And so it goes…
It was the summer of 2005, and Morgan and I were both taking summer school. As classes were winding down in August, Morgan convinced me that we needed to spend a day relaxing at South Padre Island before the fall semester began. Since I'm a bit of a planner, he knew he could only get me to go if he asked me a few weeks in advance, so he did, and I agreed. Now Morgan knew that perhaps my favorite thing to do in the whole world is to ride jet skis, so he made the decision easy by telling me we were going to ride jet skis that day. His friend's dad had jet skis and lived just off the bay at Padre.
So we were set for August 20, which was a Saturday. A few days prior, Morgan and my mom convinced me I needed to go home for a few days to take care of some things. I didn't really need to go home; it was all just part of the plan to get me away from Morgan, so he could plan for "the big day." I came back from Conroe on Friday, and Morgan and I took off for the Island Saturday morning.
Everything went wrong from the very beginning. At one point, Morgan even considered calling it off and waiting for another day to propose. We look back and laugh now, but there was definitely some tension early in the day. The first thing to go wrong was with the jet skis. We were just about to the Island when we got a call from his friend's dad (the owner of the jet skis) to tell us one of the jet skis was broken and that he needed to use the working one to tow the broken one to get it repaired. He said he would call us when he returned with the working one, but he wasn't sure how long it was going to take.
So there we were at Padre needing to kill some time. We didn't want to go to the beach yet since we were planning to go later in the day, so we ended up going to one of those cheesy tourist stores that primarily sells island t-shirts and trinkets. After looking at a bunch of stuff we weren't going to buy, we decided to head out for an early lunch while we waited for the jet ski to be ready.
Now, generally speaking, I love cafés. Usually cafés will sell sandwiches, soups, salads, and the like, but not the one we picked. Oh no. Not only did The Grapevine Café not sell any "café" type food, but it was a Mexican food establishment. Neither Morgan nor myself care for Mexican food, but we didn't feel like driving anywhere else, so we settled for this place. And seriously… the name Grapevine Café sounds absolutely nothing like a restaurant that sells primarily Mexican food!
At this point, I had become extremely moody. I had been so excited to ride the jet skis, and when we got the call that we were going to have to wait, I was crushed because I had built up this day so much. (Yeah I know I was being a baby about it.). Anyway, our food finally came after enduring a series of awkward silences between Morgan and me, the happy couple. And of course our food was awful; Morgan ordered a club sandwich that did not come with sliced deli meat as you might expect, but a chicken patty (breast meat), and I ordered a taco salad that was no good either. How do you mess up a taco salad? I'm not sure how, but they managed to do it.
Brief pause here to note that this is where I originally left off. I'm really wishing now that I hadn't waited 11 years to finish writing this because now I'm having to think really hard about exactly how the rest of the day went! But here goes…
I believe the jet ski was available by the time we finished our lunch, so we headed over to his friend's dad's house and got situated on the jet ski. We went out in the bay and rode for a good bit of time, which basically meant that Morgan let me drive pretty much the whole time, and he just endured it. The day was definitely improving, and my spirits had lifted.
Our next stop was to go hang out on the beach, and through someone else that Morgan knew, we were supposed to be able to ride on one of those banana boat rides for free. In keeping with the theme of the morning, that fell through too. The guy was willing to let us ride for free, but he was only going to take us out if he could fill up the rest of the spots with paying customers. As luck would have it, it was a slow day for him, which meant no banana ride for us.
No big deal though because I can lay on a beach all day long and be perfectly happy. That's pretty much what we did. I think we went in the water a little bit, but we mostly just relaxed by the water. However, we were on a schedule. We needed to leave the beach early enough so we'd have enough time to get showered and dressed for dinner with my mom and stepdad. I guess we were relaxing a little too much because we both fell asleep, and when I woke up and looked at the time I realized we were running behind and really needed to book it.
My mom and stepdad were vacationing on the island at the time, so the plan was for us to go to their motorhome to wash up and get dressed for dinner. They were also supposed to go to dinner with us, or so I was led to believe. When we got there, they were still in their bathing suits, which really surprised me because they're usually very punctual, and they knew what time we were trying to leave for the restaurant. My mom said, "You two go ahead and get ready, and we'll meet you there."
At first I protested because I wanted the four of us to ride together in their jeep. This was a big deal to me because it was the jeep that had belonged to my grandfather, and he had taught me and all my cousins how to drive in it on his farm. I love that jeep and really wanted to ride in it.
So there's Morgan freaking out inside of his head that yet another thing is going wrong, but lucky for him, my step dad just fabricated some story about how the jeep wasn't working just right, and he needed to do something to it, so we should just head to the restaurant ahead of them.
Okay fine…so I got dressed as fast as I possibly could (remember we were running late), and then Morgan got in the shower. Oh. My. Goodness. Could he have taken any longer in there?! I think not. Just think sloth, and you'll get the picture. And then when I checked on him, I realized he was shaving, and I was like, "You don't have time to shave! We're running late! What are you thinking?" I was getting really ticked off that no one else seemed to have any sense of urgency, except for me.
We finally left for Angelino's, which was an Italian restaurant on the island that sadly didn't make it past a year or two. When we arrived, the hostess asked if we needed a table for two, and Morgan chimed in and said, "Yes, for two." I swung my head around and looked at him, and said with a little frustration, "My mom and Keith are still coming!" To which he replied to the hostess, "Just two."
I was caught off guard to what seemed like Morgan acting very rude, which by the way, is very out of character. So he starts following the hostess, and I'm trailing behind both of them with my mouth still open in shock that he totally ignored my reminder that they were coming.
But then we came around a corner to a semi-private room, where there was a small table that had clearly been decorated for a special occasion. There was a glass vase filled with red roses, and some extra rose petals had been strewn across the tablecloth. I also noticed the mosaic candleholders right away, which were blue and red, both of our favorite colors. (I found out later that Morgan had made the them while I was gone). Morgan finally turned around and looked at me and said, "They're not coming."
Oh.
It was at that moment that I knew he was going to propose that night, though I had been a little suspicious throughout the day. But to be honest, I completely thought he was going to propose on the beach after dinner since he knew how much I adored the water. So…here I am, now wanting to rush dinner, so we can go for a walk on the beach, and I can finally get that engagement ring on my finger!
Just kidding. Not really kidding. We had been talking about getting married almost from the beginning of our relationship, so I had been waiting a very long time for him to propose.
Normally one to have a hefty appetite at an Italian restaurant, that night I forgot about my hunger, and all I could think about was our impending walk on the beach. We did enjoy a very romantic dinner, and I happened to notice our waiter seemed very nervous. His forehead was covered in beads of sweat, and his hands were shaking pretty bad, as evidenced by the wine he spilled when trying to fill Morgan's glass. I didn't really think much of it though. Like I said, I was a little distracted once I realized what was going to happen that night.
As we were finishing up our food, the waiter asked us if we would be interested in dessert. Morgan fully expected me to want dessert. I always want dessert. Like 100% of the time. But this was no ordinary evening. All I could think about was getting back to the beach for our "walk." Dessert would only delay this long awaited proposal, so I told the waiter, "I think I'll pass."
He was probably a little panicked on the inside, and so was Morgan, so Morgan gently responded with a grin, "Why don't you go ahead and bring out the dessert tray, and we'll take a look."
In my head, I'm thinking, "Okay, whatever. You can bring that dessert tray out, but I'm not sticking around. I'm ready to go."
Meanwhile, I noticed a waitress across the room fumbling around with a camera and uncovering a CD player. About the same time, I saw the waiter headed back to our table with the dessert tray, and I heard our song start to play on that CD player. ("Don't Wanna Miss a Thing" by Aerosmith…don't laugh)
What?!?!Wait a minute! Is Morgan proposing right now?! What?! This is not how I saw this going!
As the waiter reached our table, he put the tray in front of me, and I noticed a cheesecake, a tiramisu, and a white, velvet ring box with a closed lid. So naturally, I grabbed the piece of cheesecake.
Just kidding.
Apparently, Morgan thought I would reach out and grab the ring box, but I was so caught off guard that he was proposing at the restaurant and not on the beach that I didn't really know what to do. So he got up, came around the table, took the ring box off the tray, got down on one knee, and opened box. Then he asked me a question I had been waiting to hear for three years. (And to be fair, he had been waiting just as long to finally be able to ask me that question with ring in hand.)
He asked me if I would marry him.
I started crying and covering my face with my hands. I was nodding my head yes, but Morgan requested some verbal affirmation, so I said, "Yes! Of course!"
He put the ring on my hand, and I never thought a diamond could sparkle so much, but I'm not sure who was beaming more – the ring or me!
I think we did end up eating dessert at the restaurant. I was no longer in a rush to get out the door…obviously. After enjoying dessert and reminiscing about how the whole day had gone, with all of its ups and downs, we finally left the restaurant and headed to the beach for our walk.
It was a wonderfully sweet walk. We laughed a lot. We hugged and kissed. We talked about our future together. It was a perfect ending to a crazy, memorable, and fun day. But actually the day wasn't quite over yet.
I thought it was odd, but Morgan kept insisting that he return the CD player that he had borrowed, the one from the restaurant, to his friend, Robert, who lived on the island. (Actually, Robert had put him in contact with the restaurant owner and was really instrumental in setting up the whole proposal.)
I thought our walk was cut a little bit short by this urgent need to return the CD player, but I didn't really care. I just kept staring at my hand and smiling.
So we drove to Robert's house, and he opened the door rather awkwardly, and it seemed pretty dark in the house, but we walked in, and as we did, about 25 people shouted, "It's about time!" and sprayed us with silly string.
Quite a few of our friends and some of our family had gathered for a little celebratory after party. Not only that but three of my best friends from back home had made the seven-hour drive to surprise me at the party. It was an even better ending than I had imagined.
I felt like I was living in a dream. It was such a long awaited engagement, and the moment had finally arrived. I was finally engaged! And I was engaged to a man who loved me deeply with a sacrificial kind of love, who treasured me, and who wanted to pursue Christ with me until death do us part.
"So they are no longer two, but one flesh. Therefore what God has joined together, let no one separate." – Matthew 19:6