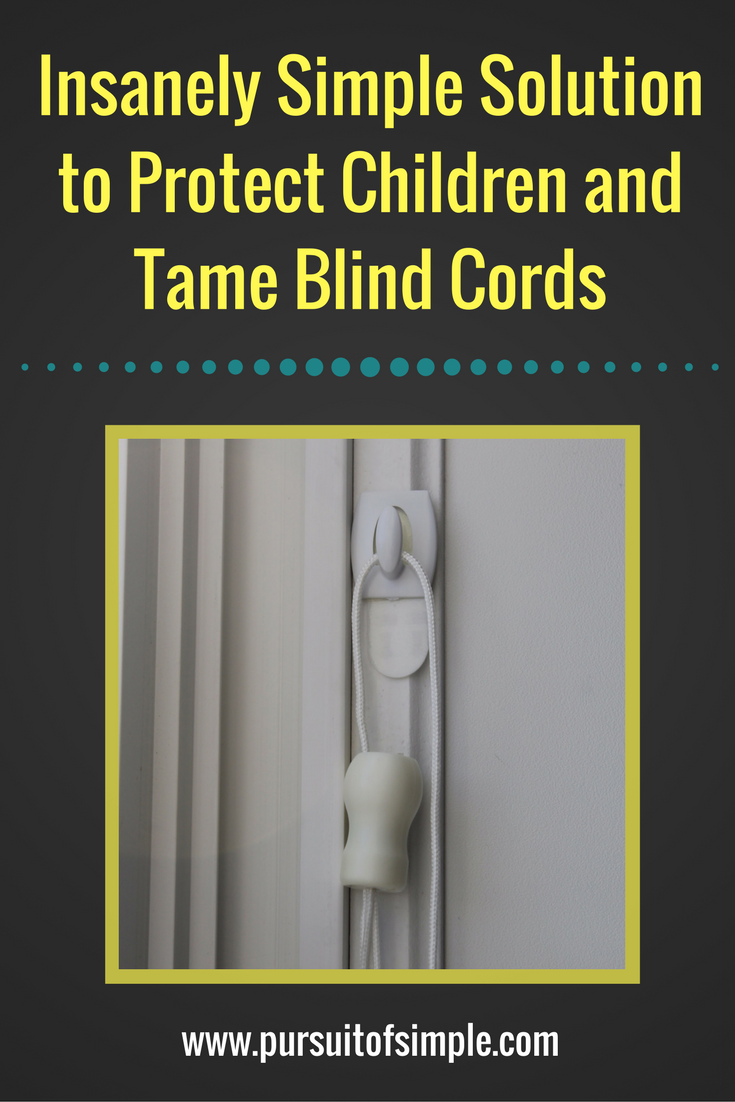 You may have already figured out that we love and use a lot of 3M CommandTM Hooks around our house! Not only will today's post inspire you with a yet another way to use them, but I believe this use of CommandTM Hooks particularly simplifies a very annoying, yet serious problem in your home.
When you don't have kids, blind cords are a pain in the…yeah, you know. Then, when the little people start running around your house, these cords become an irresistible temptation at best and a fatal hazard at worst. I know I don't need to scare you with statistics or stories of children (or pets) who have been strangled as a result of dangling, unsecured blind cords. It is a serious issue that needs to be addressed if you have small children living in your home. And even if you don't have children to worry about, they are just plain irritating, so you might as well tame them for your own sanity.
I have to be honest. I have never actually tried out any of the products on the market that are made specifically to secure blind cords, and supposedly, keep them from getting tangled. We never secured our blind cords until our son was old enough and mobile enough to reach them, but once we decided to address this problem, my husband had a wonderfully simple idea (which is my favorite kind of idea, as you know. 😉) Ready?
He decided to mount a CommandTM Hook up high in the window frame and drape the extra cord on it to see if that would get the cords high enough off the floor, as well as keep them in order. And quite obviously (since I'm writing a post about it), it worked! It has been the perfect solution for us.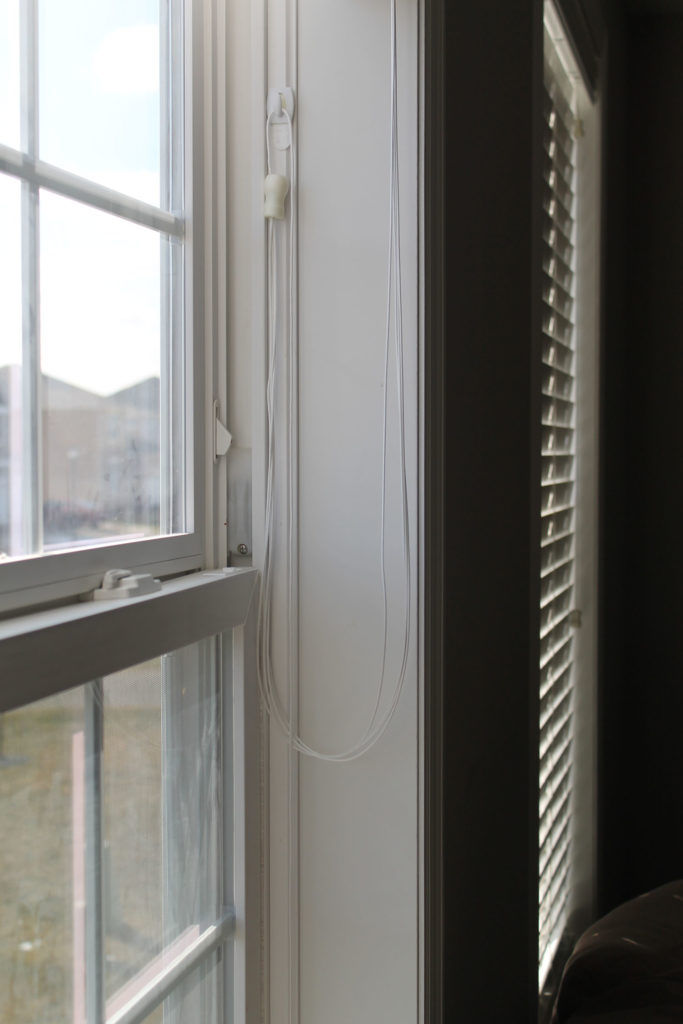 Although we have used a couple of different types of hooks, we recommend using the 3M CommandTM Mini Hooks. If you buy the value pack, they are pretty inexpensive (about $0.50 per hook), and they come in either white or clear, allowing you to choose the one that best matches your window. If you have ever used CommandTM Hooks before, you know how quick and easy they are to mount. If you ever replace your blinds with a different kind of covering that doesn't have cords, you can easily remove the Command Hook adhesive without damaging your window, and the best part is you can go use the hook for something else in your house! Can you see why I think this is such a practical solution?
However, before I wrote this post I realized I should at least do some quick research to explore the other options. Let me be clear. I did some quick research online. I didn't spend a whole lot of time digging because I'm biased toward the solution that has been working so well for us. But… I found window cleats and blind cord wind ups as potential options. I found a range of prices, depending on where you buy them and whether you buy a value pack or a small quantity. While some of them were about the same price as CommandTM Hooks, most of what I found was more expensive.
Even if the window cleats and blind cord wind ups are the same price, I still see the CommandTM Hooks as having several advantages. First of all, the installation of the cleats involves screwing them into the window frame, so right off the bat, the CommandTM Hooks are going to be way easier and quicker to install and won't require any tools. And as I mentioned before, the CommandTM Hooks are not limited to only being used for your blinds.
The blind cord wind ups don't involve any permanent installation like the window cleats, but after you attach it to the cords, you have to manually wind it up to shorten the cords. I'll admit I have not actually tried using these, but I just watched a video to see how they work, and while they seem to be a very viable solution, I think I would find it a bit cumbersome to have to manually wind up each set of cords for every window each time I wanted to pull up the blinds. As one who is obsessed with natural light, I open all of our blinds every morning to let in as much light as possible, so this would be particularly time consuming for me! It's much simpler to just lift the cord and rest it on the CommandTM Hook. Takes me maybe one whole second to do it.
Now before you run out and deplete Wal-Mart or The Home Depot's supply of CommandTM Hooks, let me just say that the safest option to protect children against the danger of strangulation from blinds is to select cordless blinds. Using the CommandTM Hooks is not 100% safe, as children could still climb on furniture and lift the cords off the hook and potentially get themselves into trouble.
Please understand that I am not promoting CommandTM Hooks as the safest option out there to protect children from blind strangulation, nor is this post sponsored by 3M in any way. I am simply offering this as a potential solution for those who have either chosen to use blinds or for those who cannot afford (or are not allowed) to replace what is already installed on the windows in your home. Consider this option carefully and at your own risk.
These CommandTM Hooks have worked well for us in protecting our blinds and taming our kids. Oops, I said that backwards. Let me try again. These CommandTM Hooks have worked well for us in protecting our kids and taming our blinds….actually, maybe I did have it right the first time. Just kidding. 😉 Seriously though, using the CommandTM Hooks to hold the excess cord keeps the blind cords in order, keeps our kids out of trouble, and most importantly, keeps our kids safe.
Thanks for reading, and I wish you the best as you battle your blinds!