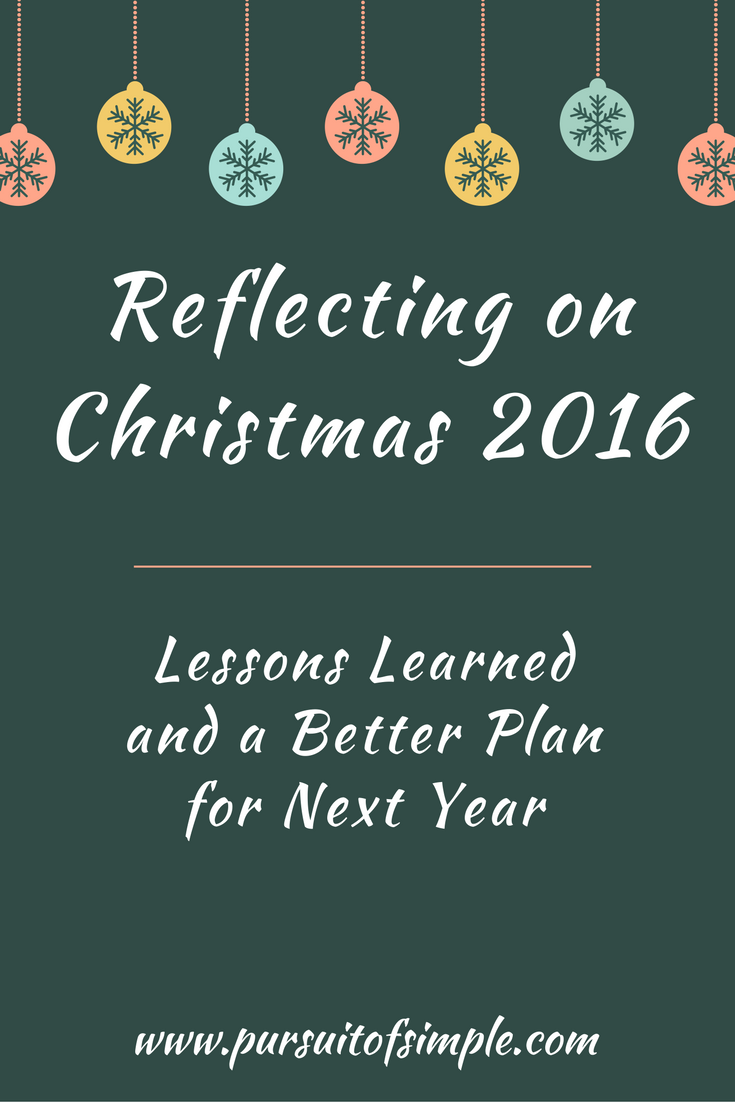 I don't know about you, but I haven't quite recovered from Christmas yet. We just got back from our 12-day trip to visit family, and I am feeling so behind in life! Since we left almost a full week before Christmas, we were in an absolute frenzy trying to get everything done before our trip. We had our list of things that absolutely had to get done and our list of things that I really, really, really wanted to get done but were not essential for the trip – things that I didn't want to come home to because I knew I'd feel like I was starting out in a deficit if I we left those things unfinished.
You wanna know how many things we accomplished on the second list? One.
So here I am, starting out the year feeling incredibly behind. Feeling overwhelmed on where to start, and wondering…where did I go wrong? I am a relatively organized person. I'm a planner and a list maker, and I think ahead all the time. I really made an effort this year to start earlier, so I could actually embrace the spiritual significance of Christmas, but even still, I found myself stressed out, overwhelmed, and distracted from focusing on Jesus.
So how did I manage to wind up in this position…again?
I simply didn't start early enough. I thought I started early enough. I mean, I ordered my Christmas cards in October for crying out loud! But when you're leaving on a trip, your Christmas prep essentially needs to be done before you leave. In our case, that meant everything needed to be done by December 20! Yikes.
In the past, I've always felt like I shouldn't do any Christmas "stuff" until after Thanksgiving, and to some extent, I still feel that way. I never want Thanksgiving to be overshadowed, and I'm certainly not going to turn on Christmas music until after Turkey Day, however, I am tired of feeling this overwhelmed year after year. I'm making a plan now to make some changes for Christmas 2017. One of my first blog posts  I ever wrote was about Mapping Out a Christmas Game Plan One Task at a Time, but after this year's holiday overwhelm, I'll be updating the timeline to reflect my new plan! 🙂
My basic plan for 2017 is to start earlier on all tasks that are not spiritually significant and reserve December for Christ-centered activities, family time, and traditions. I also need to be willing to humble myself and say No to certain activities and tasks if we really don't have the time. It's amazing how much pressure you can take off yourself when you're willing to let go of pride and surrender to a less than picture-perfect Christmas.
Christmas shopping
I've always waited to do my Christmas shopping until Christmas season. There's just something about hearing Christmas music in the store, cold weather outside, and seeing Christmas decorations everywhere that makes me feel all warm and fuzzy inside, but I'm starting to realize the warm fuzzies are simply not worth it. It's unrealistic and one of the main reasons I get so overwhelmed toward the end.
I will start my Christmas shopping in October this year. I know there are some people out there who start even earlier than that, but I see two risks in that method: 1) I don't want to forget or lose what I've purchased, and 2) if it's for my kids, their wish list will likely change throughout the year. If I buy something in June, by December they might have moved on to something new and care nothing for what I've already purchased.
Christmas Cards
I was successful at ordering our cards early this year, but somehow still didn't mail them out until mid-December. Our plan will be to do DIY fall pictures in October, order cards by early November, and get them ready to mail over the Thanksgiving break. This means I will also need to get mailing addresses in order by mid-November.
Indoor Christmas Decorations
As I mentioned before, I've always refused to put up any Christmas decorations until at least the Friday after Thanksgiving, however, I think I may lift my self-imposed rule in an effort to decrease December stress. We'll still save our tradition of decorating the tree as a family for the weekend after Thanksgiving, but inside decorations will ideally be going up just before Thanksgiving.
Outdoor Christmas Lights & Decorations
When we first moved to Minnesota from Texas, my husband and I kind of rolled our eyes when we saw some of our neighbors putting up their outdoor Christmas lights before Thanksgiving. We thought that was kind of ridiculous to put them out that early, and me, not ever wanting to rush Christmas before its time, certainly never thought we would follow suit. However, us Texans did not realize the very practical reason people were doing that. It's cold. It's freaking cold in Minnesota. Putting up your outdoor Christmas lights is an entirely different experience than in Texas. Guess who didn't put up any outdoor lights that year?
We don't laugh at people who do that anymore. We're joining the club. When the weather is pleasant, you put up your lights. No one said you have to turn them on, and who cares if it's the middle of November? Not me, not anymore.
And now you may be thinking, geez, what's left for December if you've already done your shopping, your decorations, and your cards? Well, now that the bigger tasks are out of the way, I'm hopeful that we can focus on family traditions and the spiritual aspect of Christmas.
A Focus on Advent
This past year was the first time we ever made an Advent Wreath and read a weekly devotion at the dinner table for each of the four advent themes – love, joy, peace, and hope. It was a very meaningful experience for our family, and I am SO GLAD we did this! Fortunately, our church hosted a family advent breakfast where we had an opportunity to make the wreath and an ornament for each theme of advent. If not for this event, chances are pretty low that we would have taken the initiative to do this on our own, but going forward it will be a priority.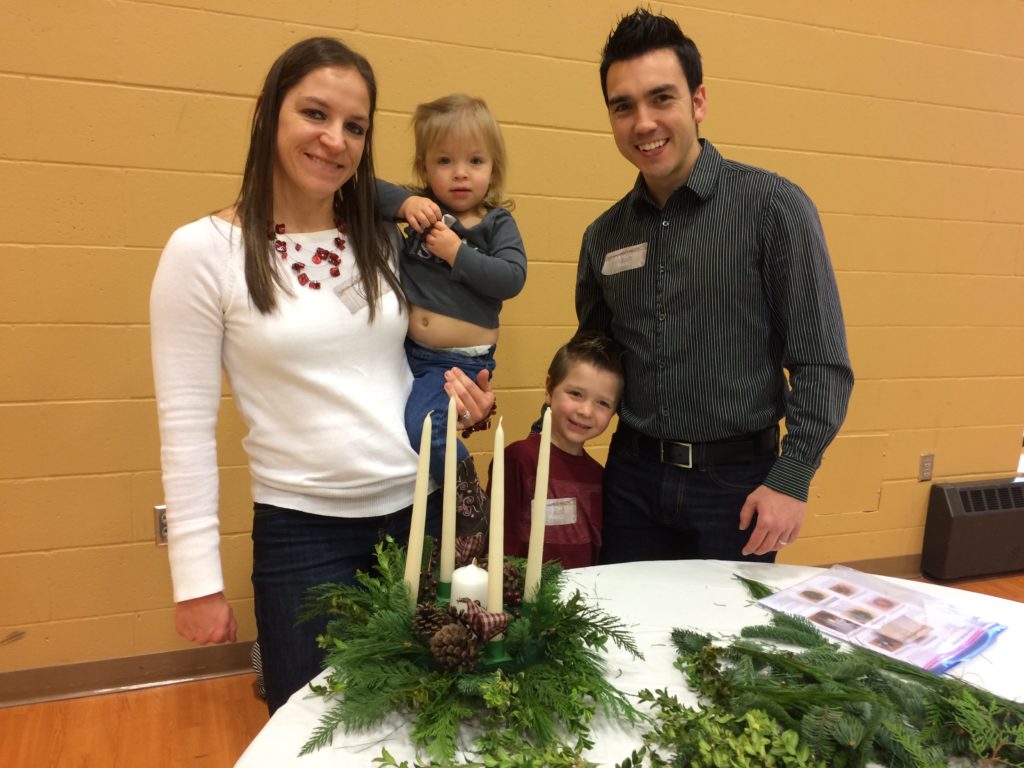 Selecting a Birthday Gift for Jesus
Every year we get a gift for the birthday boy. One of our gifts that has become a tradition to is to pack a shoe box for Operation Christmas Child just before Thanksgiving when they have their national collection week. In addition to the shoe box, we try to find another "gift" for Jesus – something that is generously given in Jesus' name to someone in need or to further His kingdom here on Earth. Whether it's buying toys for a toy drive, buying gifts through World Vision, or giving a year-end gift to a worthy charity, we want to purposefully select a gift as a family and teach our kids the importance of keeping the focus on Jesus. I never want our selection of this most meaningful gift to be something we hastily choose at the last minute because we're so focused on all of our other Christmas tasks.
Service Project
Similar to getting a gift for Jesus, my hope is that when our kids are a little older we will incorporate a tradition of service at Christmas time. Ideas I have in mind include sorting shoe boxes with Operation Christmas Child, packing meals with Feed My Starving Children, or volunteering with some other similar organization reaching out to those less fortunate during Christmas time.
Christmas "Lightseeing" (with Hot Chocolate, of course!)
One thing we failed to do before leaving on our trip was to drive through surrounding neighborhoods to admire everyone's Christmas lights.  I had planned to make us all some hot chocolate, hop in the car, and turn on some Christmas music while we enjoyed the drive as a family. However, we just got too busy at the last minute with everything else listed above that this simple tradition got squeezed out of our schedule, but I am determined to make it happen next year. Fortunately, we were able to drive around in Texas and look at lights. However, it was too mild outside for hot chocolate, and I really wanted to admire lights with snow on the ground. But with temps in the mid-70s, the only snow we saw was the artificial kind blowing in inflatable snow globes!
Christmas Baking
We always do our Christmas baking as a family, and we try to do it all in one marathon baking session. The only change I think we need to make to this tradition is to do it earlier in the month. As it gets closer to Christmas, I start to feel stressed that we're not going to finish everything in time, and baking begins to seem non-essential and tempting to skip. But I don't want to skip it! In the end I'm always so glad we did it, even though it can be time consuming and stressful. It's a special time for making memories, and it's a great opportunity for our kids to learn how to use their time to do something nice for other people.
Watch Christmas Movies as a Family
We haven't yet incorporated this tradition, but I'd love for us to pop some popcorn, snuggle up, and watch Christmas movies together as a family. I think it would be fun to have a few family favorites that we watch year after year.
One Last Idea
Something I did this year for the first time that I found to be particularly helpful was to print off a Christmas-themed December calendar and actually schedule all of our Christmas activities – baking, lightseeing, advent wreath, etc. Although I still got stressed out toward the end, planning out our Christmas events and traditions in advance was super helpful. We realized how little time we actually had to fit everything in, and it forced us be more efficient with our time. Not only that, my son loved to check the calendar every few days to see what was coming up. Here's a link to the site where I downloaded a festive December calendar. (You can actually download festive calendars for every month of the year if you want!)
So that's it. Those are my lessons learned and my plan for 2017. I know all of this will be easier said than done, but I did say it was only a "plan," right?! I'd love to hear about your Christmas 2016 experience and your thoughts on what went well and what went south. We can learn so much from each other, so please share your great ideas in the comments below, and have a blessed 2017!