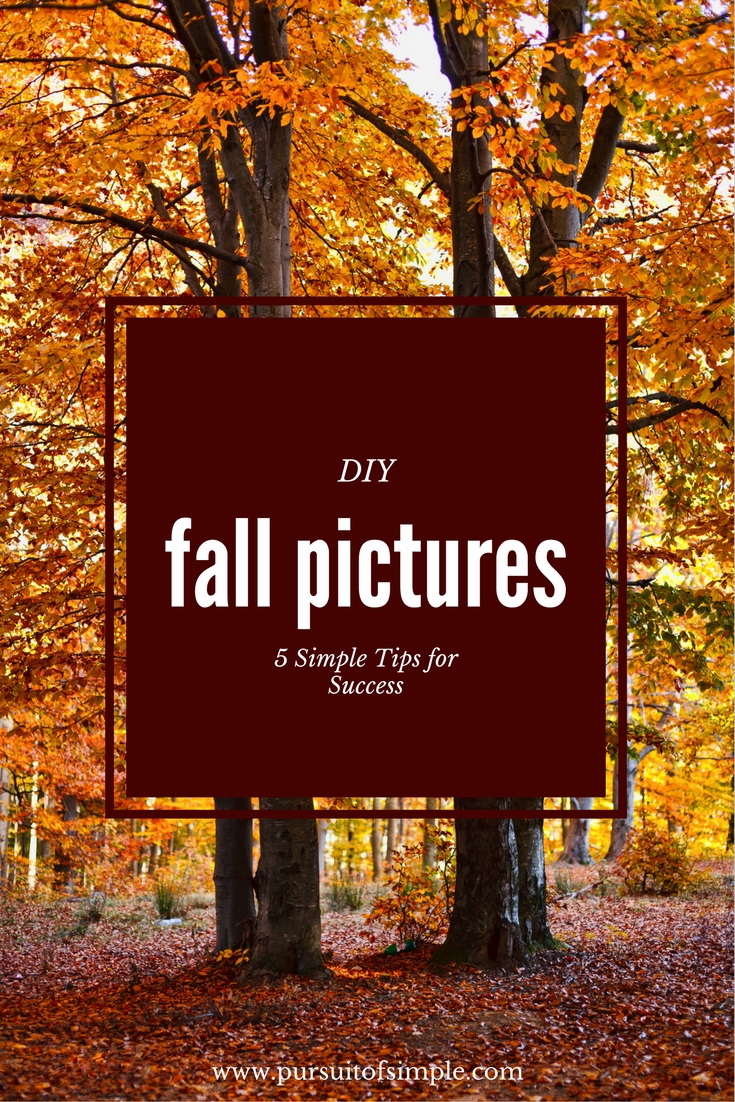 I know I said this before, but fall is absolutely my most favorite time of year! And what better time to take your family photo for your Christmas card than right now?! Now that I live in the Midwest where the leaves actually change color before falling to the ground, I make it a priority for us to take family pictures with "fall" as our backdrop. The timing works out really well too since Christmas card season is just around the corner, and getting your pictures out of the way in October is one way to get ahead on your Christmas To-Do List.
Now that you are hopefully excited and motivated to go out and take some fall family pictures, let's talk about a great way to save a lot of money and still get some decent pictures. For as much as I love pictures and wish that I could hire a professional photographer at least once a year to take photos of our family, that is simply just not in our budget. So for those years that you can't afford professional photography, I'd like to propose a simple idea for your fall family photos that is sure to save you big bucks.
Pair up with another family and agree to take each other's pictures. What? That's it? That's the great idea? Yes. I did say it was a simple idea. And here are some basic tips to help make it a success…
Find another family who would like to pair up. Ask them if they would like for you to take their pictures, and then ask if they'd be willing to return the favor. Ideally, you want to pick someone you are pretty good friends with, which will make it more fun and feel more like a social outing. When you're done with pictures, you could even go grab dinner together. This can make an especially good incentive if you're anticipating some lack of cooperation from the little people in your family.
Try to do some driving around before the day of your pictures to find that "perfect spot." Taking a little extra time to select a place with a beautiful natural background for your pictures can really make a big difference as opposed to throwing together a last minute picture with some random background.
Take advantage of natural light by taking your pictures during the Golden Hour. According to photographymad.com, the Golden Hour is "roughly the first hour of light after sunrise, and the last hour of light before sunset, although the exact duration varies between seasons." It's during these times that the sun is low in the sky, which gives off a much softer light than that which is given off when the sun is high in the sky. And the simplest way to figure out the best time to take your pictures is to just look up sunrise/sunset times on weather.com or on whatever weather app you use.
Coordinate the clothing that your family wears. I realize not everyone would agree with me on this one because some people don't like the put-together, everyone matching kind of look, but I personally think it really helps to tie the picture together. Even if you don't coordinate, you should at least make sure you don't have a bunch of really "busy" prints that will either clash with one another or distract from the beautiful scenery you picked out.
Consider investing in a decent digital camera, or if you're lucky enough, maybe the friend you picked out has a good camera to use for the pictures. You might be thinking I'm crazy for suggesting spending several hundred dollars on a camera when this post is about saving money on family pictures, however, if you were to pay a photographer for one session, you would easily be paying them the same amount. If you buy a camera, you will have it for years to come to use for any occasion, not just fall pictures. And even if all you ever do is leave it on the fully automatic setting, you're still going to get pictures that are incredibly better than what you can take with your phone.
All of these tips are pretty straightforward, but it definitely requires planning ahead and not procrastinating. This is absolutely key. Find your partner family. Pick out a date for your pictures, and then begin planning. Find your perfect spot. Pick out what everyone is going to wear and/or go shopping to buy coordinating clothes. Get haircuts, highlights, etc. Make sure your camera works and you have an SD card with enough memory.
And last but not least, try to actually enjoy taking the pictures. I feel like a hypocrite for even suggesting this because I tend to get really stressed out on the day of our pictures, but in the grand scheme of things, it's just a picture.