Fall is officially here, which also means that Crock Pot season has arrived as well! I don't know about you, but I absolutely love cooking in the Crock Pot as the temperatures begin to drop. I've noticed this inverse relationship at our house and perhaps you have too: as the temperatures go down, the frequency of Crock Pot dinners goes way up. So…you need to make sure you have plenty of good Crock Pot recipes for the fall, and I'm going to share one with you today that I hope you will make a part of your collection.
Sweet and Sour Meatballs! I just love to make these for so many reasons. First and foremost, they're delicious. Secondly, they make a great "back up" meal because the recipe calls for frozen meatballs, which you can easily keep on hand in your freezer. I'm always needing back-up meals for those times when I don't plan enough dinners for the week or something else unexpected, such as life, comes up.
I also love that these meatballs are so versatile. We usually eat them on sweet Hawaiian hot dog buns or on rolls to make sliders, but I have also served them with rice, cous cous, or quinoa. You'll find that most of the ingredients are things you probably keep on hand, which keeps the recipe simple and inexpensive too. And finally, it's a slow cooker meal, so by default it is a convenient recipe to throw in the Crock Pot and let cook all afternoon. And who doesn't love that?!
So to keep things simple I'll stop rambling about how great the recipe is and get down to business…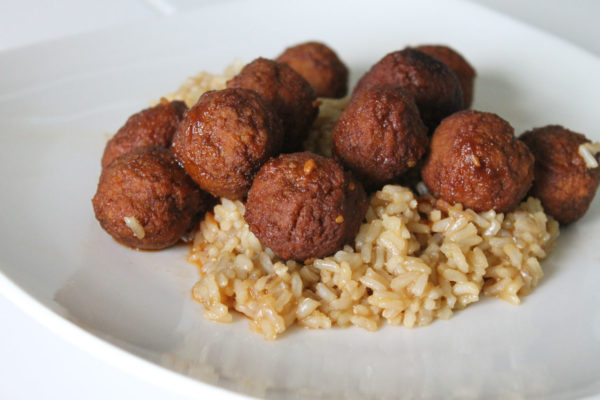 | | |
| --- | --- |
| | |
Wash and chop your bell pepper. If you're running short on time, you can easily omit the bell pepper, and the meatballs still taste great.

Add the soy sauce, ketchup, vinegar, brown sugar, minced garlic, and bell pepper to the bottom of the crock pot. Stir to combine.

Add the meatballs, and stir to coat them with the sauce. This is a little challenging because there's not a lot of sauce and the meatballs are still frozen, but just do what you can. After they have been cooking a little while, it will be easier to coat them with the sauce when stirring.

Cook on high for about 3 hours. Stir occasionally.

Serve on sweet Hawaiian hot dog buns/rolls or with, rice, cous cous, or quinoa.