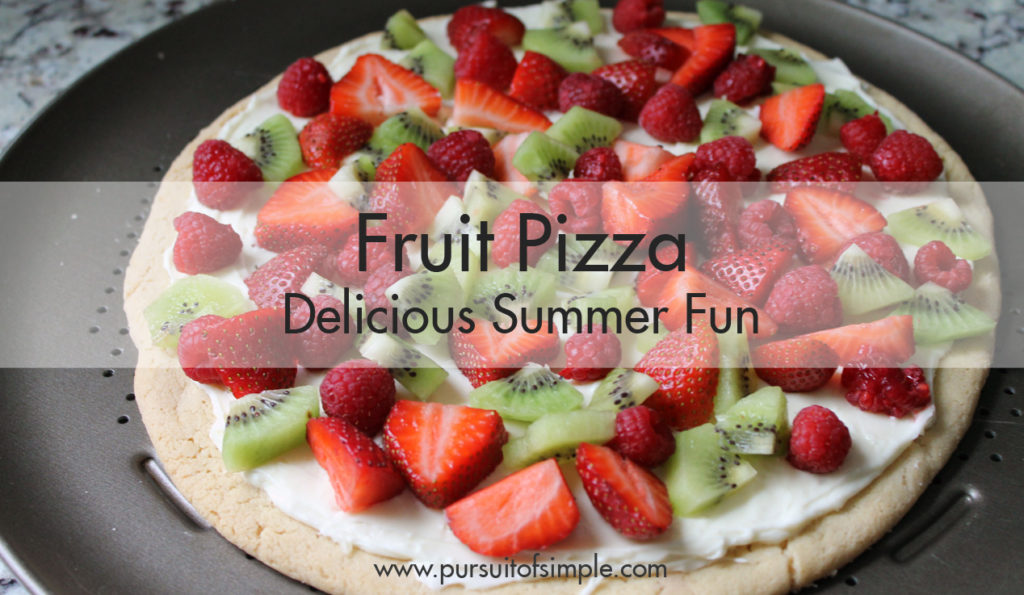 It's hard to believe that we are already about halfway through summer, but that is the unfortunate truth. The good news is that I thought I'd share one of my favorite summertime recipes from childhood that is both delicious and fun to make. It's a perfect recipe for having little hands help you, and since it has fruit in it, I find it especially refreshing during the summer months. Not to mention, it's really pretty to look at when you're finished.
So what recipe am I referring to?! Fruit Pizza! If you've never heard of Fruit Pizza, you can relax, it's a dessert, and it tastes nothing like traditional pizza with fruit on top – a common misconception. It's only called Fruit Pizza because it resembles a pizza. It's a dessert, and it just might be on my Top 10 List of favorite desserts ever.
When I was a kid, my uncle would rent a beach house for a week during the summer, and we would always come and stay a few days. It became a bit of a tradition that my mom would bring the stuff for us kids to help her make Fruit Pizza. We always had fun making it, but the best part of it all was enjoying the fruits of our labor when we were finished (yes, pun fully intended there…).
In a nut shell, all you do to make Fruit Pizza is roll out and flatten sugar cookie dough, make the "paste" out of cream cheese and powdered sugar, and then decorate with your favorite fruits. You can drizzle preserves on top if you desire, but otherwise you just chill it, and you're done. I personally prefer it without the preserves on top, but I'll leave that up to you. The full recipe is below with more detailed instructions. If you've never had Fruit Pizza before, I really hope you will give it a try. I'm sure you will be glad you did!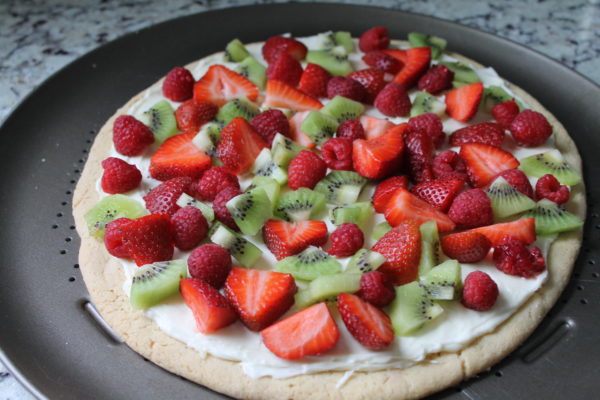 | | |
| --- | --- |
| | |
Place cream cheese block on counter and allow to soften. Preheat oven to 350 degrees.

Press sugar cookie dough into a 15-inch pizza pan, and bake at 350 degrees for about 10 minutes (or until it appears cooked throughout). Allow to cool.

While the cookie crust is in the oven, prepare your fruits by washing and cutting them up.

Combine softened cream cheese with powdered sugar using a mixer, and spread over baked cookie. This will serve as your pizza's "paste."

Decorate the crust with the fruits of your choice. (This makes a perfect job for little hands that might be helping you.)

Thin the preserves with water, and cook until glaze forms. Drizzle glaze over fruit. (optional)