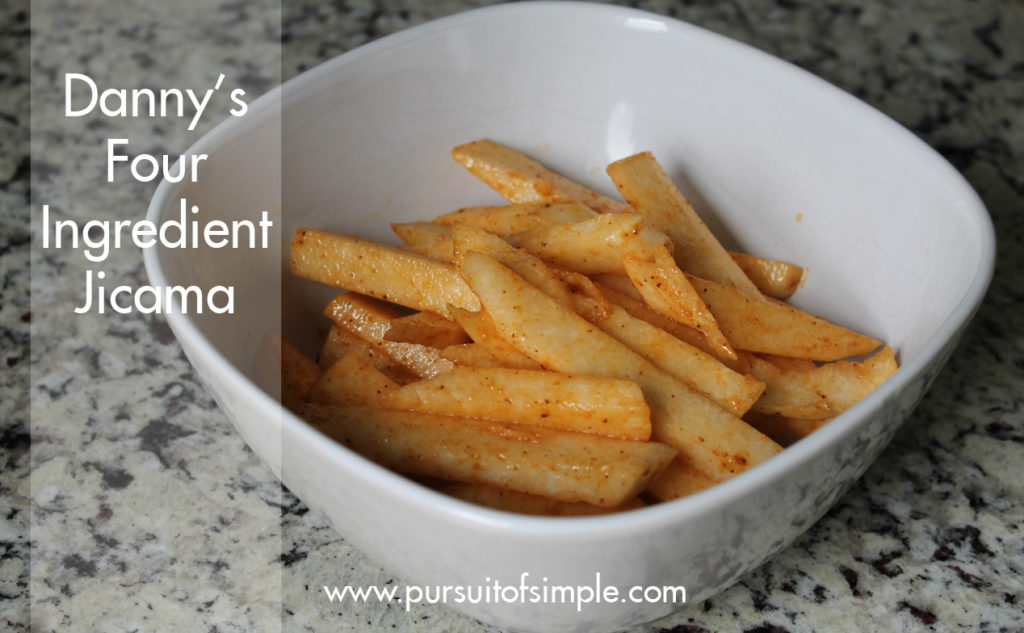 So let me start off by saying if you've never tried jicama before, you really need to branch out and try this delicious tuberous root. First thing to note is its pronunciation – since it is a leguminous vine native to Mexico and Central and South America, the "j" is actually pronounced as an "h"(ˈhē-kə-mə). And depending on where you live, you might get a strange look from someone at the grocery store if you ask where to find it. Or the cashier might ask you what it is, so she can ring it up.
Found in the produce section, jicama has a brown, thick skin (similar to potatoes), and the crisp, flesh on the inside is white. The size of jicama can vary considerably; I've seen small ones about the size of a softball, and extra-large ones about the size of a cantaloupe. (I'd avoid the larger ones as they are harder to peel, and I don't think they taste as good.). You can cook them, but generally they are eaten raw, as is the case in this very basic recipe.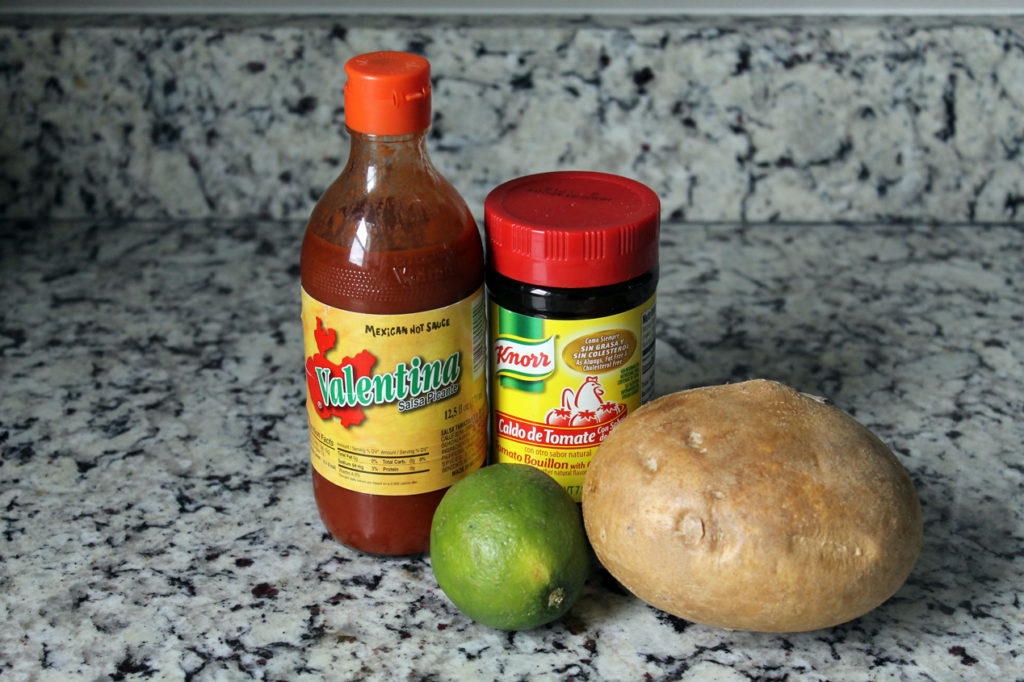 I hate to even call this a "recipe" as it's really just a way to prepare jicama, but for lack of a better term, we'll go with it. I had tried jicama as a kid, and I always liked it when it was mixed in with other stuff, but I thought it was kind of bland on its own. Fortunately for me, one of my teammates in college, "Danny," introduced me to making it this way, and I have been eating it like this ever since.
It's refreshing, somewhat healthy, and very easy to prepare. The hardest part is just getting the skin off of the jicama. Their skins are considerably tougher than that of potatoes, and you definitely don't want to eat the skin. If you've never peeled a jicama before and you're a visual person, check out this short and basic video to see how to do it. When I cut jicama to serve it this way, I like to cut it in long, narrow strips (think French fries or potato wedges), but you can really cut it whatever size and shape you prefer.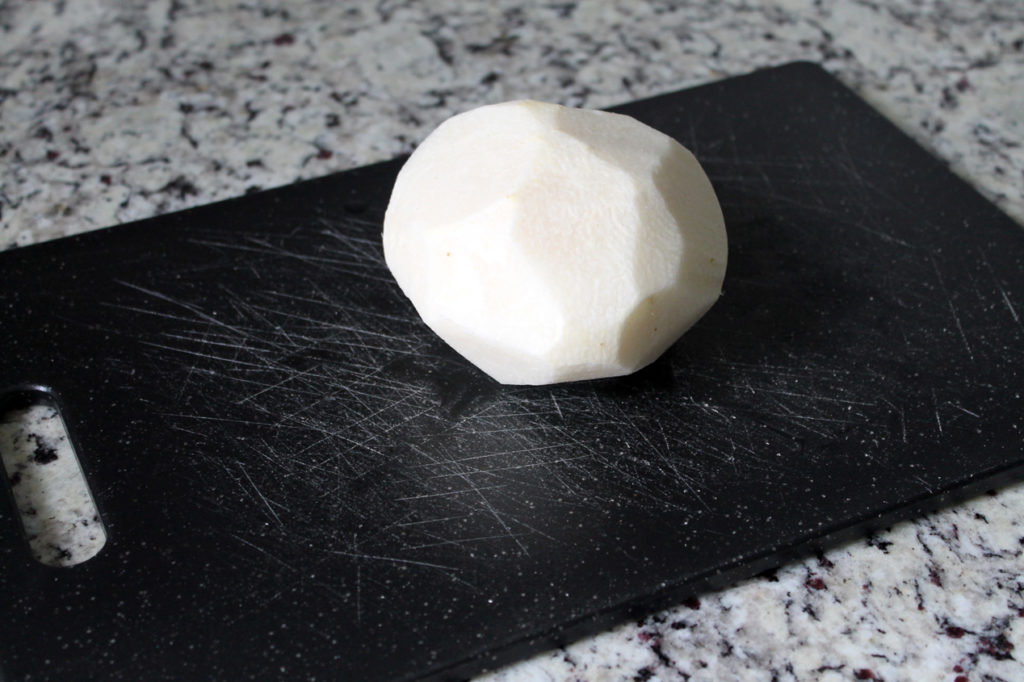 After you have peeled and sliced your jicama, you will simply add juice from a fresh lime (bottled lime juice will work in a pinch), some chicken bouillon seasoning, and Mexican hot sauce. Now, this method of preparation is all about your personal taste, so you will just need to start off conservatively with the ingredients, taste, and adjust accordingly. I personally like it heavy on the bouillon seasoning and light on the hot sauce, but then again, I'm pretty wimpy when it comes to spicy food. When Danny would make it, it was definitely a lot hotter!
I should also mention that every time I have ever prepared jicama like this, I have used Valentina's Mexican Hot Sauce. That's what Danny said to use, and I have never once wavered. 😉 So unfortunately, I don't even know what alternatives to recommend if you can't find this exact brand of Mexican hot sauce. However, I have always been able to find it at Wal-Mart, even now that I'm living in the Midwest.
See below for the full recipe with suggested amounts, which as I mentioned, are just approximate amounts until you figure out your perfect combination. Give it a try, and let me know what you think!
P.S. Thank you Danny for sharing so many years ago! Me encanta!
This post contains one or more affiliate product links. Pursuit of Simple is a participant in the Amazon Services LLC Associates Program, an affiliate advertising program designed to provide a means for sites to earn advertising fees by advertising and linking to amazon.com.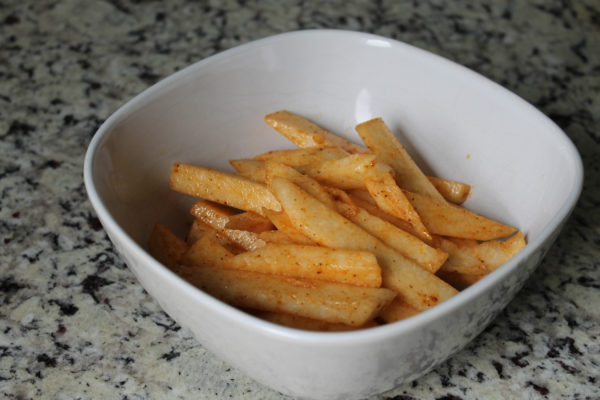 | | |
| --- | --- |
| | |
Peel and slice your jicama into long, narrow strips (or in the size and shape you prefer).

Slice your lime in half and squeeze the juice onto the jicama.

Add the chicken bouillon seasoning and the Mexican hot sauce. Stir to combine all ingredients.

Taste and adjust accordingly to your preference.
The listed ingredient amounts are just approximations, but this method of preparation is really meant to be served according to your personal taste. You may prefer more or less of the lime flavor, hot sauce, or chicken bouillon. Just start conservatively with your seasonings because all three ingredients have pretty strong flavors. You can get it too spicy or too salty in a hurry, and it's hard to scale back unless you have extra jicama on hand! 😉 Also, if you have an extra small or extra large jicama, you'll obviously want to adjust the amounts as well.