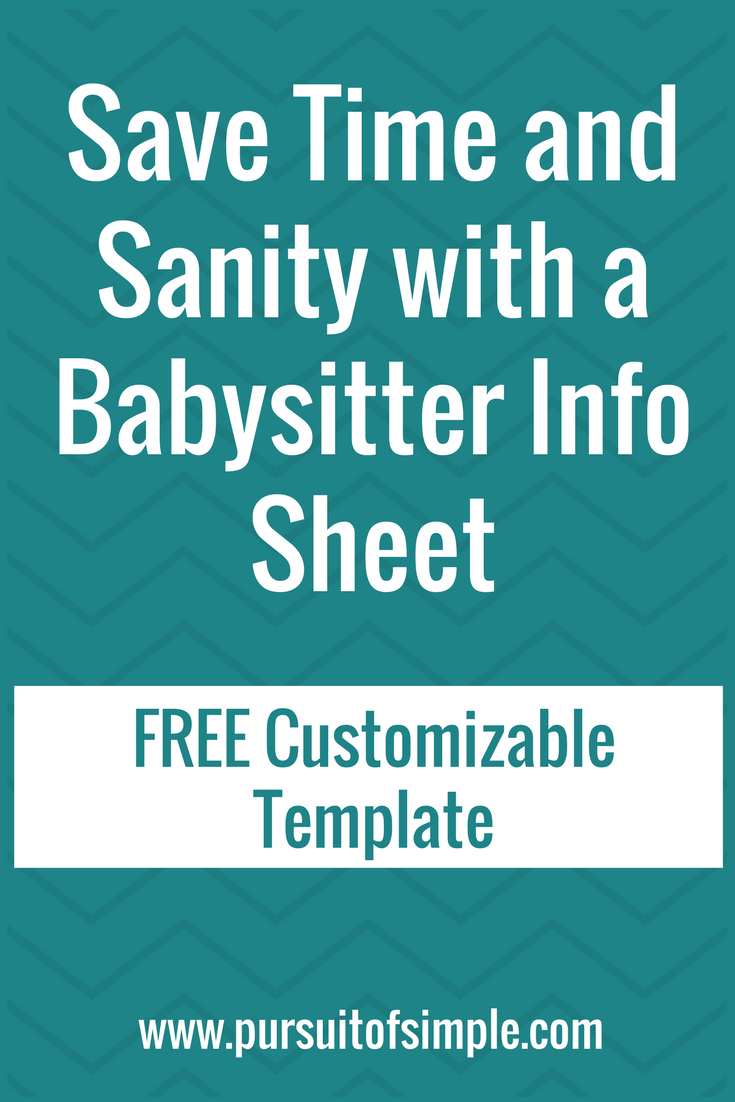 So here's a situation that might sound familiar. The babysitter is going to arrive at your house any minute, so you pull out your kitchen notepad and begin frantically jotting down emergency phone numbers and information she'll need while being responsible for your children. Your chicken scratch is hard to read because you're writing it so quickly, and you can never seem to remember to write down all the things that were on the list in your head.
If this sounds at all like your life and you'd like to avoid it in the future, then this post is especially for you! If you already have a good system in place for this, then I'd love to hear your comments at the bottom of the post or on my Facebook page.
I am a firm believer that you should avoid reinventing the wheel when you don't have to. I see that as a waste of time, which is absolutely one of my biggest pet peeves. To avoid that, I love coming up with systems or lists for things in my life that I need to do repeatedly, for example, using a Family Packing List when we travel. Having a template to refer to helps you be more efficient and thorough, and the best part is that it makes life easier for you!
When a babysitter comes over, it's hard enough to get out the door on time (at least that's the way it is at our house), so it's much easier to prepare a list and gather information ahead of time when your mind is not so cluttered. If you make a thorough list, you can just modify it as needed, but you won't have to write a new list every time you have a babysitter.
And to simplify things for you even more, today I am posting my Babysitter Reference Sheet as a FREE Download that you can customize with your family's information. I've tried to be thorough, yet at the same time general, so that anyone can use it, but I know that I have surely left off some pieces of important information that may be necessary for your family.  Just keep in mind it's a starting point. And while it's pretty straightforward, I have included a few things to keep in mind as you begin filling it out.
One last point…it may take a while to pull all this information together initially, but think of how much time (not to mention, sanity) you will be saving by doing it thoroughly just one time. 😊
Babysitter Info Sheet (Excel) – download and type in your family's info
Babysitter Info Sheet (PDF) – print out and write in your family's info
HOUSE & EMERGENCY INFO
It's definitely a good idea to have a neighbor who is willing to be called upon in the event of an emergency or crisis. Talk to them ahead of time, and ask them if it's okay to give their names and contact info to any babysitters at your house. Include on the list the Neighbors' names, phone numbers, and address.
For the Furnace/Breaker Box/Water Heater, be sure to include the location, as well as any special instructions. The same goes for First Aid Kit/Meds/Bandages.
And though it may seem over the top, it doesn't hurt to include information on the Nearest Hospital, Family Doctor Name, and Health Insurance Information. Chances are very low that a babysitter would ever need this information, but in the event that he/she does, you will be glad you gave them this info ahead of time.
CHILDREN'S INFO
Be sure to list out each child's full Name, including nicknames they go by, as well as their Birthdate, any Allergies, and other Medical or Behavioral Issues a babysitter should know about. For example, does your child have ADHD, asthma, diabetes, or dyslexia? Do they wear glasses or a hearing aid? Are they prone to nosebleeds or dizziness? Is your child fearless and the type that will climb on top of everything the second you turn your back? Is your child potty training? Be sure to include anything the babysitter should know about your children that could affect their medical condition or their behavior.
BEDTIME ROUTINE & SCHEDULE
I've included slots for Time to Clean Up, Time to Get in the Bath/Shower, and Time for Lights Out. Use this section to include anything and everything related to bedtime, as well as meal times, naptimes, etc. if you're having a babysitter earlier in the day.
Be specific. We've always found that when the babysitter tries to do things as closely as possible to the way we do it, it seems to really help with getting the kids in bed on time and with a lot less resistance. No surprises, just routine. And as such, we always leave very specific instructions for the babysitter.
Use the Additional Notes section for things like…

What order should they do things? Bath, brush teeth, pajamas, read, song, etc.
What pajamas to wear and where are they located?
Where are the night time diapers or pull-ups located if your child wears them?
Do you have special instructions for the bath? Special bath towels?
Do you pull the shades down in their rooms? Should they close the door or leave it cracked? Do you let them listen to music until they fall asleep?
Do you want your child to cry it out if they're fighting bedtime or would you prefer the babysitter to rock them, and for how long?
Do they sleep with a special stuffed animal or blanket?
What "tactics" will your kids likely use to put off bedtime or get out of their beds? It's helpful to prepare babysitters for that, and if possible, let them know how to handle it.
HOUSE RULES & CONSEQUENCES
This is basically a catch-all section where you can jot down rules that you think your kids may try to break just because they have a babysitter. What are the big time rules you want to make sure your kids follow while you're gone that the babysitter wouldn't necessarily know are rules? Also you can include consequences that the babysitter is empowered to give while you're gone. That way your kids will be aware that the babysitter knows the rules, and they know what consequences they will be getting if they choose to break the rules.