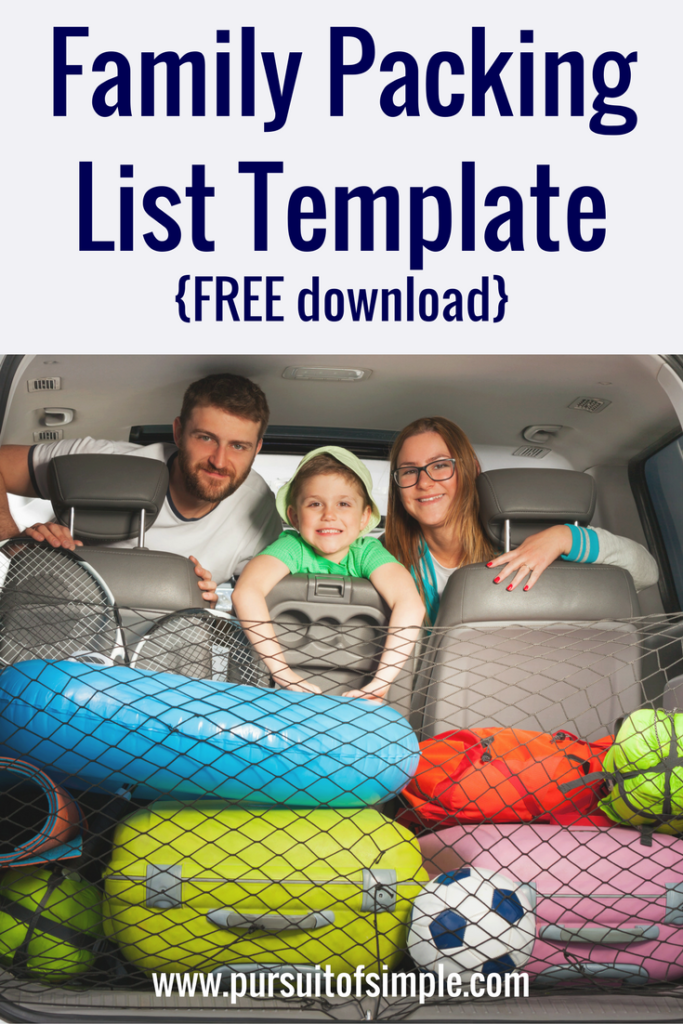 With Christmas less two weeks away, many families will soon be packing up and heading out to Grandma's house for the highly anticipated Christmas Trip! So whether you are flying or driving, I want to help you simplify your holiday packing by offering you my Family Packing List template. I recently posted two articles about Surviving Airplane Travel with Young Children, and in Part 2, I included a Family Packing List.
The list included in this post is linked to the same file, but I wanted to make a separate post out of it for a few reasons. First, if you missed the previous posts about flying with your kids, then you wouldn't have known that I included a template to download, and secondly, this is a generic list meant to be used over and over again, regardless of what type of trip you are taking.
I am a firm believer that you should never reinvent the wheel when you don't have to, so I constantly make lists that I can reuse. I LOVE making lists because I find that it saves me time, and it helps simplify whatever it is that I'm needing to accomplish. With respect to packing, having a template that I reuse every time simplifies the process by reminding me of things I might forget to put on the list (and therefore fail to pack), and I can pack a lot faster since I just go down the list checking things off.
Whether you use my template or create your own, I highly encourage you to make a family packing list that you can reuse every time you travel. Should you choose to use my Family Packing List template, here are a few more tips to help you get the most out of using it:
Depending on the size of your family, you may need to modify it (see Excel file below for editing). I created it with room for a family of five – mom, dad, baby/toddler, and two children. If you need to add subsequent children, just copy the column you need and paste. I tried to keep it to one page, but if you have more than five in your family, you might have to use a second page or really tiny font if you want it all on one page! 😉
Use the MISC/OTHER section to type or write-in items specific to your family. If those are standard items you need to pack, add them to the file and re-save the document, so they are already in there for the next trip.
Print out the list, so you can physically write on it. Yes, you need to go "old school" on this one!
This list is meant to be comprehensive, meaning that a lot of items will not be applicable depending on what type of trip you're taking and whether you are flying or driving. So, what I do before packing anything at all is I go down the list and highlight what items we need for that particular trip, and then I cross out the items we don't need to pack. Then I use the box to the left of the item to check it off once it's in the bag.
Another thing I like to do is to circle anything that is a "last minute" item – things like phone chargers, water bottles, clothes still in the dryer, etc. I circle them instead of check them off because it's too risky to check anything off until it's actually in the bag!
Make sure to pack the list too because you can use it to simplify packing for the trip home. I use the same list, but since the checkboxes have already been used, I just strike through the highlighted word instead to keep track of what I have packed. I have found it so helpful to do this because it cuts down on items left behind because you have a list of everything you need to track down.
I really hope using my template and these tips will make your life just a little bit easier the next time you are packing for a trip. The best part is that on your next trip all you need to do is print out a new list. No more list making for each trip! Reusing the same list each time you travel will save you time, help keep you on task when packing, and (hopefully) remind you of all the things you need to pack. Good luck, and Happy Travels!
Downloads:
Family Packing List Template (PDF)