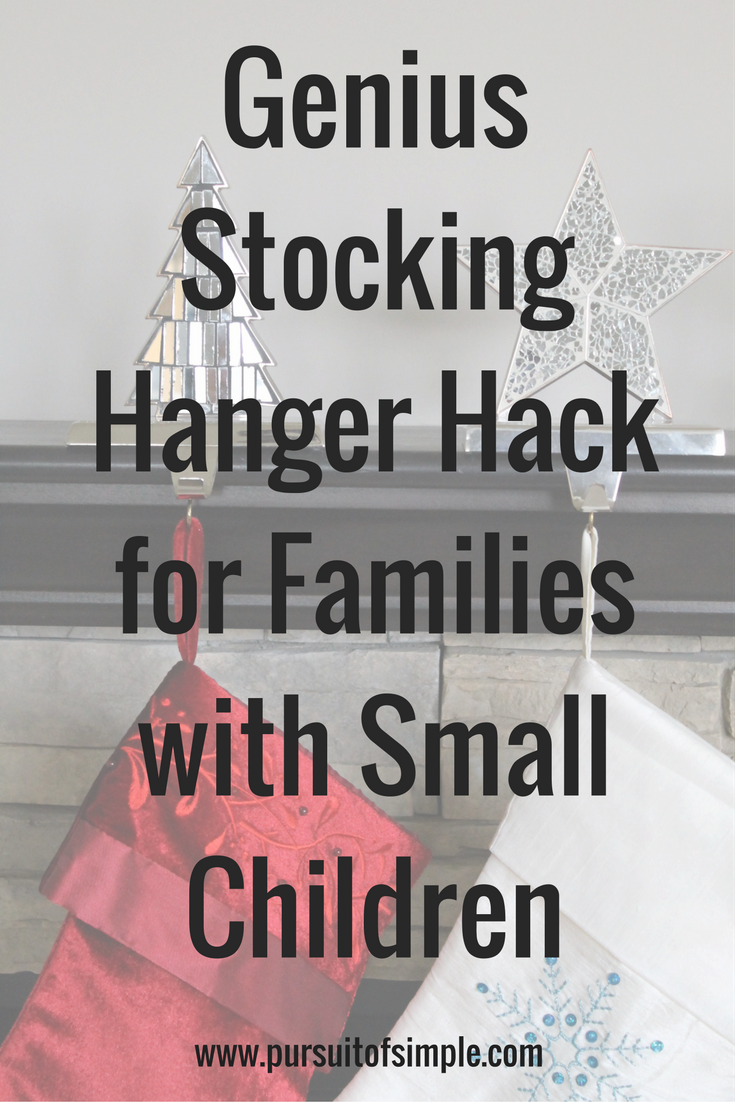 I absolutely LOVE to hang stockings on our fireplace mantle, and I especially adore the stocking holders that I purchased before we had any kids. Have you ever noticed just how heavy, breakable, and in our case, sharp, stocking holders can be? In other words, they're absolutely not kid-friendly whatsoever.
Several years ago my son pulled one down right on his lower lip, and it left a pretty nasty gash, and now my daughter is about the same age he was when that happened. Last year she wasn't able to walk or climb on our fireplace hearth, but this year is totally different. Not only can she walk and climb, but she is considerably taller, so she can easily reach our stockings.
Since she is the curious type and it only takes a little tug to pull the stocking (with attached stocking holder) down, we needed to get creative this year.  I really didn't want to hang the stockings anywhere else in the house, and I really wanted to display my treasured stocking holders, but I knew it would be irresponsible to hang them the normal way without somehow securing them. We couldn't think of a good way to secure them, so my husband and I decided he would just drill some little hooks in the mantle, and we would hang the stockings on the hooks this year. I was sad to have to put my stocking holders back in the box, but I knew that was the safe thing to do.
While using just the hooks would have provided a practical solution to the problem, the story would still have a pretty sad ending because the stocking holders still end up in the box.  However, my husband had a simple, yet brilliant idea! While he was using our stocking holders to space out where he was going to drill the holes for the hooks, he realized we could just leave the stocking holders on the mantle and use the hooks right underneath/behind them to hang the stockings. By doing it this way, the stockings still have the appearance of hanging on the holders, but if our daughter yanks on the stocking, she can't pull down the stocking holder with it and injure herself. And the best part is… we (mostly I) still get to enjoy looking at the stocking holders!
The great thing is you don't even really notice that the stockings aren't hanging on the stocking holder, unless you look at them closely. And even if someone happens to notice they're not on the holders, it doesn't really look bad to hang like this anyway.  It has been the absolute perfect solution, and all it took was a few cup hooks, which we already had. If you need to buy some hooks, they should only cost you about $1 for a four pack. Not only that, the holes that the hooks made are small and out of sight, and we'll continue to use them until our kids are old enough to handle having the real stocking holders up there.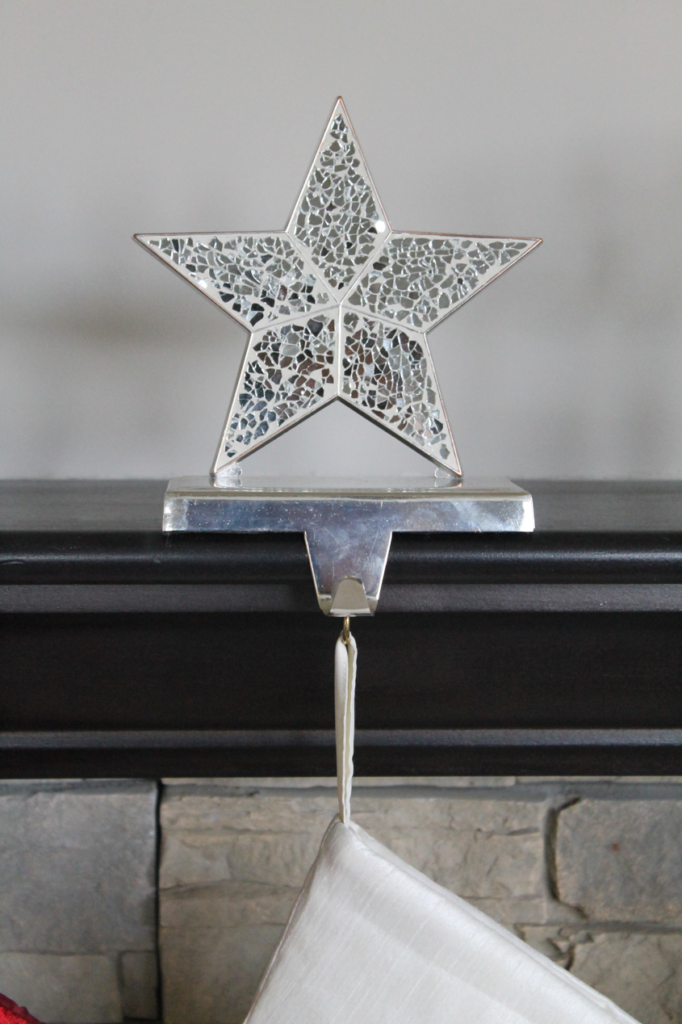 So like I said – simple yet genius solution to our stocking hanger problem! If you have young children and a fireplace mantle where you like to hang your stockings, I highly recommend hanging them this way until you reach the next stage of life. Let me know if you have any questions by leaving a comment or see below for more detailed instructions.
Instructions:
Purchase the appropriate amount of cup hooks. There are weight limits depending on the design you choose, so make sure to consider how much your stocking weighs and whether or not you like to leave the filled stocking hung.
Place your stocking holders on your mantle, and space them out according to how you would like them to be displayed. Mark the underside of the mantle just behind the stocking holder hook.
Follow the instructions that come with your hooks to install them on the underside of the mantle (make a hole on the underside of the mantle where you made your mark from step 2 with the appropriate drill bit and twist in your hook).