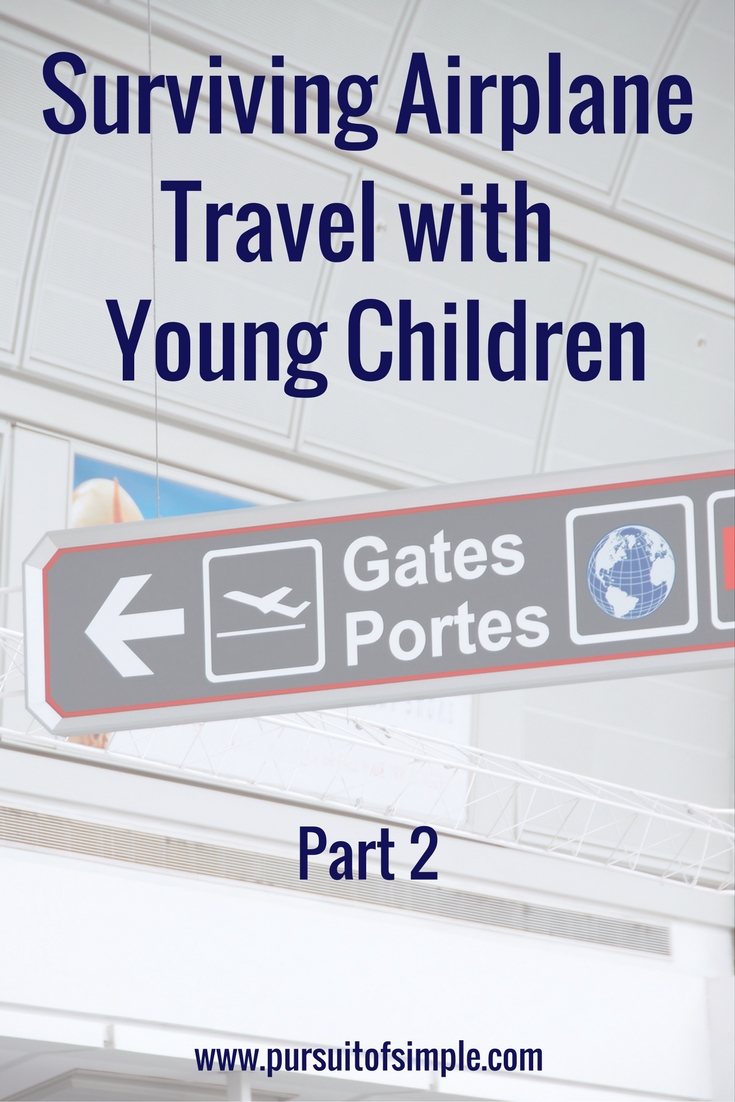 Now that you've decided whether or not to have a lap rider and what your plan is for car seats (as I discussed in Part 1), it's time to pack and prepare for the flight. In Part 2 of this series, I will discuss tips on packing, security screening, behavior of children, ear pressure, and other random pieces of advice. And fair warning before you read any further, this is definitely one of my longer posts, so grab a cup of coffee and let's get started!
Packing List
I love lists, especially templates, so that I don't have to recreate the same list over and over again. Ergo, I created a packing list several years ago that I use any time we go on a trip (driving or flying). I'm happy to share my Packing List Template for you to use as a guide or as-is. Note that my list is meant to be comprehensive, so many items may not apply depending on the age of your child(ren) and the nature of your trip (beach vs. snow skiing).
To keep things simple, pack as light as you can.  If you're traveling with a baby or young children, then you know this can be tricky. Even though they appear to be little people, their stuff takes up so much space! But the less you bring, the less you carry and the less chance you have of losing something along the way. Consider what items might make more sense to buy once you're at your destination (i.e. diapers & wipes). Pack plenty for the flight and first night or two, but since diapers take up a lot of space, I think it's easier to buy them rather than pack them. Also, if you'll have access to a washer and dryer, then you don't have to bring a mountain of clothes.
Carry-Ons & Checked Bags
If you're unfamiliar with TSA regulations for carry-on and checked luggage, make sure you familiarize yourself with those before you pack, otherwise you will be in for a big surprise, and I don't mean that in a good way! In addition to following those regulations, I'll offer up the following packing tips.
Essentials for Your Carry-On
Extra clothes & underwear – For babies and children, make sure to pack an extra set of clothes. If you don't, you're just asking for your baby to have a blowout and your child to pee in their underwear. I'm a little paranoid, so I like to pack two extra outfits for baby. For adults and older children, I suggest at least packing extra underwear, and if you have room, an extra set of clothes. You never know when you might get stranded somewhere overnight, so it's good to be prepared.
Diapers & Wipes – While I don't think you should overpack on diapers and wipes, they are an absolute necessity on the day of travel. Make sure you have plenty of diapers in case you get stranded overnight. This would probably be one of the worst things ever to run out of during your trip!
Hygiene Items – Absolutely make sure you pack sanitizer! Any time you're traveling through an airport and on a plane, you want to be proactive about protecting you and your family against germs, especially during the winter months. For baby, make sure to pack some kind of diaper rash ointment or cream. It's also wise to pack your toothbrush and toothpaste in case you experience an especially long or overnight delay.
Toys/Books/Entertainment Items – Quite obviously, you will want to pack toys and books, so your children have something to do on the plane! This can be a little tricky though since most toys are not "plane appropriate." Consider how small of a space your child will have on the plane when you're considering what toys to pack. Also, electronic and loud toys are frowned upon since you will have other passengers traveling in close proximity. You also should steer clear of toys that have a lot of little pieces (I'm thinking No on the small-size Legos…) Suitable options include books, coloring/activity books, dolls, Hot Wheel cars, tablet/electronic games with headphones, and a deck of cards (for slightly older kids).
Yummy Snacks – Food is hard to come by on a plane these days, so make sure you pack some snacks you know your kids will eat. You might even consider splurging and buying your child their favorite snack for the plane, even if it's a little expensive or unhealthy. For most kids, flying is a special and rare occasion. Why not let them celebrate (and occupy themselves for a while) by eating their treasured goody during the flight?!
Phone Charger – This is not specific to traveling with young children, but just a reminder to pack your charger in your carry-on bag and not your checked bag. Again, if you get stranded, you will absolutely need your phone charger, and nowadays, airports are so good about having a ton of outlets and charging stations in the terminal, so access is much easier than it used to be. (If traveling with a laptop or tablet, make sure to pack those chargers too!)
Water bottle – Even though you can't bring any liquids through security, you can bring an empty water bottle and fill it up at a water fountain once you're in the terminal. I always bring a water bottle and fill it up before getting on the plane to stay hydrated. Make sure you drink plenty of water the day of your flight.
Birth Certificates – To be on the safe side, just bring your children's birth certificates. Chances are you won't need them, but if you do happen to need them, you'll be kicking yourself for not packing that small piece of paper. I learned the hard way that identification for children and lap riders is NOT regulated by TSA but by the individual airline in which you are traveling. Make sure you find out what is required by the specific airline you will be traveling with before you leave on your trip!!!
Checked Bag
My main advice for your checked luggage is to try and consolidate as much as you can. Your arms will be full enough as it is, so you want to bring as few bags as possible. Plus, if you're having to pay for each checked bag, this will save you some money too. We try to pack our daughter's things in one of our suitcases. Her clothes are small, and I like to keep her stuff in our bedroom (rather than hers) when we're traveling anyway, so packing it in my suitcase really helps to keep things simple.
Security Screening
As I mentioned before, if you are an infrequent or first-time traveler, make sure to familiarize yourself with TSA regulations, especially the section on Traveling with Children, which includes helpful information on exemptions. I'm not going to go into detail or cover the regulations, but I will mention a few tips and notes of importance:
If your baby/toddler is unable to walk through the metal detector by themselves (and therefore you must carry them), you will be asked to step aside, so the TSA agent can swipe your hand. An agent will do a quick swipe of each palm and run the sample through a machine. It shouldn't take long at all, but it's good to be prepared for it, especially so your spouse and other children won't be alarmed about what's going on.
The stroller or whatever baby carrier you are using will have to go through the detector as well, so be sure to remove your child and collapse the stroller as you are nearing the front of the line. This should obviously be the last thing you do, especially if you're traveling without another adult. That way your child is contained while you take your shoes off, put your belongings in a bin, etc.
The TSA has an exemption to the liquids rule that allows for breast milk, formula, and juice in excess of 3.4 ounces to be brought through security, however, additional steps are taken to test liquids for explosives or concealed prohibited items. While it's nice the TSA allows for these exemptions when you're traveling with infants and children, I have found it much simpler to avoid taking advantage of them when possible. Extra steps mean extra time. I used to bring my daughter's sippy cup full of water through security, but I got tired of the TSA agents having to open the lid and test the water. I realized it was much easier and faster to just bring an empty sippy cup and refill it at a water fountain or buy a bottle of water in the terminal.
Make sure to inform the TSA agent if you have baby food, water in a bottle, breastmilk, etc. And separate them from your other allowable liquids.
Behavior of Children
Now that you've finally arrived at the airport, successfully checked your luggage, and survived security, you may find yourself starting to worry about how your child(ren) will behave on the flight. First thing to remember here is that your children have just as much right to travel on the plane as anyone else. Just ignore the less-than-welcoming stares you might receive from some of the passengers as you're making your way down the aisle to your seat.
Most of the people glaring at you probably don't have children or grand-children, and therefore lack the ability to extend grace to you. On the other hand, many people will likely be sympathetic and helpful because they have been in your shoes before and know how hard it is to travel with kids on an airplane. Another helpful tip is to make friends with the flight attendant early on. If things are not going well, it's super helpful to have the flight attendant "in your corner" so to speak.
It's certainly not an excuse to let your children act disrespectful, rambunctious, or disobedient. You do need to take action when your kids are being disobedient or excessively loud, but with babies and toddlers it's usually more of an issue with discomfort than disobedience. Do what you can to calm their crying, but try to remember this is not something you can control.
If you can afford it, try to buy some new toys your kids have never seen before and keep them hidden until they start to get a little cranky on the plane. Put off pulling them out as long as you can. Then delay pulling out another new toy until they start getting restless again.
For babies, another tip is to try a change of scenery when they start getting fussy. If you're traveling with another adult and sitting in the same row, you can pass baby back and forth or change the direction baby is facing (front vs. back of plane). You can also stand and rock your baby or go for a short walk down the aisle, as long as the seatbelt sign is off and the aisle is clear.  Even a diaper change in the lavatory can be a good distraction (depending on your baby). Also, eating can be a great "activity" on the plane to pass some time, so whether that means nursing your baby repeatedly or allowing your toddler to eat the whole box of cheerios you packed, I say full tummies tend to make for happier kids.
Overall, when it comes to your children's behavior, I think it's best to mentally prepare for the worst but hope for the best. Don't have any expectations of how it will be, and don't be surprised when it gets difficult. It's not easy to travel with children, so when things go well consider it a bonus. And when things are going especially bad, just focus on the reason for your trip. Are you traveling to see your aging grandparents who can't wait to see you and your children? Are you heading to a desirable location such as a beach or the mountains? Will your children get to meet some new cousins and make some special memories? Whatever it is, focusing on that instead of your present difficulties can help you endure the rest of the flight.
Pressure in Ears
One of the most common concerns parents have is that their baby or young child will experience painful pressure in their ears on the plane and that they won't be able to relieve it themselves. This is not something to get overly worked up about because, first of all, you don't know how your child will react. They may experience no pain at all, and you will have worried over nothing, and it's beyond your control anyway. Secondly, if you can just get your child to swallow, they can generally relieve the pressure themselves.
For children who are old enough, gum or candy can be an easy solution – something that keeps them swallowing often. For toddlers, perhaps a sippy cup will suffice. For infants, nursing or giving them a bottle during takeoff and landing is highly recommended. Pacifiers work well too if your baby will take one.
Other Random Tips & Warnings
Make sure your child is physically able to carry/pull their carry-on bag. If they can't do it effectively or for a long distance, then you will have no choice but to carry it, along with all your own stuff.
There might not be a changing table in the lavatory, especially if you're flying on a smaller jet, so be prepared. This has only happened to me once, and thankfully my daughter didn't have a poopy diaper. I was able to lay her in the (thankfully) open seat next to me and change her there. I don't know what they expect people to do in this situation – I only bring it up so you can mentally prepare in case it does happen.
If you decide to check a car seat, make sure to use a waterproof or water resistant bag and not the canvas type. We bought a canvas-type car seat bag from an airline that shall remain nameless, and we watched through our window on the plane as our car seat got soaked in the rain. No attempt was made to move it with any sense of urgency whatsoever. By the time we got it back in baggage claim, it was soaked all the way through and ruined. Therefore, I don't recommend checking a car seat, as I mentioned in Part 1 of this post!
Select seats toward the back of the plane. It's a little bit louder in the back of the plane because you're closer to the engines. If your children are being loud, the hum of the engines should help drown them out, at least a little bit. Also, I like being close to the bathroom in case I need to change a diaper or get my son there quickly.
Take advantage of family restrooms in the airports, especially if you're traveling without another adult. When you're trying to fit all your luggage, a stroller, and your children in the stall with you, it can get pretty tight! Plus, in the family restroom, your older child(ren) can be using the restroom while you change your little one's diaper, which helps make bathroom trips a little faster.
This tip may seem obvious, but try to find a ride to the airport, so you can get dropped off at the curb and greatly reduce the distance you have to drag all your luggage and car seats.
In the weeks leading up to the trip, start mentally preparing your child for the day of the flight, especially if you think they might get scared on the plane or going through the big metal detectors at security. If you have a children's book about flying on airplanes, that can really help get them excited and possibly relieve any fears. The Noisy Airplane Ride by Mike Downs is a favorite at our house.
Well, I suppose it's about time to land the plane now (pun fully intended there 😉 Thanks for sticking with me until the end. I know that was a long one to get through, but I hope I've offered at least a few helpful tips for anyone out there who is stressing over their upcoming trip. Feel free to leave a comment or email me at Nicole@pursuitofsimple.com with any questions, and if you're a frequent flyer, I'd love to hear your insights in the comments below.
**This post contains one or more affiliate product links. Pursuit of Simple is a participant in the Amazon Services LLC Associates Program, an affiliate advertising program designed to provide a means for sites to earn advertising fees by advertising and linking to amazon.com.**