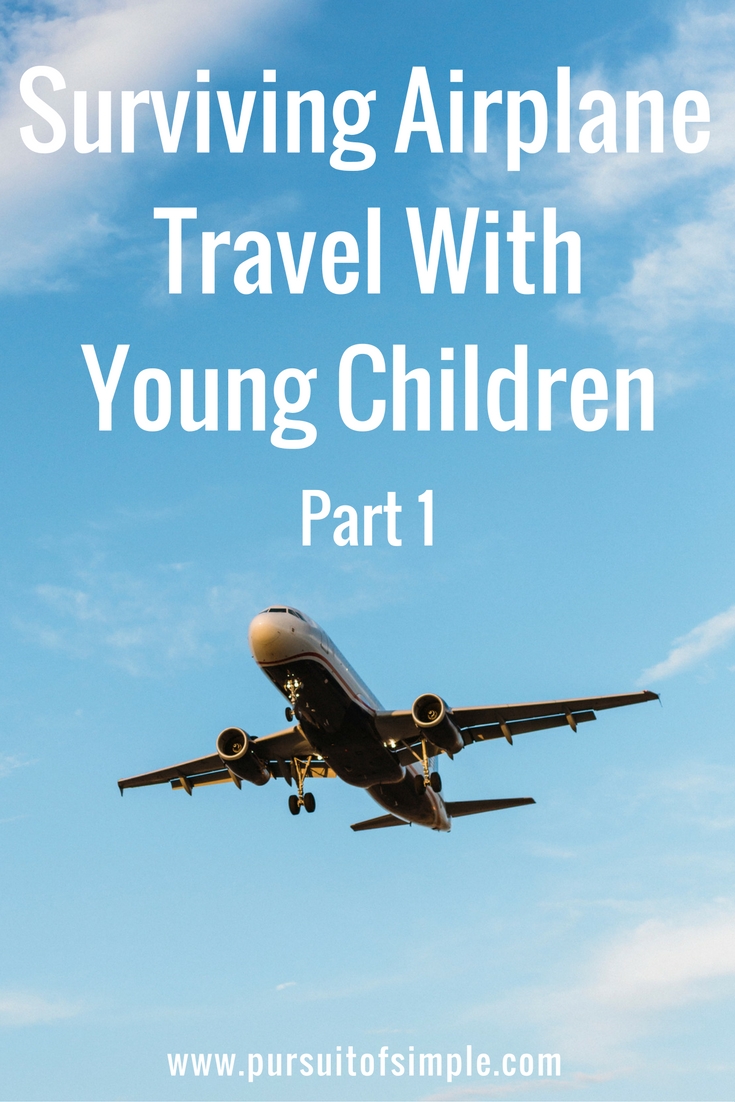 Since we live across the country from both sides of our family, the Christmas holiday means it's time to travel. On an airplane. With our kids. And all of our luggage. And all of the gifts. 'Tis the season. And I know there are millions of other families out there just like us who will soon be packing up for the big Christmas trip.  I realize it can be very intimidating and seemingly complicated. In the weeks leading up to the trip, feelings of stress, overwhelm, and anxiety begin to mount, and blood pressure begins to rise.
So…I have two goals with this two-part series. First, I want to help you simplify your flying experience (no surprise there, right?!) And secondly, I hope to relieve some of your fears by giving you a few practical tips and insights that I have picked up along the way. Now I don't claim to be an expert on this subject, but I can at least claim to be experienced. Over the past year alone, I have flown with my children six times, and I made several of those trips without my husband or another adult. I am also the daughter of a retired flight attendant (of 38 years), so I was exposed to the world of airports, airplanes and travel from a very young age.
In this first post, I will address the pros and cons of having a lap rider versus purchasing a ticket (if you have a child under the age of two), and I will also discuss your various car seat options. In the second post, I will cover tips on packing, security measures, logistical concerns, and behavior of children.
(Note: While I generally like to keep my posts relatively short, I'm giving you fair warning these two are going to be much longer than normal! Also, while I hope these posts will be helpful for anyone traveling with young children, I wrote them with first-time or infrequent travelers in mind. For the more experienced travelers reading this post, I'd love to hear your thoughts and advice in the Comments section below.)
Lap Rider or Purchase Ticket?
All right, first things first. Before you can even purchase your tickets, you're going to have to decide if you want to purchase a ticket for your child or have them ride in your lap. This is a controversial topic, and I'm not going to get into the specifics of safety in this article, but if you don't already know, the FAA allows children under the age of two to ride in the lap of an adult passenger.
Should you choose to purchase a seat for your child (under the age of two), you will have to bring their car seat on the plane for them to ride in. If you're planning to use an infant travel system, this is no big deal because the car seat clicks right into the stroller, which makes it easy to get your child, the car seat, and the stroller through the airport and onto the plane.
You have to check the stroller at the gate, but then all you have to do is carry the car seat onto the plane and install it in your child's assigned seat. When you arrive at your destination, you simply wait in the jet way for them to bring the stroller up, click the car seat back into the stroller, and you're good to go. This is a pretty easy and straightforward option for an infant, but once your child outgrows that car seat system, things get a little more complicated.
Other benefits to having a purchased seat include having more space for your family and your luggage, and if you have a child who is NOT a snuggler (which is the type of children I breed), then you have a place to put them where they might actually go to sleep during the flight. If you're traveling without your spouse or another adult, the extra seat also gives you a place to put your baby down, so your arms can get a break.
I remember the first time I traveled alone with my two kids. My son was almost 5, and my daughter was 11 months old. She was in that stage where she was able to crawl and pull up on things, so the last thing she wanted to do was sit in my lap for three hours in a confined space. Since I was alone, I had no relief the entire flight, and it felt like she and I were wrestling the entire time. My arms were sore, and I was completely exhausted by the time we reached our destination.
On the other hand, if you decide to have your child ride on your lap, you don't have to pay several hundred dollars (or more) for an additional ticket. Since this makes such a huge difference in cost, this is one of the primary reasons we have always had our kids ride on our lap until they were two. Also, to help with pressure in the ears, it's a good idea to nurse your baby or give them a bottle during takeoff and landing to keep them swallowing. This is obviously much easier to do when you're holding them! And if your child happens to get scared, it's also easier to console them when they are in your lap as opposed to a seat next to you.
However, should you choose the lap rider option, you will need to make arrangements for a car seat since it won't be on the plane with you. I recommend using your infant travel system (car seat and stroller) in the airport and then checking it at the gate. Your other options are to check the car seat (before going through security) or to borrow/rent one, which leads me to my next point.
Check the Car Seat or Borrow/Rent One?
After you've decided if you're going to have a lap rider or not, this is probably the most important thing you will need to figure out prior to your trip. Do you need to bring your own car seats for your children or will there be some available at your destination? For example, many grandparents purchase car seats to keep at their house for this very purpose. Or perhaps there's an aunt or friend of the family who can loan you their extra car seat or the one their child has already grown out of.  Just make sure they have the right type of car seat (age and weight appropriate) before leaving on your trip.
Since you will already have so much other luggage to deal with and car seats can be such a pain, my biggest advice to keep things simple is to avoid having to check a car seat if you can. I don't think it matters what airline you fly, the baggage crew will roughly handle your luggage, including your car seat. I'll spare you the details of our horror stories for the sake of space, but I highly suggest borrowing or renting a car seat at your destination. (Or using your infant travel system and checking it at the gate, if your child hasn't outgrown it.) However, no option is perfect. If you rent one, you are likely to get a very generic brand of car seat in a very used condition (i.e. very little padding), and you have to pay for it per day, which can get expensive on a long trip.
The other option you have is to bring your car seat on the plane and have your child use it for the flight. While this is deemed the safest option by the FAA, we have never done this on any flight before because I thought it would be pure insanity to drag that huge car seat through the airport. However, on my last trip, I discovered a potentially genius, life-simplifying, perfect solution to this whole car seat plane problem. I say potentially because I have not purchased one yet, but we are planning to buy one and try it out for our Christmas trip this year. (See update below.)
It's a car seat transporter that you attach your car seat to, allowing you to roll the car seat through the airport. Are you ready for the best part?! Your kid can actually ride in it while you wheel it around, so it eliminates the need for a stroller in the airport! And then you don't have to worry about it getting damaged like you would if you checked it, and your child can use it on the airplane. We're not actually planning to use it on the plane though because our daughter will still be a lap rider on this trip. Our plan is to use it as a stroller, and then check the car seat at the gate. (FYI: When you check luggage or strollers at the gate, they go directly to the belly of the plane, bypassing all the potential rough handling).
Update 1/10/16: Our first trip with the car seat transporter was a success! I would not go so far as to say it is a perfect solution, but I would recommend buying one if you fly regularly with young children. Due to the price I probably wouldn't recommend it for just one or two trips, but for more frequent travelers, I'd say it's worth the price. For the sake of space, I'll reserve specific details and a full review for an upcoming post, but overall, it was a pretty good solution, and we were pleased with it.
So…hopefully all of that made sense and helped to clarify, rather than complicate, your options for having a lap rider and traveling with a car seat. If I've left your head spinning or something didn't quite make sense, please feel free to leave a comment below or email me at nicole@pursuitofsimple.com. I'd love to help you out if I can!
As I mentioned before, no option is perfect. You will have to consider your particular circumstance and make the best decision for you and your family based on your budget, your child's personality, your destination, and your personal preferences. If you're still undecided and wish to read another post on the topic of lap riders, I found this article particularly helpful. I wish you the best of luck on your trip, and I invite you to join me for Part 2 of this post.
**This post contains one or more affiliate product links. Pursuit of Simple is a participant in the Amazon Services LLC Associates Program, an affiliate advertising program designed to provide a means for sites to earn advertising fees by advertising and linking to amazon.com.**