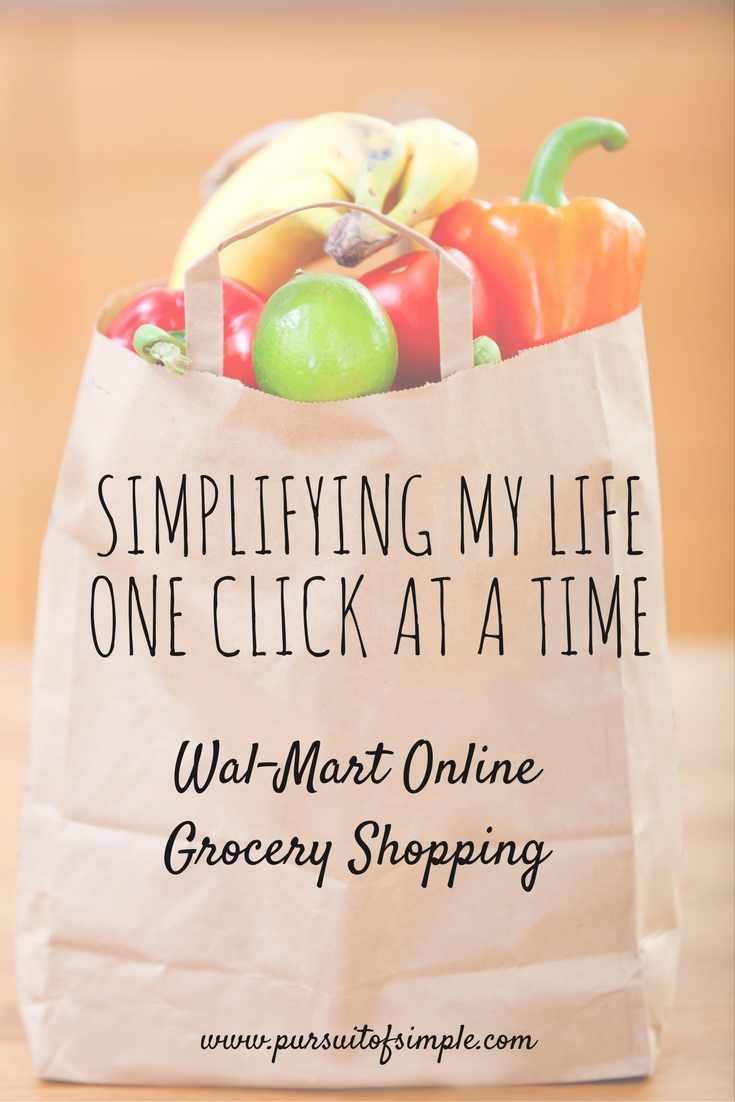 I'm in love. I've been using Wal-Mart's online grocery shopping service for almost a month now, and it is an absolute life simplifier. A game-changer. My hero. Whatever you want to call it, it is wonderful.
One thing everybody seems to want more of, other than money, is time. How often do you hear someone say, "I wish I had more time" or "I ran out of time" or "I wish there were more hours in a day,"? No matter our life stage, income level, or profession, we all seem to want or need more hours in our day. For me, saving time and getting the most out of my time is of utmost importance. It is my passion and a big part of the reason why I started this blog. So whenever I find a way to save time in my life, I feel a deep sense of satisfaction and want to share it with everyone I know.
So I've just got to let you know how wonderful it has been to shop online for my groceries for the past month and ultimately encourage you to try it out. Now I realize Wal-Mart is not the first grocery store to offer online grocery shopping and pick-up. In fact, they would probably be considered pretty late to the party in terms of offering this service, however, it is hard to beat Wal-Mart's prices, so I was pretty stoked (to say the least) when I found out they were getting ready to launch online grocery shopping at my local Wal-Mart.
About six months ago I tried out the grocery delivery service from one of the large grocery chains in my area, but I've been avoiding it ever since because of the cost. The delivery itself was free (because I met the minimum), but my bill was considerably higher than if I had bought those same items at Wal-Mart. For the sake of our family budget in our current life stage, we need to grocery shop at Wal-Mart.  I've been choosing frugality over convenience. Until now.
Now I know that a lot of people have a "love-hate" relationship with Wal-Mart, and many others have a strictly "hate" relationship and will turn their nose up even just reading the title of this post, but I'm telling you it's worth trying out. I have had an exceptionally good experience with it, and here's why I love it so much…
You don't have to stand in line to pay. We all know that one of the biggest variables to whether or not you have a good experience at Wal-Mart (or any store really) is how long you have to wait in line. By ordering online, you save time by not having to stand in line, and you remove any chance of picking the "slow lane."
You get to pick what time you want to pick up your groceries, and you don't even have to get out of your car. The Wal-Mart employee will load your groceries into your car within just a few minutes. Since you pay online before you pick up and you reserve a pick-up time slot, you can literally be in and out of the parking lot in less than seven minutes.
You only have to order a minimum of $30 of groceries to get free pick-up, and you can order just about anything in the store. The only exclusions are apparel, jewelry, and electronic purchases over $50. I think I spend almost $30 on produce and meats alone, so meeting the minimum is no problem at all!
The time spent shopping online is much faster than the time you would have spent walking around the store. I'll admit it is a bit tedious the first time searching for all those items on your list, especially if you have a long weekly list, but don't despair. You have the ability to designate items as "favorites," so that you don't have to search for them in the future. Then you can just go down the page clicking the particular favorites you need that week. Not only that, filling your shopping cart online is particularly helpful when you need items from the hygiene area (toothpaste, shampoo, etc.), perhaps the electronics area (such as printer paper), and the household area (lightbulbs, anyone?). It takes a long time to traverse the store trying to check everything off your list, and don't even get me started about how frustrating it is to forget something and have to walk all the way across the store again. (insert angry emoji face here!)
Similar to #4, if you have small children, you will quickly realize it is so much easier to shop online for your groceries compared to dragging your children through the store. When you bring your kids into the store, you never really know how long you have until they are going to melt down and cause a scene, so you try to shop quickly, which unfortunately results in poor decision making at times. There is generally a lot of complaining, whining, begging for items not on your list, sibling conflict (i.e. screaming), and boredom which leads to bad behavior. If you are at home filling your cart on your computer, you can stop and start as many times as you need to, and when your child has a meltdown, at least you are in the comfort of your own home! 😉
You can save even more money because of their Grocery Item Pricing Policy. Basically, they will automatically charge you the lower amount if an item you ordered goes on sale between the time you place your order and the time it is picked and packed. Also, if you allow substitutions, you will be charged for the lower priced item even if the substituted item costs more.
You can see a running total of your bill as you shop. It's really helpful to see your total as you add items to your cart, so that you can stay within your intended budget and prevent a lot of impulse buying that you would otherwise be doing if you were shopping in person. Case in point – Oreos were not on your shopping list, but somehow they wound up in your shopping cart…weird. Shopping online keeps your bill down because you don't even give yourself the opportunity to grab those unnecessary, impulse items.
They have a referral program. I am the type of person who loves to recommend products or services that have made a big difference to me, so it is really nice that I can earn a $10 referral credit each time someone I refer places their first order. I would recommend this service regardless of the credit, but it is nice to be rewarded for spreading the word. Speaking of which, should you decide to try out the service for yourself, if you use this code (http://r.wmt.co/emQ1w), you can get $10 off your order, and I will receive a $10 referral credit as I mentioned.
The customer service I have received so far has been phenomenal. Each time I have placed an order, it has been ready before my pick-up time (don't worry, they keep everything refrigerated), and they called to let me know it was ready. Then they ask you to call ten minutes before arriving, so they can have it ready for you when you pull up. Each time they have seen my car and come outside before I have even called the number to let them know I was there. With each order, the produce and fresh meats were of excellent quality, and they showed them to me before loading to make sure I approved of their selection. Not only that, they would have gone back to trade it if necessary. They have made only a few very minor mistakes in terms of fulfilling my order, and when they did, they were more than happy to correct the mistake and work with me to figure out when it was most convenient for me to come back. And above all, everyone has been so professional, polite, and customer-oriented. I could not have asked for better customer service, which honestly caught me a little off guard since I don't typically feel that way about Wal-Mart's customer service in general.
So all that to say… I absolute love shopping online at Wal-Mart for my groceries! I think everyone should try it out and see how much of your precious time you can reclaim. Let me know how it goes if you try it out by leaving a comment below. I'd love to hear what you think!