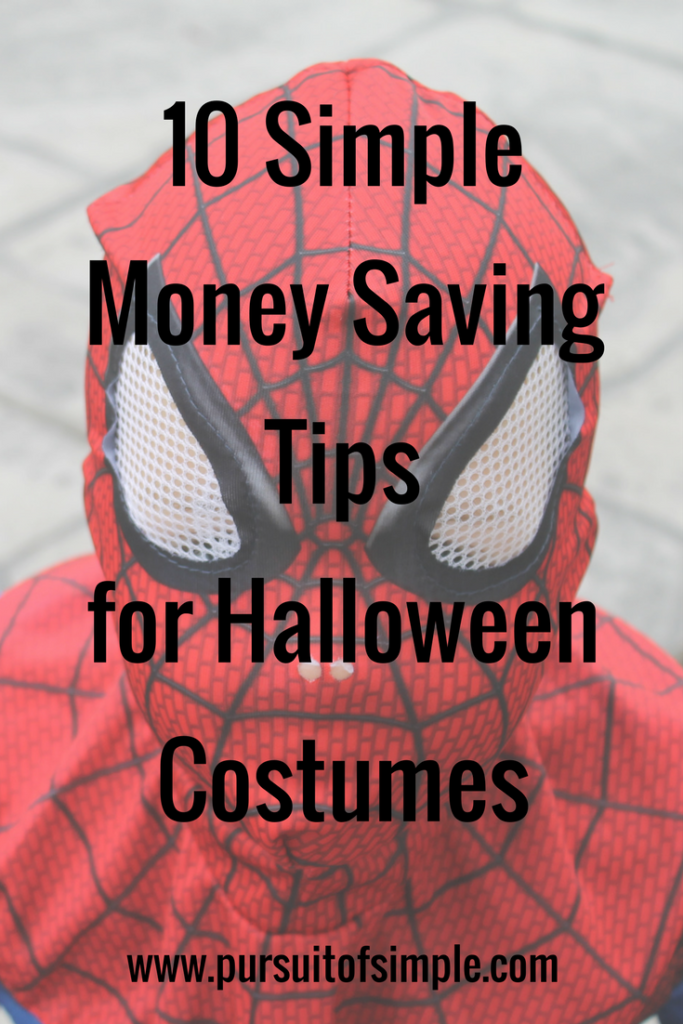 If there's one thing I really hate to spend money on, it's Halloween costumes. Although fall is absolutely my most favorite time of year, Halloween is easily my least favorite occasion. Aside from seeing all the cute little kids dressed up in their costumes and getting really excited about candy (I like that part!), I could certainly do without all of the haunted houses, creepy music and decorations, scary costumes (witches, devil, skeletons, blood-stained characters and the like), as well as all of the other evil activities that seem to surround October 31st.
However, at our house we still allow our children to get dressed up and go trick or treating, but it pains me to spend more than a few dollars on a costume they will likely wear only once and then soon outgrow. Of course I realize there are exceptions. There are those kids who insist on wearing their Batman costume every single day everywhere they go for like three months straight. I'm not really talking about that. That's actually pretty good bang for your buck!
But most of the time, it's a "one and done" kind of a thing, so I'm always trying to get creative and spend as little money as I possibly can. Every year has been slightly different, but over the last five years or so I have employed most of these tips, and I'd like to share them with you today.
One little disclaimer before we get started – if your child has something very specific in mind they want to be for Halloween, then you will have a lot more trouble taking advantage of these tips. You're going to have to be extra creative and resourceful. These tips are definitely better for little kids that don't really care what their costume is, just as long as they get to dress up and fill their bucket with candy.
Tip #1: Borrow from a friend
When my son was three and still didn't really know what was going on for Halloween, I just sent an email to some mom friends asking if anybody had any costumes lying around their house (in other words, ones that had been recently outgrown) that they were willing to lend or sell to me. I was new to the area and hardly knew anyone, but even still, we had our pick of costumes just from the responses I got. You never know what someone might have unless you ask! Also, if you feel uncomfortable asking people to borrow from them, you can always offer to buy it from them because if you're buying a costume used, you're still going to be paying a fraction of what it would cost new. And speaking of buying used, that brings me to my next point…
Tip #2: Buy used
Be sure to check your local thrift stores and resale shops, especially used children's clothing stores. When my son was not even two, we went to our local Once Upon a Child store hoping we could find him a suitable costume. My husband was still in grad school and I had quit working to stay home; we needed something on the cheap! And I mean real cheap. Not only did they have a Superman costume in his size (which was exactly what we wanted since we're big Superman fans), but it had a very small hole in the armpit, so my husband asked them if we could get it at a discount. And any time my husband asks for a discount he gets one. Seriously. So we paid $3 for his costume that year.
Tip #3: Post on Facebook specifically what you're looking for
This is really almost a sub-point of tip #1, but it opens it up to more people than just your close friends. Consider posting a comment on Facebook letting people know exactly what kind of costume you're looking for, such as a 3T dragon costume or leave it more general, like "18M girl costumes." Simply ask if people have these costumes and if they are ready to sell or get rid of them. The beauty of Facebook is how many people you can touch in such a short amount of time, and you never know what you'll find.
Tip #4: Seek out deals on Craigslist and at garage sales
Quite similar to the last tip, it's always a good idea to keep an eye on Craigslist postings in the month or two before Halloween when people start posting them (or immediately following Halloween if you want to plan ahead for the next year). Craigslist is all about good timing and getting lucky, so your best bet is to just check the listings regularly and use the search feature, so you don't have to pile through all of the results in the "baby + kid" section. Just type in "costume" in the search bar, and you should get plenty of results. I find that most people price their costumes a little high but are willing to negotiate on the price, so don't be afraid to ask for a lower price. If you're reasonable, the majority of people will agree to a lower price just so they can get rid of it.
Garage sales can also be a great place to look for used costumes. They are a bit harder to find this way, but if you're an avid garage saler already, then always be on the lookout for costumes to save for later. Since it's a garage sale, you can almost always get away with a real steal of a deal.
Tip #5: Buy pajamas that can double as your child's costume
This might actually be my favorite tip of all because I felt like this was such a practical thing to do, and I love all things practical! So here goes. A couple of Halloweens ago my son wanted to be Superman…again, but he had outgrown his $3 toddler costume (see Tip #2 above), so we needed to find something new. Then one day I was out shopping, and I had what I considered to be a great idea. I realized that a lot of the superhero pajama sets bore a strong resemblance to the superhero costumes, especially since so many of them came with attached capes. I thought it was genius to buy him a Superman pajama set (which he had also outgrown) that he could wear for Halloween as his costume and then have it to wear as pajamas later. I hate spending money on costumes, but since we were getting a costume and a (really awesome) set of pajamas out of the deal, I felt like it was money well spent.
*I should note here that if you live in a colder climate you will want to buy the pajamas slightly big, so that you still have the ability to layer underneath. For my southern friends reading this, "layering" at Halloween is the concept of bundling your child from the bottom up so as not to detract from the costume, even if they end up looking a little "puffy." 🙂
Tip #6: Watch for good sales or coupon offers
This tip is not going to be the best one I have to offer, but it's still worth a mention and could save you at least some money. Be on the lookout for some of the bigger stores to put sales and/or good coupons out on their costumes in the weeks leading up to Halloween. Last year I was able to get a Buy One Get One Free deal at Target, which worked well because it was the first Halloween I had two kids that needed costumes. Obviously, that's not a good deal if you have an odd number of children! This deal worked well for us, but we didn't have a lot of choices because I waited a little too late to try and find costumes, and the selection was rather picked over.
Tip #7: Buy on clearance after Halloween and save for next year
I have not actually done this yet, and I suppose it's a little risky because your kid may be convinced now that they want to be a Ninja Turtle next year, but we all know how that can go. Still, if it's cheap enough, it's something to keep in mind. You could also buy the costume and let your kids play dress up with it, so it wouldn't be a total loss. And speaking of playing dress up…
Tip #8: Make a costume out of a dress-up outfit your child likes to play in.
My son is absolutely obsessed with planes, flying, and pilots, so for his last birthday we bought him one of those pretend pilot outfits. I bought this one made by Melissa & Doug.  It is adorable and pretty realistic looking, so it could easily double as a Halloween costume. This tip is similar to the one above where I suggest buying pajamas because you get so much more bang for your buck. It feels so much better than buying a costume to wear for one evening.
Tip #9: Use what you have around the house
This tip is probably the most obvious tip of all, but you never know what kind of costume you can come up with using stuff around your house until you try (or until you're really in a bind at the last minute!). If you need a little inspiration, you can find a ton of ideas online, but here is one DIY costume article to get you started.
Tip #10: See if your child would like to reuse their costume again this year (if it still fits)
I'm not saying you should pressure or try to convince your child to dress up as the same thing again this year just to save a little money. I mention this idea only because there are some kids out there who want to wear their Halloween costume all year long anyway, and they would be perfectly content to go dressed as the same thing again. In fact, this year when I asked my son if he had any thoughts on what he'd like to be, he actually asked if he could wear the same costume again this year. Fine by me! As long as it still fits (which it does), then we'll save even more money than I had hoped!
That's all I got. I hope some of these ideas will help you in your pursuit of saving money on Halloween costumes this year. Good luck!