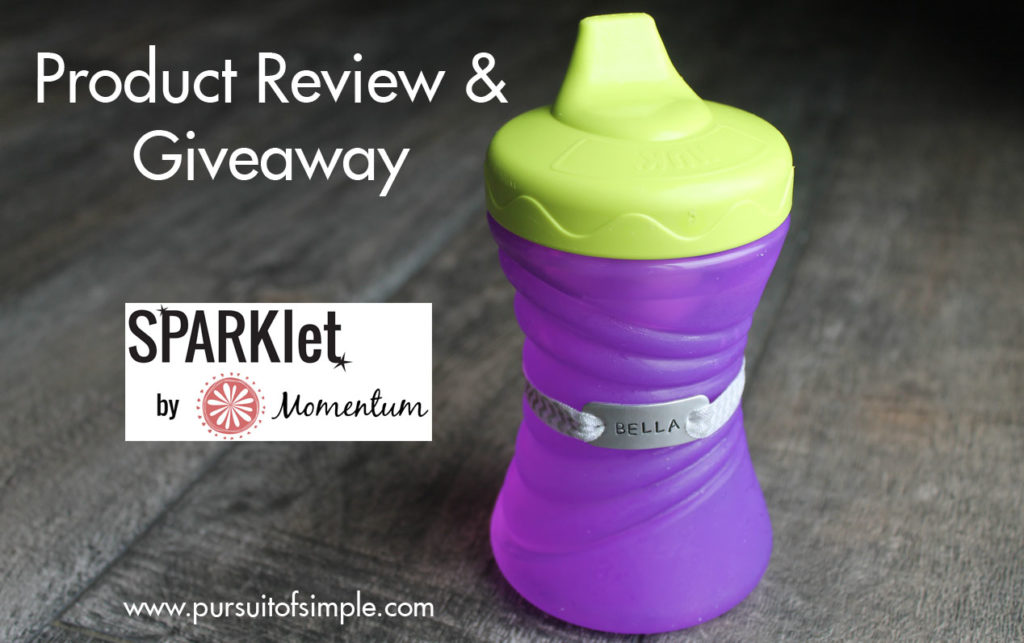 Since the focus of this blog is to find ways to simplify everyday life, I am excited to share not only a great solution to a "sippy cup problem" that I was having, but also to announce my first-ever product review and giveaway, thanks to Momentum. Now, before I get into any details of the review and giveaway, I have to back up a little and give you some context, so you can fully appreciate why I am so excited about this particular review and product.
Over the last several months, whenever my husband and I would drop our daughter off in the church nursery, we had been relying on these little "I belong to ______" stickers that our church provides for parents like us – parents who show up week after week with an unidentified sippy cup and a toddler more than willing to share her germs with others. Yes, a label is necessary, but we had yet to label any of her cups because I don't find permanent marker to be a very good long-term solution.
So each week we would stick one of those stickers on her cup, and each week we would spend time trying to scrub the adhesive off the cup before it went into the dishwasher. Aside from it being an extra step at check in when we were usually running behind, all of the scrubbing every week was becoming quite a nuisance.
So…I had been trying to think of something that we could use to put her name on that would easily slide on and off her cups – something interchangeable so we wouldn't need more than one. I was hoping to come up with something cute and practical, but unfortunately, crafts is absolutely NOT one of my strengths, so I had yet to come up with something for our little problem.
Fortunately, I just happened to receive an email from Momentum announcing a new product. And since I absolutely love all of their products already, I was intrigued to see what the new product was, so I clicked on the link. And there it was…a perfect solution for my problem.
Meet the newest member of the Momentum family – SPARKlets! Available in six different themes, each SPARKlet comes with an inspirational pendant and three interchangeable, elastic bands at a very reasonable price of just $14.99. The idea is to use the SPARKlet in whatever way best suits you, but the four ideas featured on the website include using it as a wristlet, as a hair tie, as a water bottle label, or as a cell phone label. Not only are all of the bands super cute, they are also waterproof (in other words, "sippy cup friendly") and hand-washable, and the pendants are made of lightweight, non-tarnishing aluminum.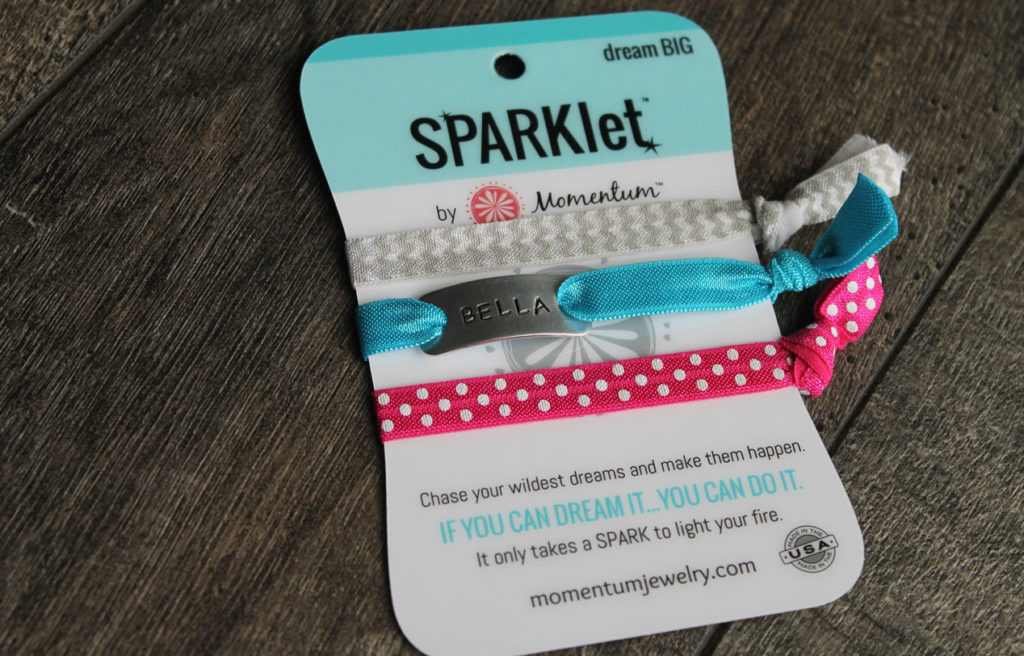 So what does all of this have to do with my sippy cup dilemma? I'm so glad you asked! When I first saw the SPARKlet, I realized it would be perfect for my daughter's sippy cup if I could just get her name stamped on it. So after emailing Momentum and finding out that custom SPARKlets aren't available to order just yet from their website,* they offered to make me a custom one if I'd be interested in doing a review. Um, yes please! Didn't need to think about that for very long! I was already a huge fan of their jewelry, so I was more than happy to put together this review and giveaway.
I decided on the Dream BIG theme, and I had my daughter's name, "BELLA," stamped in all capital letters. We've been using it on her sippy cup ever since we got it, especially when we go places where it's important that it be labeled. It has been the absolute perfect solution, and I love how cute it came out! When she gets a little older and her hair is a lot longer, I hope to use it to tie up her hair as well.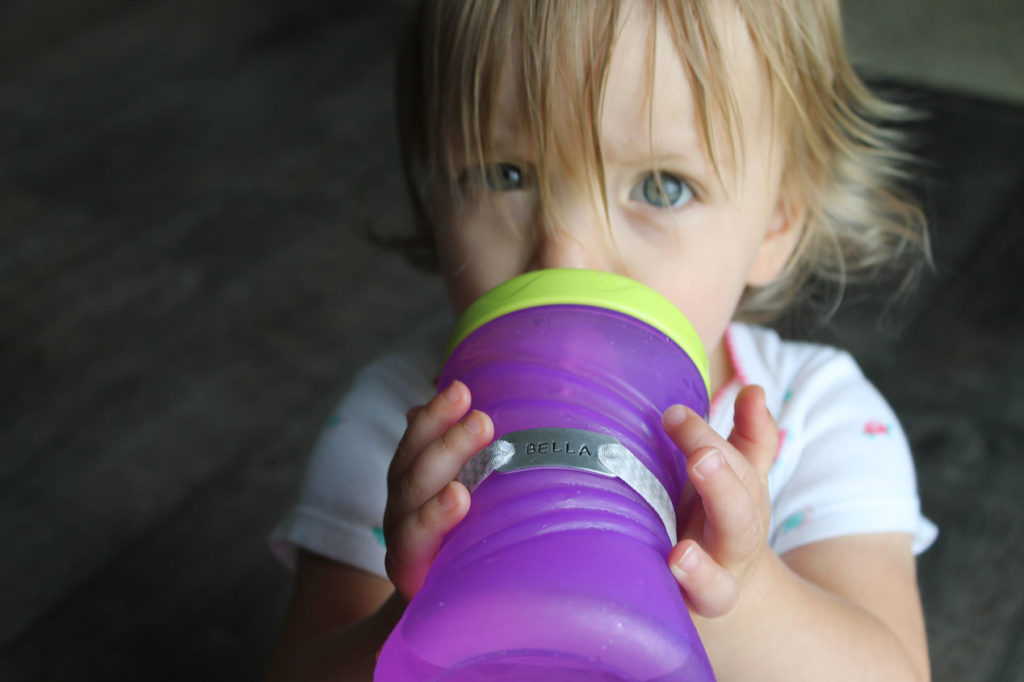 As I mentioned, all of the color themes are adorable, though possibly suited much better for women and girls. Along those lines, however, if you have a little boy and you're wanting to use it on his sippy cup, I think you can still get away with it with either the live DETERMINED or live HAPPY color options, especially if you have his name stamped on the pendant.
While the bands are hand-washable, I have been removing the band from my daughter's cup at mealtimes so she doesn't smear food all over it, but it's nice to know that if I forget, I'll be able to wash it. And if you choose to wear yours as a wristlet during workouts, you'll definitely need to wash the sweat out of it every now and then! However, since the SPARKlets come with three different bands, you can just switch the pendant over to one of the other bands, so you're never without your SPARKlet, even when you're waiting for one of your bands to dry.
And speaking of working out, one time I was in a group fitness class, and I actually drank out of someone else's water bottle that looked just like mine! Yes, it was super embarrassing, and I was a little more than mortified! Oh, if only I had one of these SPARKlets back then, it could have saved me a whole lot of embarrassment!
The SPARKlets are so versatile, which makes them a great gift option, but I'd say they are particularly perfect for the active mom or workout enthusiast in your life. They're cute, practical, affordable, and can serve as that extra bit of inspiration during a long run or intense workout.  And even though Momentum's mission is to create athletic & inspired jewelry, the SPARKlets have proven to be a great solution in everyday life as well, and I think that makes them an even greater value.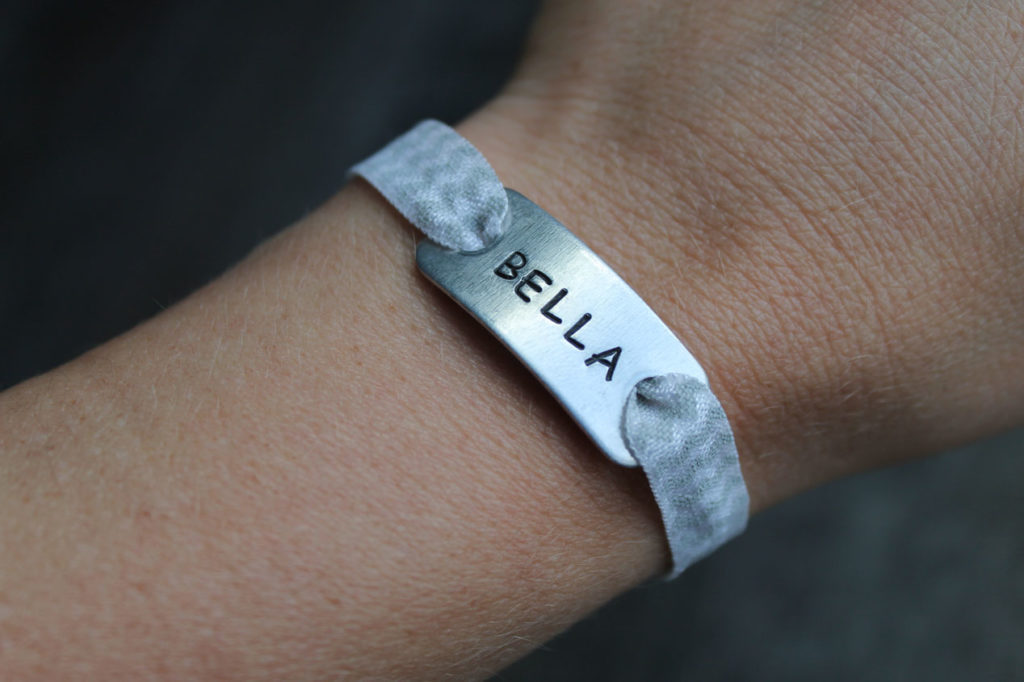 It's really hard to find anything negative to say about the SPARKlets because they are so awesome, but this is a review after all… So…I suppose one down side is that it seems the elastic can get stretched out and lose a little bit of its elasticity. I know this because "the little girl" has started pulling on it and playing with it when it's on her cup. I think she likes the popping noise it makes when she lets go, so she might speed up the wear and tear on ours, but for most people this won't be an issue.
Another down side, or perhaps a caution to using it on a sippy cup, is that if your child is still in the put-everything-in-their-mouth stage, then you might want to wait on using it this way. And the only other negative I have found is the amount of time it takes to switch the pendant to another band. It's definitely not something you want to be doing as you're flying out the door last minute.
So as you can tell, I recommend these SPARKlets hands down and without hesitation. They're awesome! And what's even more awesome is that Momentum is allowing me the opportunity to host a giveaway for one of these SPARKlets that I've been rambling on and on about. One of you lucky readers will get one of these SPARKlets for FREE in the color theme and pendant of your choice! You have until midnight on September 10, 2016 to enter. See the graphic below below for more details, and good luck!
*Since custom SPARKlets are not available for purchase through the Momentum website yet, you have two other options for getting yours personalized.
Option 1 – You can order a 'custom saying SPARKlet' through Momentum's Etsy shop.  The pendant can have up to two lines of text (with a maximum character limit of 11 characters per line.)
Option 2 – You can order a (single) Custom Foot Note AND a SPARKlet, and then you can string the Foot Note onto the SPARKlet elastic band, which would actually give you two pendant options for your SPARKlet.