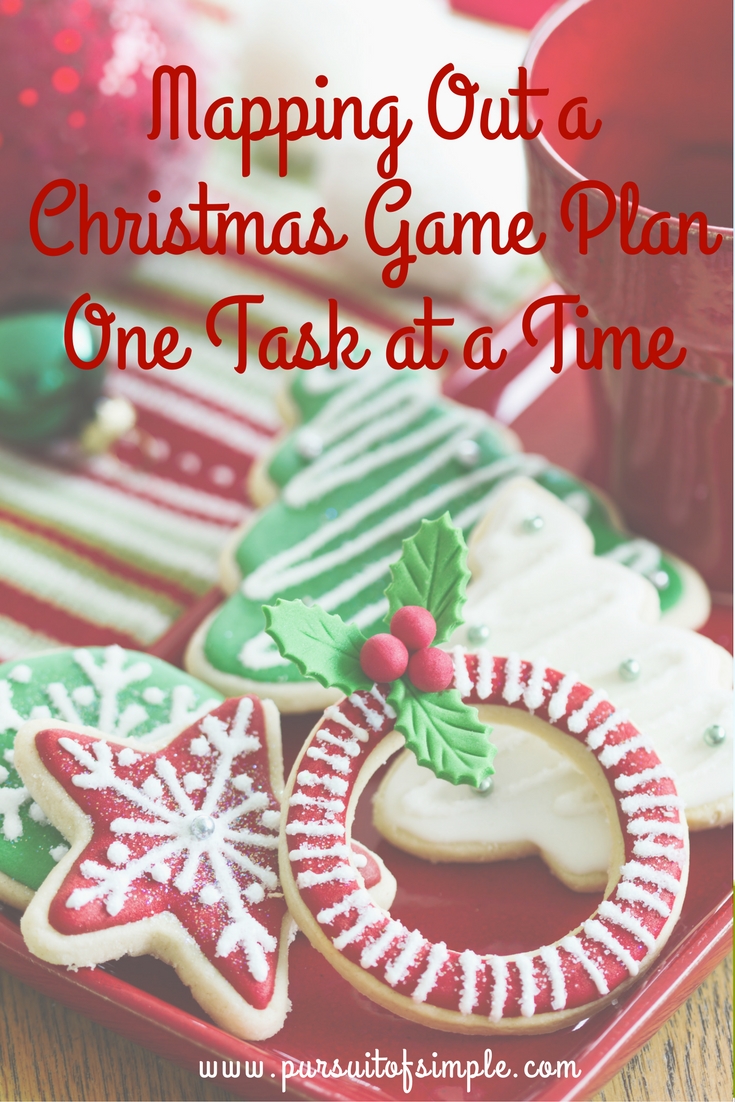 For this latest post, I decided to update one of my very first blog posts. It seemed fitting, given that  no one  even knew about my blog a year ago when I originally started publishing entries (if a tree falls in the forest, but no one sees it…), and more importantly, it's that time of year to start thinking about, and ultimately planning for, the Christmas season.  The Christmas season does not have to be all chaos and no joy. It was never meant to be a time of stress but rather a time of reflection, celebration, and tradition.
Decide now that you will use your time wisely, so that you can actually appreciate the deeper meaning behind all of the hustle and bustle. And let's not turn on the Christmas music just yet. We're just planning for the season right now.
Confession – I am a list addict. I make lists for everything…and I mean everything! Yet it never dawned on me until last year to make a comprehensive list of all the things I need to accomplish before Christmas.  Sure, I've created lists for gift-giving, Christmas card recipients and addresses, grocery lists to bake holiday goodies, and the list goes on…but I have never taken time to step back, take a deep breath, look at the big picture and actually map out a game plan before the holiday rush begins. This year will be different.
I am a firm believer that you get more done when you plan your time in advance. When you finally have a chance to get something done, you don't want to spin in circles and end up accomplishing nothing. To prevent that unproductive dizziness trap, be inspired to make one comprehensive list of all your Holiday To-Dos – essentially a Christmas Game Plan. Nobody's list looks exactly the same because we all have different traditions, different functions to attend, different budgets, and different priorities.
If you need some inspiration for a starting point, I am including my list below. I should note too that this list is only a plan, not a contract. And one of the biggest benefits of taking the time to create this list is that you can re-use it year after year with only minor updates! You won't have to reinvent the wheel, and the old list might even remind you of some things you forgot to include for the current year.
One last note before we dive in to the list…you will notice that I have suggested completing most of these tasks throughout November and early December. Though it may seem overwhelming to start so early, getting a head start on your list will allow you more time later on to enjoy family, gatherings, and traditions as it gets closer to Christmas day.
My Christmas Game-Plan
Take family pictures for Christmas card or figure out what picture(s) you plan to use from all the pictures you took this year (early October).  I say early October for this one for a few reasons. Speaking from experience this year, we nearly missed out on taking pictures in the beautiful fall foliage because I procrastinated too long. Also, if you're going to hire a photographer, you need to get on their calendar early (possibly even a few months in advance).
Update mailing addresses for Christmas card recipients (early November). I use an Excel spreadsheet to store my mailing and email addresses for friends and family. Typically in November, I will email everyone on my list to ask if anyone has moved within the last year, and if so, request that they send me their new address. (We recently moved, so I killed two birds with one stone by sending out our new address and asking for updates at the same time.) Doing this bit of leg work on the front end is a great preventative measure for keeping "return to sender" mail at a minimum and avoiding multiple trips to the post office. This task will also help you figure out how many Christmas cards you're going to need to order.
Create Christmas budget and shopping list (early October). Last year was the first time my husband and I did this, and it was incredibly helpful for keeping up with who we had bought for, how much we had spent, and for jotting down gift ideas. We also included non-gift expenses such as Christmas cards, stamps, supplies for hosting a party, Christmas decorations, and unexpected expenses. You may find this exercise a bit eye-opening if you aren't someone who watches your budget closely. These Christmas-related expenses add up quicker than we realize sometimes, but if you allocate your money ahead of time, it will go farther. I don't understand why this principle works so well, but it absolutely does!
Shop for Christmas gifts and and centralize any previously purchased gifts from earlier in the year. (mid-late October) Designate a gift area in your house where you will store all the gifts before wrapping them.
Pick out Christmas card design. (early-mid November). I suggest doing this after you've created your budget, so you know how much you can spend on Christmas cards. Make sure you shop around to see which website is offering the best promotion. If you want to use holiday-themed postage stamps, get them early in the season. If you don't want to fight the crowd at your local post office, you can also order them online at usps.com.
Put up Christmas decorations, especially the Christmas tree! (late November) You may have family traditions already in place that designate when this happens, but if not, make sure you clear some space in your schedule to do this. I find that listening to Christmas music and putting up decorations is one of the best ways to get me in the holiday spirit, which admittedly, isn't very hard because I LOVE Christmastime!
Wrap gifts. Depending on your personality, you might want to wrap a few gifts every day or you may prefer to have a marathon session. Either way, plan some time for it, so it doesn't sneak up on you (i.e. staying up until 3 a.m. on Christmas morning). And don't forget that little family members can often help with this task. I used to love helping my mom wrap gifts, even though all I did when I was young was tear off tape and hand it to her.
Mail packages to family members you won't get to see in person. (early December, or as early as possible). Remember to include shipping costs in your budget too.
Bake goodies and purchase gift boxes/containers for them. (early December) To save time, bake in bulk rather than countless mini baking sessions. And if you have kids, enlist their help.  This is a treasured time. I always loved baking with my mom and grandmother, and already my son, who's not even 4 yet, LOVES to help make food.
Make time for family traditions or start new ones. This will be the first year that we will be at our own house for Christmas, so I'm hoping we can start some traditions such as driving around to look at Christmas lights and making a birthday cake for Jesus.
Get a birthday gift for Jesus! In our family, we always get Jesus a birthday gift, since it's His birth we're celebrating after all! You can think outside the box on this one, but if you need some ideas, here are a few to get the wheels turning:
adopt a child through World Vision or other similar agency
donate to a charity that is particularly meaningful to you or your family
Operation Christmas Child – put together a shoebox to send to a child in need – can make a great family activity or tradition
donate food to your local food shelter or participate in a fill the backpack-type of program
volunteer your time at a homeless shelter, food bank, or other similar organization
A list like this may seem overwhelming to some and exciting to others, but I think the most important thing we can do is remember to take time to enjoy the season. It only comes once a year. Enjoy these tasks, and remember why we're celebrating in the first place. I'm pretty sure that God doesn't want us running around, stressed out, and just trying to "get through" another holiday season. Christmas should be about celebrating Jesus' birth, spending time with family, and giving to those less fortunate than ourselves.