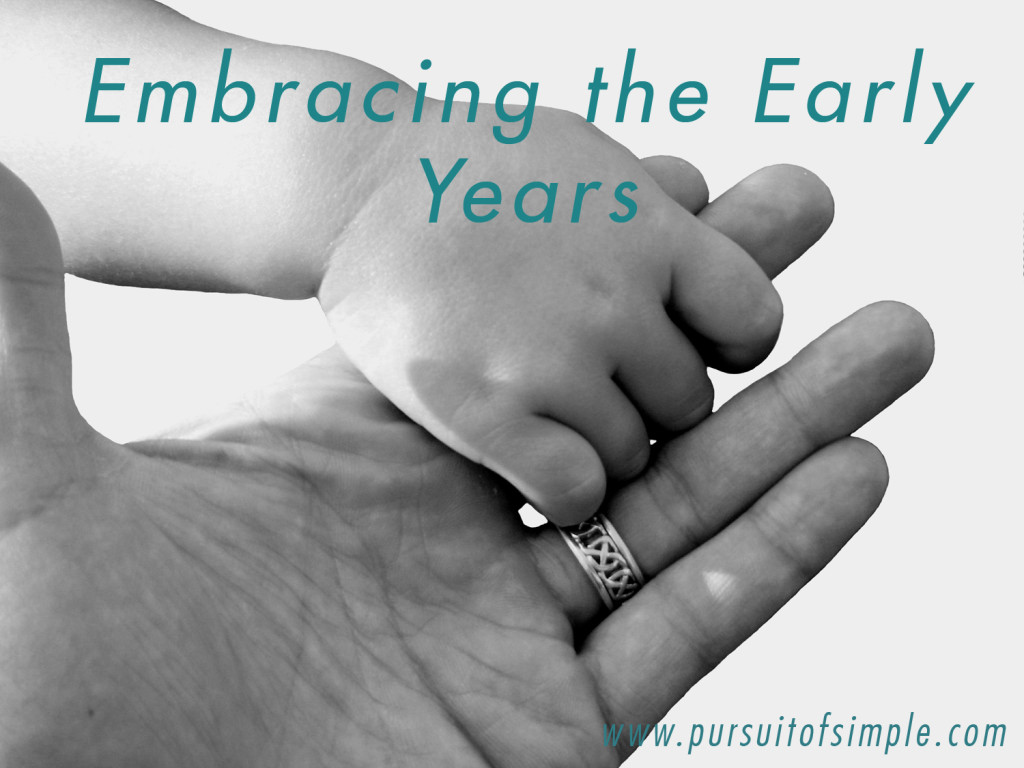 As I pursue simple in my life right now as a young mom of only one pre-school aged child, I realize that there are those out there who look at my life (and my motto) and are quick to label me as naïve – as someone who has no idea what it's like to have one or more children in school and signed up for every last extracurricular activity under the sun. And that would be absolutely true, however, I know that my time is coming. I fully realize that my pursuit of simple is going to look a little different as I go through different chapters in my life.
So for right now, since I am not an expert at pursuing simple in the midst of the chaos of extracurricular overload, it may just be that this post will hit closer to home for those who find themselves in a similar stage of life as me. (Although, I encourage anyone to continue reading and offer your thoughts. J)
During this past school year (2013-2014), I attended a mom's group twice a month.  For the most part, the women I have met there have more children than me, have older children than me, and have their plate quite full with their kids' various activities. So with respect to this area of parenting, I am much more of an observer, and I'm thankful God has given me this opportunity to sit back and watch because I believe he has been teaching me a very significant lesson over the last year.
He is showing me the importance of embracing these early years with my son – how the lack of commitment to activities in our life right now is truly a blessing with an expiration date. I know we will never get this time back, so even when I'm tempted to feel like our life is a little mundane at times, God reminds me that not only is this okay, that it's actually a good thing. It is so freeing to realize that it's okay to simply enjoy this quieter time of life. There is no reason to rush into signing him up for soccer (or whatever) just for the sake of getting him involved in something.  And there's certainly no magic age where you're required to start putting your child in activities.
We went through a phase this last fall/winter, where I felt a little bit like Bill Murray in the movie "Groundhog Day" where each day felt exactly the same – as if someone had activated the repeat button in our life.
Our day went something like this…
Wake up, get dressed, and eat breakfast. Go to the gym. Come home and eat lunch. Play for a little while (inside the house). Naptime (i.e. productive time for Mommy). Wake up and play (inside the house) until Daddy gets home while Mommy cooks dinner. Eat dinner. Play with Daddy (inside the house) until bath time. Bedtime routine. Repeat. Repeat. Repeat.
Granted, this was our first Minnesota winter, and it was a pretty bad one, so the challenge of being stuck inside for so much time was a brand new challenge for this Southern girl who has never lived through a legitimate winter, let alone a Minnesota winter.  So I'm sure this dynamic contributed to me feeling like my life had been put on repeat mode. However, during this time, I began to feel like our life was a little boring, and I found myself just a bit jealous at times of other moms who had their schedules full of their kids' activities. I thought to myself that it must be nice to have places to go and things to do, other than just your typical, routine-type errands like the grocery store.
Luckily, I didn't feel this way for very long before I started to realize what a blessing I had right in front of me. The grass is rarely, if ever, greener on the other side. Our perspective is what makes the difference, and the irony is that these other moms were probably looking at my life the same way I was looking at theirs, thinking that what they had was better than me. They probably miss the days of toddlerhood and having only one child to chase around.
So now when other moms talk about the challenges of balancing all their kids and activities, I just sit back and listen and try to pick up any nuggets of wisdom that I can that perhaps I can use later on. Instead of wishing I was in the same phase of life as them, I thank God for where I am right now, soaking in every last minute because I know my little 3-year-old boy will be wearing a cap and gown and walking across a stage into manhood sooner than I can even blink my eyes.
And speaking of blinking, I wanted to end by sharing a song with you in case you've never heard it. The band Revive released a song called "Blink" in 2010, and it's an absolutely beautiful song that has become my personal anthem lately in reminding me to live in the moment. You can watch a lyrics video and read more background on the song here, but I have also included the lyrics below.
I hope you are as blessed by this song as I have been!
"Blink" Lyrics from NRT Christian Music Song Lyric Database
Teach me to number my days
And count every moment before it slips away
Take in all the colors before they fade to gray
I don't want to miss even just a second more of this
It happens in a blink
It happens in a flash
It happens in the time it took to look back
I try to hold on tight, but there's no stopping time
What is it I've done with my life
It happens in a blink (x2)
When it's all said and done
No one remembers how far we have run
The only thing that matters is how we have loved
I don't want to miss even just a second more of this
It happens in a blink
It happens in a flash
It happens in the time it took to look back
I try to hold on tight, but there's no stopping time
What is it I've done with my life
It happens in a blink (x4)
Slow down, slow down
Before today becomes our yesterday
Slow down, slow down
Before you turn around and it's too late
It happens in a blink
it happens in a flash
it happens in the time it took to look back
I try to hold on tight but there's no stopping time
What is it I've done with my life
It happens in a blink
It happens in a blink
it happens in a flash
it happens in the time it took to look back
I try to hold on tight but there's no stopping time
What is it I've done with my life
It happens in a blink (x4)