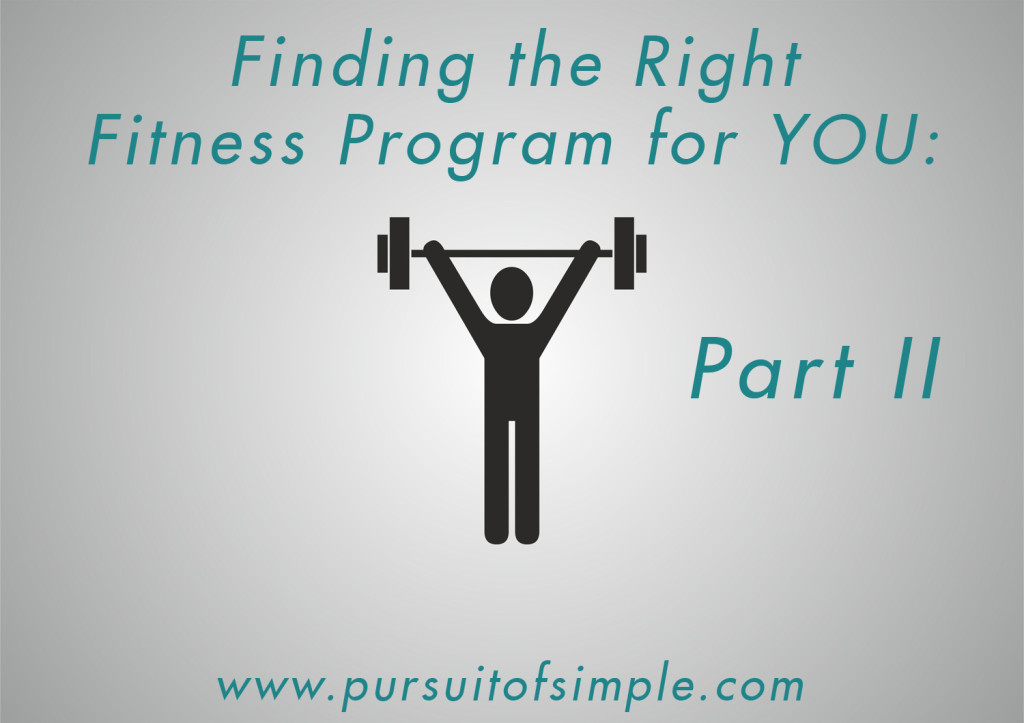 Welcome to Part II of Finding the Right Fitness Program for You. In the previous post, I discussed some important factors to consider in order to help you choose the best fitness program to fit your personality, personal preferences, lifestyle, and budget. This article is going to offer some specific categories to help you brainstorm if you're having trouble figuring out what you want to try. (And as a side note, I plan to write future in-depth posts on individual fitness programs that I have tried out, so be on the lookout for that, but in the meantime, here is a menu of ideas to get you started).
Traditional gyms offer weightlifting equipment, cardio machines, personal and small group training, and group exercise classes. Depending on the gym's particular group exercise offerings, you can find classes which focus on a wide variety of training formats such as cardio, strength, balance, dance, kickboxing, yoga/flexibility, cycling/spinning, Tabata, step, core, stability ball, and kettle ball, just to name a few. These classes may be taught in freestyle format, meaning the instructor selects the music and moves that you will do each time, or the gym might be licensed to offer specific workout programs that are taught nationwide or even worldwide. Examples of these types of programs include Zumba, Jillian Michaels BODYSHRED, KettleWorX, CrossFit, Silver Sneakers, INSANITY, R.I.P.P.E.D. and LesMills programs, a personal favorite of mine.
As I mentioned, each gym's group exercise schedule will be different, but you usually have access to a variety of classes, which is why I am a big fan of working out at a gym. You get the most bang for your buck, and you get to try a lot of different workouts without having to pay for each individual program. That being said, before you join a gym make sure you find out if the group exercise classes are included in your membership fee and/or how much it costs to add them. Also, study the schedule of when classes are offered to see which ones will fit into your schedule. Then, shop around the other gyms in your area to see if another gym has more offerings, a better schedule, or reduced fees.
Boutique gyms offer specialized group classes in various formats to a niche market. Because the market is so targeted, these types of classes tend to be very expensive; a few examples include Xtend Barre, Bikram Yoga, or cycling at a studio that only offers cycling/spinning classes. Unless you are really passionate and dedicated to one particular workout format, I would advise against joining a boutique gym simply because they are generally not an economical choice, especially for someone just getting started in a new workout program.
Boot camps generally are held for a certain number of weeks, and many times are held outdoors. Sessions will likely include simple but physically challenging cardio and strength training using body weight and hand weights. If you can afford a boot camp, I personally think they can be a great kick start to your workout program, as well as an effective way to break through a plateau. However, they can be expensive to maintain.
Competition sports are those sports which require an opponent and a team in some cases, so you may need to consider joining a league. The only limiting factor on this one is your geographic location since some sports just aren't popular in certain parts of the world. There are a plethora of sports of out there, but just to name a few, consider basketball, baseball, softball, football, volleyball, hockey, kickball, soccer, lacrosse, tennis, racquetball, frisbee golf, ultimate frisbee, golf, or even marathon/triathlon training.
Leisure sports are also plentiful, and they don't necessarily require an opponent to compete against. This category would include activities such as hiking, mountain climbing, swimming, cycling, mountain biking, kayaking, canoeing, surfing, windsurfing, paddleboarding, water skiing, wakeboarding, knee-boarding, rollerblading, downhill or cross country skiing, and ice skating,
Home workoutsinclude having your own set of weightlifting equipment or working out with a DVD or an app on your phone. Some of the more well-known programs include INSANITY, P90X, TurboFire, and Jillian Michaels workout DVDs. Additionally, you can find a lot of DVDs in the same format as those offered as group exercise classes at a gym (i.e. Zumba, kickboxing, core training, cardio step, Pilates, etc.)
A major benefit to working out at home is that you can do it whenever it fits into your schedule, and you save time because you don't have to drive back and forth to the gym. However, if you are a person who is not easily motivated or if you are a very social person, then I would highly recommend picking a program where there are other people there to hold you accountable and keep you motivated.
This article and these particular examples are, of course, not meant to be an exhaustive list, but simply ideas to get your wheels turning. I hope you never feel like you can't find a workout program that you will absolutely love and that will keep you interested for the long haul. The possibilities are nearly endless, and the important thing is to just get moving and stay moving! Your body, your family, and your mind will thank you for it later.