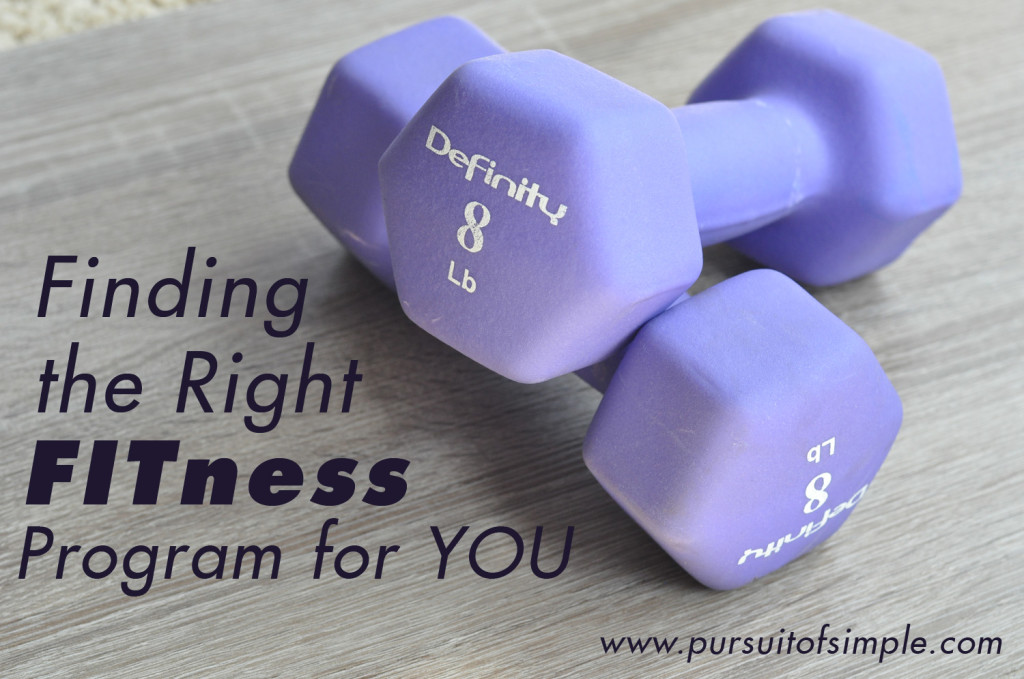 Well it may not be time for New Year's resolutions anymore, but with summer just around the corner, the thought of getting fit and the terror of bathing suit season is likely starting to pop up on your radar as the temperatures begin to rise. The countdown has begun, and you've got a renewed commitment to get into shape and shed those unwanted pounds.
While I am not a fan of getting fit only for the sake of our outward appearance, I know that it can certainly serve as a good motivator for us to start a fitness program. Personally, I LOVE working out, playing sports, and being active. However, I completely realize not everyone is wired that way. Many of you reading this article are more likely to view fitness as a chore or even a form of mild torture.
If you find yourself in the second category, may I suggest that perhaps one of your biggest obstacles is that you simply haven't found the right program – one that is a good fit for you? Fitness programs are not one size fits all. Just because your best friend is addicted to Zumba doesn't mean that you have to love it too. I have seen too many people give up on a fitness program before it even has a chance to yield the results they were looking for. Getting fit takes time and commitment, but if you're trying to keep up with a fitness program that isn't right for you, you'll soon be bored, frustrated, or broke and headed back to the couch.
To help prevent you from recklessly jumping into yet another fitness program, I'd like to offer some insight into picking the right program to fit your personality, lifestyle, and budget. And to clarify, when I use the term fitness program, I am not limiting that to things you can only do at a gym or as part of some structured program. In using that term, I am including sports and recreational activities as well, which I discuss more in Finding the Right Fitness Program for You: Part II.
It's all about Passion.
Do you hate running? (I do.) If so, then don't let your friend talk you into training with them for a marathon. I think one of the most important factors in selecting a fitness program that will last is choosing something you're passionate about.  If you choose something you enjoy and look forward to, then you're less likely to view it as an obligation to good health and more likely to stick with it for the long term. Once you figure out where your passion lies, you're well on your way to picking the right program.
Your wallet has a say in the matter.
Since you are trying to select a program for the long haul, make sure you consider the initial cost to get started, as well as how much money it will take to maintain the program. It doesn't matter how motivated you are to get fit or how much you love a particular program; if you simply can't afford it, then you won't be able to stick with it long term.
There are plenty of great (and effective) programs out there that are expensive to maintain. Boot camps, specialized classes at boutique gyms, CrossFit, sporting equipment, and other membership-type fees just don't fit into everyone's budget during every season of life, and there's no shame in that.  The goal is to work out, and keep working out. It doesn't matter how much you love a particular program; if it's going to add financial stress in your life, then it's not worth it.
How much time will you spend in transit?
Another important consideration is how much travel time is involved. If you have selected a boot camp on the other side of town that causes you to fight rush-hour traffic every time you go, I don't like your chances of sticking with it. You want to pick something that is convenient to your workplace or home. I used to work out at a recreation center on the campus of a very large university where I was employed. Not only was it extremely affordable, but it was a beautiful facility with literally everything you could possibly want or need in terms of working out. Unfortunately, there was a big parking problem, and it was located in a very congested area of campus. After a couple of semesters, I got fed up with the "commute" and the unpredictability of finding a parking spot, so I canceled my membership and joined a gym that was down the street from my house.
Consider the little people in your life.
This next consideration won't apply to everyone, but to those of you who have young children, this factor is extremely important. If you are working out at a time of day when you have children in your care, then you're going to have to find a program where childcare is provided. The good news is that many gyms have childcare available, sometimes included in your membership and sometimes for an added fee. If you have to find and pay a babysitter every time you want to work out, not only will that get expensive, but then your workout regime will be dependent upon other people's schedules instead of your own desire to work out. I can almost guarantee that the gym childcare fee will be considerably less than paying someone else to watch your kids.
Personality – outgoing vs. introverted
For me, I love to work out in a group. I thrive in a team environment (might have something to do with my competitive side), and I enjoy socializing with others who have a similar fitness interest. So for me, group exercise classes are a great fit. Would you consider yourself an outgoing or introverted person? When you work out, do you prefer to do it alone with headphones or do you have more fun in a group setting? You don't want to fight against the way you've been wired, so pick something that makes you feel comfortable and confident.
The great outdoors or the great indoors?
Another quick consideration is the environment where you will be working out. The climate where you live will dictate this to a certain degree, but when the weather is not a factor, do you prefer working out in a gym in the air conditioning or does the thought of being inside make you crazy? Or maybe you work outside all day long, and when you get off work you're ready to be indoors. Again, this is different for everyone, but it's worth considering before you decide on a workout program.
One Final Word
While I think it's important to give thoughtful consideration to your fitness program, don't spend too much time thinking about it and analyzing your many options. Make a decision, and get moving! You're not signing up for life; you can always try something different until you find that perfect program. If you're still having some trouble figuring out what to try, check out the following post, Finding the Right Fitness Program for You: Part II.