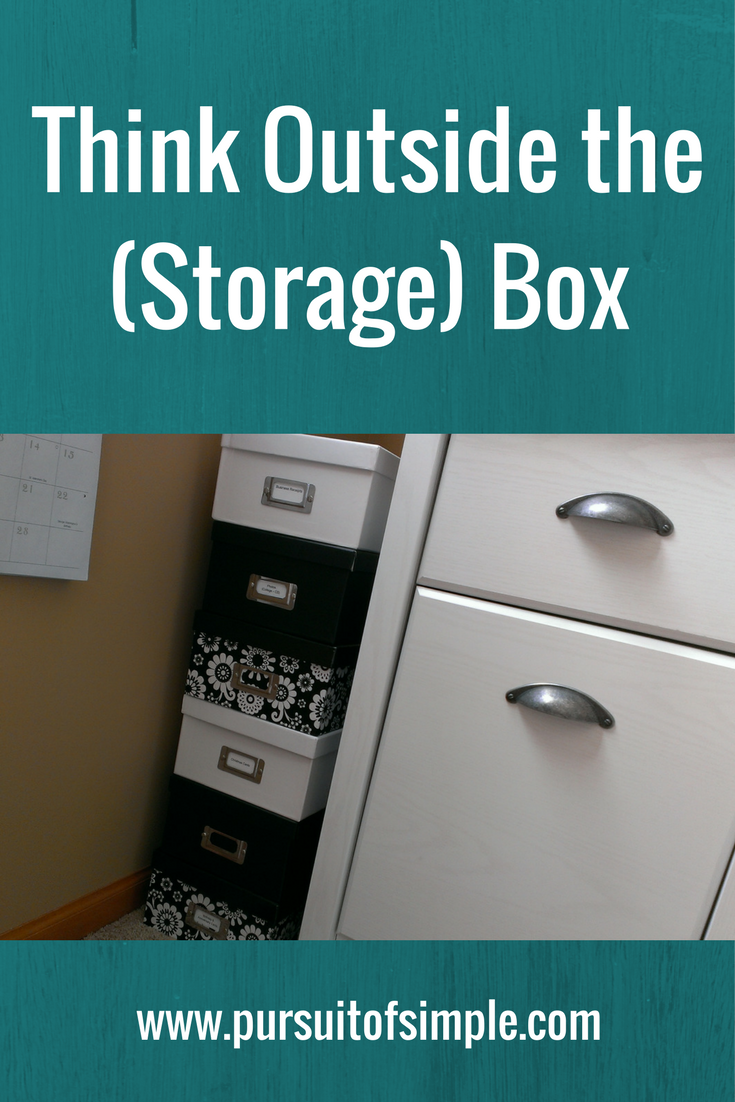 Even as a young girl I loved to organize, and perhaps my favorite organizing products back then, and still to this day, are my trusty photo/media storage boxes. Depending on where you purchase them, they might have a different name, but I am talking about those decorative boxes, generally made of durable cardboard, that are about the size of a shoebox and come with a lid and a little slot for a label. Even though these boxes are marketed as photo storage boxes, there are endless possibilities for how they can be used. And no matter how you choose to use them, they are sure to simplify something in your house or life.
Not only are they inexpensive, generally about $4 each, they are available in so many designs that you are sure to find some that fit your personality, your decorating style, or purpose of the box (i.e. travel design for vacation photos). Whether you put the boxes in a closet, on a shelf, or in an open area, they always tidy up the space and make it look more organized. And since the boxes are decorative, you can easily incorporate them into the décor of any room.
I have purchased most of mine from Hobby Lobby, but I know that Michael's and JoAnn also carry them. If you don't have one of these stores near you, just check your local craft store. You could also order them online, but my experience has been that the online selection is extremely limited compared to what's available in store.
When I first used these boxes as a kid, my mom bought them for me as a place to store my growing number of pictures. (You know, back in the old days when everyone had actual paper prints and all of those lovely negatives to keep up with.) The boxes usually come with a stack of dividers that have a place to write where the pictures were taken, the date, comments, etc., so I happily arranged my pictures into various categories and filled out the cards. To this day, I use those same dividers, which are somewhat amusing now with my elementary-school handwriting and childish comments written on them.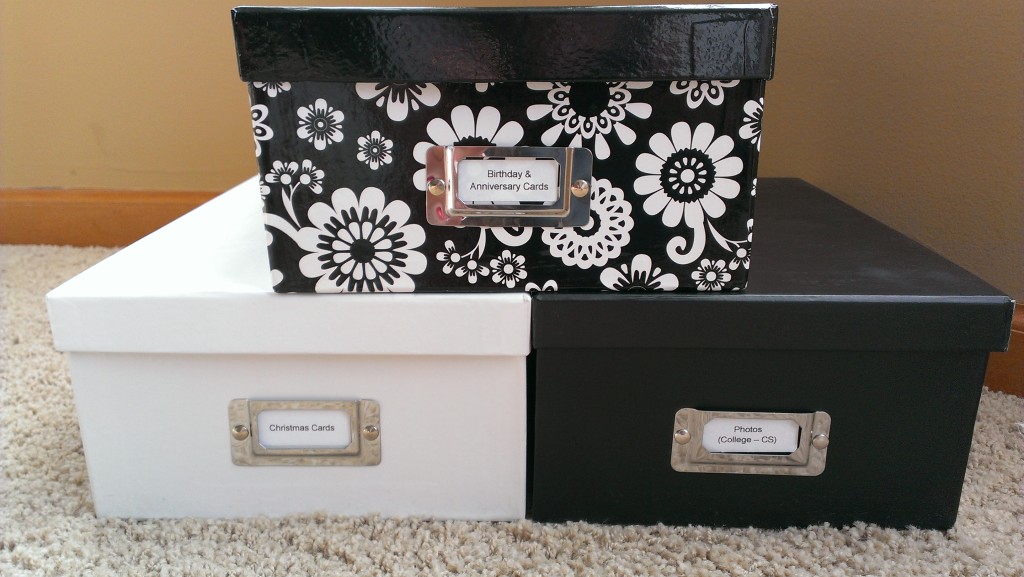 I still use some of my boxes for photos, but as I've gotten older, I have found more and more uses for them, one of which is using them to store greeting and sentimental cards. I have three separate boxes – one for birthday & anniversary cards, one for Christmas cards (includes our past family cards as well as those received from others), and one for miscellaneous encouraging-type notes. As a side note, I intentionally use boxes this size for storing cards because I limit myself to how many will fit in these three boxes. Greeting cards can easily create clutter as their volume quickly increases over the years, but I have found that using the boxes to limit what I keep really helps.
I have also used one of these boxes to store business receipts. My husband and I used to have a direct sales business, and we had a lot receipts to keep track of, not only those from sales, but also from all of the supplies, training events, and marketing materials that we purchased. An envelope just didn't suffice, and since these receipts were coming in regularly, I needed to keep them in a location that was easy to get to, in other words, not buried in a drawer or filing cabinet. Sitting on the shelf above our desk, the decorative box looked stylish and provided a perfect solution.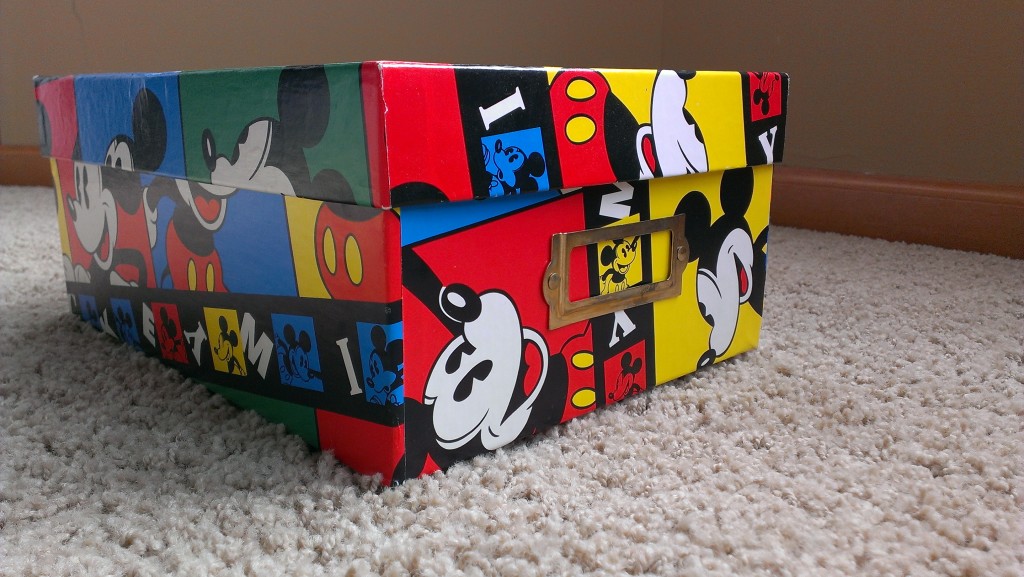 Pictured here is the Mickey Mouse storage box that I had as a kid. Not only do I still use that box, but I have now repurposed it and use it to store my son's toy instruction booklets. We have A LOT of Lego blocks at our house, and each box comes with that little booklet that shows what you can build with that particular set. I didn't really want to throw those out because they are helpful, but they were beginning to create clutter, and I needed a solution. I realized the Mickey Mouse box was perfect for this, and I've also started adding booklets that go with other toys.
These boxes are also a great size for storing card-making supplies if you have a small collection. I am a very amateur card-maker, so I just have a few supplies on hand – blank cards, stickers, ribbon, etc., but I found that using a box to store everything together in one place is quite convenient. If you have a large collection of card-making supplies, consider using several boxes, each one with a different theme (i.e. birthday, anniversary, shower, holiday, etc.)
Here are a few more storage ideas to get you thinking – craft supplies, markers, crayons, colored pencils, small toys, toy accessories, stationery, stickers, Play-doh, CDs, DVDs, recipes, playing cards, flash cards, and well…you get the idea.
The boxes can literally be used for anything. Only two things limit what goes in there – the object's size and your imagination, so think outside the storage box and get organizing!