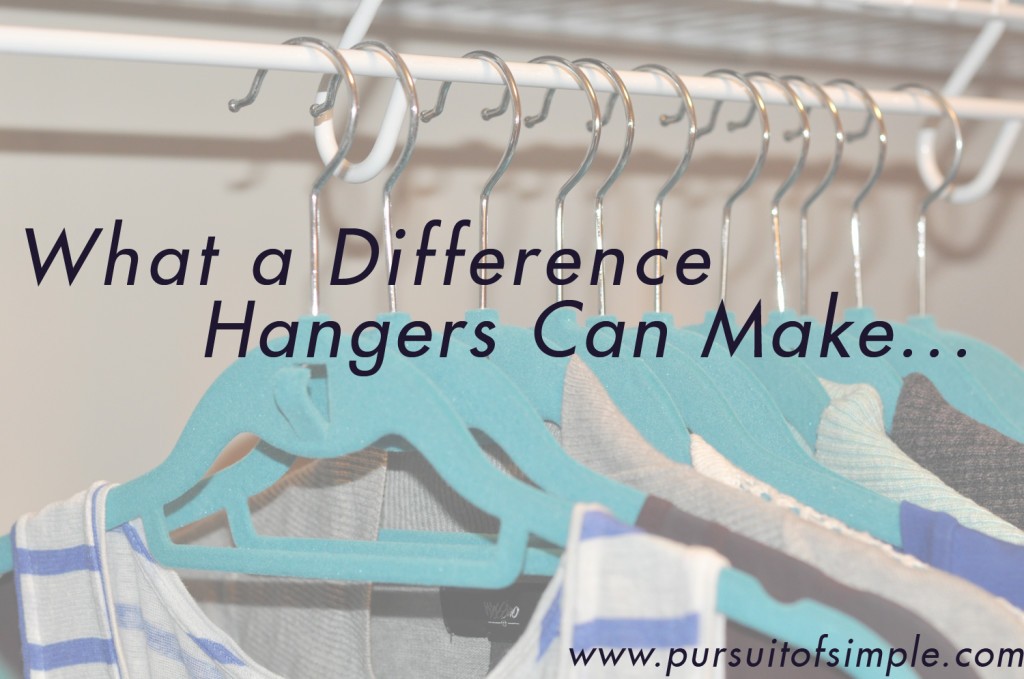 One of the best organizing purchases I have ever made would have to be, hands down, the Real Simple® Slimline Flocked Suit Hangers – I love, love, love these! A recent addition to our closet, they make our clothes look so much neater simply because everything hangs at the same height, and every hanger looks the same. I would have never thought that simply using only one type of hanger in your closet could make such a big difference, but it really does. Having everything hang at the same height makes it easier to see everything in your closet and find what you want.
You can cascade the clothes too, which is especially handy if you're trying to pick out an outfit, coordinate your accessories, or if you are just limited on space. The hangers have a slim design, which maximizes space, and they feel good to the touch too. The hook is made of metal, so it's sturdy, but it's slimmer than a plastic hanger. And let's face it, plastic hangers are pretty much useless when you need to hang more than one of them on a hook in the car or in some other type of tight space.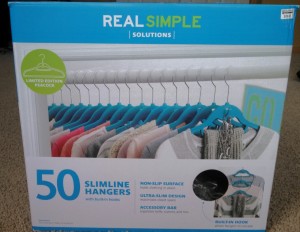 I scored a great deal on mine at Bed, Bath & Beyond when they were on clearance, and I had a coupon, but after buying them, I started noticing that other stores carried different brands that make a similar hanger. I haven't tried any of the other brands, so I can't offer feedback on those, but I'd say that if it has a similar design as the Real Simple hangers, then they should probably work just fine.
The only downside of these hangers – the only downside of many awesome benefits – is that they don't work that well with heavy clothes or with shorts, but with all of their other great features, this is easily overlooked. Besides, I use hangers with clips for my shorts, and my heavy clothes should really be on a more durable hanger anyway.
I have been using these hangers for about five months now, and I am still just as psyched about them as the day I bought them. If you're looking for an easy "organizing" project for your closet that will make a big difference visually, this is the perfect place to start. And for a great article on simplifying your closet, check out this article on LivingWellSpendingLess.com.
This post contains one or more affiliate product links. Pursuit of Simple is a participant in the Amazon Services LLC Associates Program, an affiliate advertising program designed to provide a means for sites to earn advertising fees by advertising and linking to amazon.com.