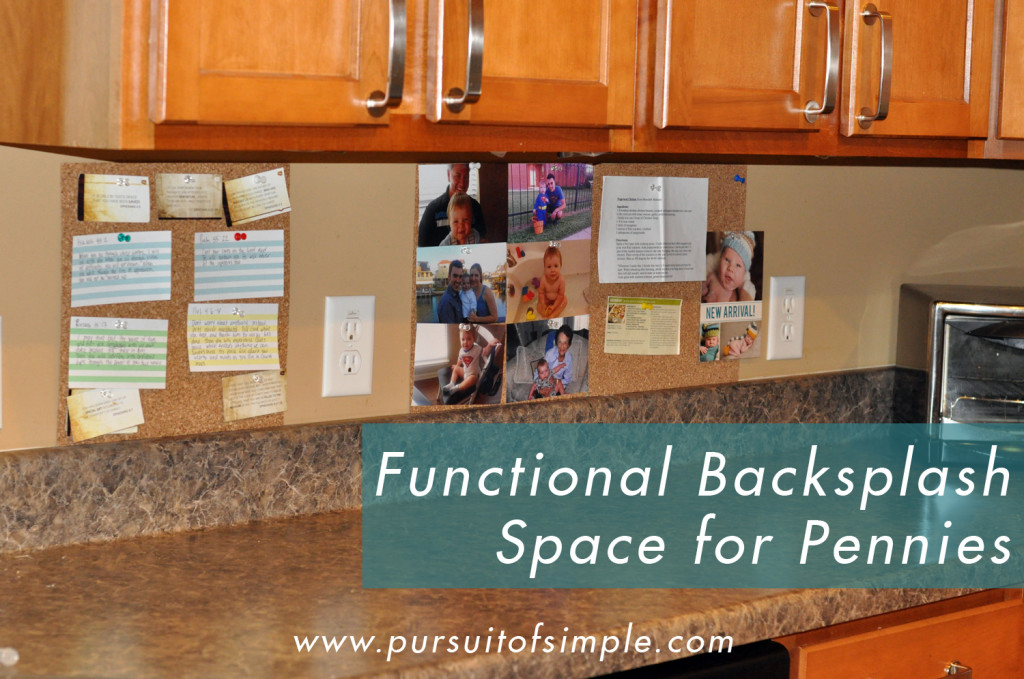 We can probably all agree that kitchens with a backsplash above the counter look stylish and beautiful, but if you currently rent your home or you can't afford to remodel right now, you can still make functional use of that space and literally invest less than $10.
As you can see in the picture, we used some 12″x 12″ corkboard, which comes with the adhesive, and we mounted them in the space where a backsplash would normally go. Because of the way our many outlets are positioned, we only used three corkboards out of the four-pack, and we couldn't mount them all next to one another, but it still works. I purchased our corkboard from our local Target, but if you'd like to purchase them online, here is a link to the type of corkboard we used.
I use one of the boards for Bible verses I want to memorize or mediate on, one for pictures, and one for recipes, reminders, invitations, etc. I especially enjoy the last one because when I am using a recipe that's not in a cookbook (and therefore can't use my cookbook holder), it is incredibly convenient to pop it up on that board and then remove it when I'm done. I also will post recipes up there sometimes to remind myself that I want to make them in the upcoming week. This way, I'll remember to add the ingredients I need to my grocery list.
The other element that makes a big difference is the under cabinet lighting. Fortunately for us, these were already installed when we moved in. I would say this is a bonus, so if you're looking to add this feature, your investment will be slightly more than $10, but still pretty affordable. After a quick search of The Home Depot's website, I found this kit, which looks very similar to what we have, and it's about $40. The lighting definitely looks classy, and it makes it easier to read whatever you post on your boards, but it's certainly not essential.
I love these corkboards because not only do they simplify things for me in the kitchen, but I think they look great, and they were incredibly cheap. What more could you ask for?! Okay…maybe a mosaic backsplash, but in the meantime, it's a very practical alternative.
This post contains one or more affiliate product links. Pursuit of Simple is a participant in the Amazon Services LLC Associates Program, an affiliate advertising program designed to provide a means for sites to earn advertising fees by advertising and linking to amazon.com.